Good evening and thanks for reading our live coverage of the day's events. If you are just joining us now, here's what you need to know:
NSW recorded 919 locally acquired cases of COVID-19, a new daily record in Australia. Two deaths were confirmed at this morning's update: a woman in her 30s from western Sydney (whose death was reported yesterday) and a man in his 80s who acquired his infection at the Greenwood Aged Care facility in Normanhurst. His death is the third linked to that facility.
Victoria recorded 45 new, locally acquired cases of coronavirus, the majority of which (28) were not in isolation for their entire infectious period.
Free travel will be restored between Western Australia and South Australia as of midnight tonight, but the door will shut for anyone trying to get out of NSW as the state is reclassified as an 'extreme risk' for COVID-19.
Queensland recorded no new coronavirus cases but announced a snap two-week ban on arrivals from NSW, Victoria and the ACT, which (to the consternation of travellers) took effect from midday today. Travellers who have an exemption for compassionate reasons or medical procedures will not be subject to the ban. "Queensland is being loved to death," Queensland Premier Annastacia Palaszczuk said. "It's putting our workers at risk and it's also putting our community at risk as well."
There is a new focus in both NSW and Victoria on vaccinating people in the highly mobile 16 to 39 age group in a bid to break the transmission chain. In NSW, the Pfizer vaccine is available to everyone aged 16 to 39 in Sydney's west and south-west (not just in the previously identified local government areas of concern). In Victoria, all 16 to 39 year olds are now eligible to book a Pfizer vaccine in the state, and if they have a previous AstraZeneca booking at a state-run vaccine hub they will be able to opt for Pfizer instead. There is a particular focus on vaccinating year 12 students before their final exams start in October.
There were nine new coronavirus cases in the ACT, down on yesterday's total of 30. Three were in quarantine for their entire infectious period, while four were infectious in the community. Two cases were still being assessed.
New Zealand recorded 62 new coronavirus cases in the community, taking the total number of cases linked to the Auckland outbreak to 210.
Australia has evacuated about 2650 Afghans amid the turmoil in Kabul and across Afghanistan, but more bleak stories are coming out of the Taliban-controlled country, including foreign affairs correspondent Anthony Galloway's report on the Azizi family's struggle to get out despite having the right paperwork.
This is Michaela Whitbourn signing off on the blog for now. Broede Carmody will be back from 6am tomorrow.
Two more Sydney schools have been forced to shut after students or family members tested positive to COVID-19.
NSW Education said Botany Public School, in Sydney's south-east, and Victoria Avenue Public School, in the city's west, had closed for cleaning and contact tracing.
The positive case related to the Victoria Avenue Public School was at the children's centre located on the same site as the school.
All staff and students at both schools are asked to self-isolate and follow the NSW health advice and protocols.
Any families who are impacted by the Victoria Avenue Children's Centre closure will be advised on any action they should take.
Victorian health authorities listed dozens of new exposure sites on Wednesday, including a hospital in Melbourne's southeastern suburbs and a tier 1 site in Shepparton.
The Monash Medical Centre Emergency Department in Clayton, in the clinic waiting room, at the fast track section, was visited by a positive case on August 20 and 21 and is now listed as a tier -1 and tier-2 site.
As of 10pm on Wednesday, the total number of exposure sites stood at 812.
As the situation on the ground in Shepparton becomes more urgent, the Sir Ian McLennan Sports Centre in Mooroopna, in Shepparton's west, was listed as a tier-1 (close contact) site after being visited by a positive case each day between August 13 and 16.
A smash repair business in Williamstown was also listed as a tier-1 site for an exposure between 8.50am and 5.30pm on August 20.
Also listed as a tier 1 was the food court at Shepparton Marketplace on August 19 between noon and 1pm
Anyone who visited a tier-1 sites at the specified time needs to isolate for 14 days even if they test negative for the virus.
Additionally, Shepparton Automotives, the KFC in Shepparton City, the Woolworths in Shepparton East, Australia Post at Shepparton South, Big W at Shepparton Marketplace and Golistan Groceries & Bakery are all tier-2 exposure sites.
The Shepparton cluster grew to 66 positive cases on Wednesday, with 50 of them based in the city, and exposure sites in the city and surrounding areas had passed 100 by Wednesday evening.
In Melbourne, the Drummond Rise Apartment Complex in Oakleigh, in Melbourne's southeast, was listed as a tier-2 site each day from August 20 to 24. Another apartment complex in Brighton, called 'Bay Street', was also visited by a confirmed COVID case every day from August 19 to 25.
The Brunswick Street Residential Towers in Fitzroy were also added as a tier-2 site for exposures between August 18 to August 25.
Anyone who has visited a tier-2 site needs to isolate until they test negative for COVID-19.
The Chemist Warehouse Spencer Outlet Centre, in Docklands, was listed as a tier-2 site on August 21.
The Chemist Warehouse Spencer Outlet Centre, in Docklands, was also listed as a tier-2 site on August 21. Authorities also added several new locations in Melbourne's west.
In Footscray, Coles in the Footscray Plaza Shopping Centre and 7-Eleven West Footscray was a tier-2 site on August 22 and the Chemist Warehouse in Footscray a tier-2 on August 23.
In Tarneit, authorities identified Western Quality Meats Wyndham, Western Fresh Fruit & Veg, Coles Wyndham Village and the Wyndham Village Shopping Centre as tier-2 exposure sites on August 23.
Other tier 2 sites added on Wednesday night were the IGA at Brunswick East on August 22, Park St Cafe in Carlton North on August 21, Pepper44 in Flemington on August 19 and Smith and Deli in Fitzroy on August 20.
Three tier 2 locations were listed in Hoppers Crossing Shopping Centre all on August 21: Advantage Pharmacy, Bakers Delight and Ferguson Plarre Bakehouses.
Other sites were Woolworths Millers Junction in Altona North on August 21 and Chemist Warehouse in Bay Street Brighton on August 24.
But it was not all bad news. Health authorities said that from this morning through to 4pm, more than 95,000 people have booked a COVID-19 vaccine appointment, adding demand had remained high throughout the day, with 6700 online bookings made between 2pm and 3pm.
Perhaps it was the MPs enduring lockdown in Canberra, where many have already been for six weeks in a row because of quarantine rules, but Question Time on Wednesday featured some odd exchanges.
Rowan Ramsey, the south Australian Liberal MP responsible for maintaining order in the government's ranks on votes, asked a question (typically known as a "Dorothy Dixer", or an easy question bowled up to a minister from a member of their party) about small business support.
But there was a snag.
"I have asked the wrong question," he said after a pause, amid muted laughter from the chamber.
That did not deter Mr Ramsey, who ploughed on with the correct question about education.
Speaker Tony Smith ruled that out of order, leaving Mr Ramsey red-faced.
Later Health Minister Greg Hunt infuriated Labor frontbencher Tony Burke and angered Mr Smith by deploying some slippery parliamentary tactics.
While he was answering a question from Mr Burke about problems with vaccine supplies, Mr Hunt said it did not appear Mr Burke had raised the problems directly with the health authorities. When Mr Burke did not reject that, Mr Hunt said he assumed Mr Burke had not done so.
The problem is that in question time MPs are not allowed to interject while others are speaking, which is why Mr Burke had stayed quiet.
When Mr Hunt verballed him, a visibly angry Mr Burke strode to the dispatch box, remonstrating about supply problems in his electorate, which covers some hard-hit suburbs in western Sydney.
Again, Mr Smith intervened, say he couldn't accept Mr Hunt's tactic.
"If this is going to be their practice," Mr Smith said of Mr Hunt and others who had tried the approach, "I will stop it."
People in Shepparton are struggling to buy groceries and receive online deliveries of essential supplies, as a growing COVID-19 cluster results in a significant portion of the working population being sidelined.
The Shepparton cluster grew to 66 cases on Wednesday, with 50 of them based in the city, and exposure sites had increased to almost 90 by the afternoon.
Some supermarkets have shut down after being identified as exposure sites or losing staff to quarantine, while others have been forced to cut opening hours and scale back delivery and click-and-collect options, pushing some people in quarantine to the brink.
Locals have been struggling to source groceries, baby formula, nappies and medicine, as residents not in isolation say places to buy essential supplies are hard to find.
The Wednesday edition of regional newspaper the Shepparton News ran a plea for help on their front page."We need help," the headline said.
The NSW coast faces several more days of hazardous surf after a powerful low-pressure system churned up huge waves and a storm surge seen only once every couple of decades.
A buoy in Botany Bay registered significant wave heights reaching 8.44 metres, an event that would typically be seen about once in 40 years, said Mitchell Harley, a senior lecturer in the University of NSW's Water Research Laboratory.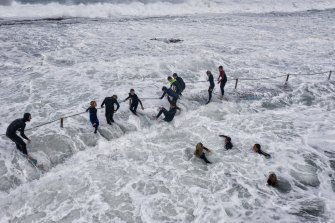 The storm surge was about 47 centimetres, or about a one-in-20-year event, Dr Harley said, adding "we kind of dodged a bullet".
Beach erosion could have been much worse had Tuesday night's big storm coincided with king tides, or if the angle of the waves had been about 30 degrees further to the east. Instead, the waves were mostly from the south, hitting parts of the coastline that tend to get hammered more regularly, he said.
AFL chief executive Gillon McLachlan has announced that Optus Stadium in Perth will host the grand final in the event it can't be held at the Melbourne Cricket Ground.
McLachlan said the AFL was still in talks with the Victorian government and had had conversations with Western Australian Premier Mark McGowan and other states to inform them WA was the official back-up venue.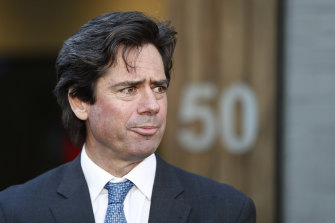 "The capacity available at Optus Stadium is 100 per cent and that's pretty compelling, to have as many people as we can see the biggest and best sporting event in the country."
Free travel will be restored between Western Australia and South Australia as of midnight tonight, but the door will shut for anyone trying to get out of NSW as the state is reclassified as an 'extreme risk' for COVID-19.
WA Health Minister Roger Cook announced on Wednesday the state's hard border was going up with New Zealand but would be lowered for Queensland, meaning anyone could travel from the state but would need to self-isolate for 14 days. The New Zealand outbreak has reached 148 community cases.
Mr Cook said about 2500 people had come to WA from NSW since it was flagged last week the government would no longer allow compassionate exemptions from 12.01am on August 26.
"Under the extreme arrangements it's not possible," he said. "We've had over 900 cases in NSW today … that's very worrying.
"The situation in NSW is dire, the COVID-19 outbreak is out of control, and we need to make sure we can protect the WA community, which is actually why we brought in the new arrangements, so we could bring 2500 West Australians back home before we went to the extreme arrangements … we don't take these decisions lightly, we don't take these decisions because we want to."
About 318 passengers across two flights were due to arrive in Perth from Sydney on Wednesday.
NSW Liberal Senator Andrew Bragg says Australia "cannot afford to be a hermit kingdom" as he described Premier Gladys Berejiklian as the most authentic communicator during the COVID-19 pandemic.
"She has told people the truth; that we have to live with this virus. So [at] 70 per cent [of people over 16 being vaccinated], I am hoping we will see some restrictions removed, and at 80 per cent I am hoping we don't have to see any more lockdowns," he told the ABC's Patricia Karvelas this afternoon.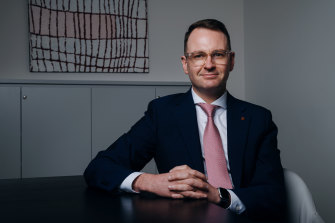 "We have to open up domestically, and then, of course, we need to open up internationally. We cannot afford to be a hermit kingdom. Small business can't afford it, young people can't afford it."
He accused Western Australia, which reported no new COVID-19 cases today compared with NSW's record of 919, of having "no plan to manage the pandemic".
Ms Berejiklian was "the most authentic communicator" of all state leaders, he said.
Federal Labor MP Josh Burns, who represents the Victorian seat of Macnamara, had this to say in response:
I don't think that Andrew picking a fight with WA and pretending that Gladys has all of the answers, when [NSW hospitals are under pressure], and people in Perth are sitting at restaurants drinking pina coladas … I mean, there are two different worlds being lived by people in WA versus NSW. So let's be real about this. What we need is for the whole country to be vaccinated. [The] over 70 [per cent] threshold gives more options, but we aren't even halfway there.
A Queensland Health team will travel to the Indigenous community on Palm Island off the state's north coast after virus fragments were found in wastewater samples.
Chief Health Officer Jeannette Young said the positive sewage result was detected on Sunday, and the response would begin on Thursday, with a team from Townsville travelling to the island to roll out testing for any symptomatic people.
"As always, the fragments could either indicate the presence of an undiagnosed case of COVID-19 in the community or that a case who is no longer infectious is still shedding fragments of the virus," Dr Young said.
"It is likely it is a persistent shedder who's attended the island and may or may not still be there, but we must be absolutely cautious, and get people with symptoms tested as soon as possible.
"It's really important that anyone who has had been on Palm Island and is no longer there gets themselves tested as well if they have any symptoms.
"I'm pleased to say 80 per cent of First Nations people aged 16 or older on Palm Island are vaccinated with at least one dose, and 35 per cent have had two doses."
Residents aged 12 or older who have not yet been vaccinated can access their first dose on August 31, when the outreach team heads back to the island.
Queensland reported no new cases in the community or in hotel quarantine on Wednesday, but the state still has 37 active cases.
Ms Palaszczuk said two truck drivers whose cases were under investigation after being reported as positive to COVID-19 on Tuesday had been reclassified as "not being cases".