"I actually did a time trial after the Australian trials," Martin said. "I ended up somehow pulling it off and then qualified for here."
Within 10 minutes, Patterson, who won six medals in Rio, signalled her intent by opening up a big lead on her rivals, including four-time Australian Paralympian Ellie Cole.
Patterson, who won the S8 category in this race in Rio, started to fade in the final 50 metres as Hungary's Zsofia Konkoly made her move.
The 22-year-old held on for a victory by 0.08 seconds. Cole finished fourth in 4:43.98.
"I'm feeling more fried than a chook from KFC," Patterson said. "I knew I had to attack it from the start and I could briefly see out of the corner of my eye to the left in that last 50 metres how close the Hungarian was. I think it was definitely lucky lane six."
Crothers touched in 23.21 in the S10 men's 50m freestyle. He proceeded to jump on the lane rope before falling off and getting back up to have his moment of celebration.
"I definitely wasn't practising it," Crothers said afterwards. "In the moment you've got to get up and celebrate. It's a once-in-a-lifetime opportunity to come here."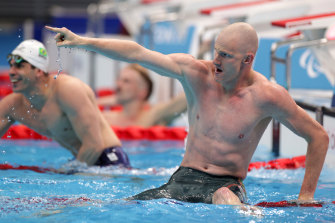 He would have been overjoyed to see Popham, who also has cerebral palsy, come from fifth at the turn to storm home in 57.37.
Popham's mother, Jennifer, said on Channel Seven afterwards: "It was like he knew we were crying and joined in."
Australia's swimmers are tipped to take home as many as 30 medals in the pool and Patterson said they had taken inspiration from their Olympic counterparts.
"I think the Olympics came just at the right time for everybody back home facing lockdown and COVID," Patterson said. "It gave us that extra lift and motivation and our Olympic team did so well. To be able to have our turn after such a long wait is so exciting. I know our team is going to blitz it."
Loading
Australia don't have as many gold medal hopes in the pool on day two but Keira Stephens is expected to push for a podium spot in the SB9 100m breaststroke. Katja Dedekind (S13 100m backstroke) and Timothy Disken (SB8 100m breaststroke) are also ones to keep an eye out for.
Meanwhile, Benjamin Hance won bronze in the S14 100m butterfly, while Australia went second and third courtesy of Paige Leonhardt and Ruby Storm in the women's S14 event for the same race.