Loading
"Anyone who is not already on a flight at midday will not be able to arrive simply on a right of entry pass," she said.
People seeking entry to Queensland, including Queensland residents, will need to reapply for border passes and then book into a hotel on an allocated date. Those who have an exemption, for compassionate reasons or for medical procedures, will not be subject to the new rules.
The changes were announced with less than two hours' notice. It applies to arrivals from NSW, Victoria and the ACT for the next two weeks.
Meanwhile, Victoria's Health Department confirmed on Wednesday that orange zones in Brisbane, Gold Coast, Ipswich, Lockyer Valley, Logan, Moreton Bay, Noosa, Redland, Scenic Rim, Somerset and Sunshine Coast would turn green at 11.59pm under the state's travel permit system.
However people travelling to Victoria are still required to apply for a permit when entering Victoria from a green zone.
Timothy Barritt had been wrestling with the Queensland government for weeks trying to get a border pass to return home and start his new job at the beginning of August. On Wednesday afternoon, he was pacing gate two outside his Virgin Australia flight on the phone to Queensland authorities.
Mr Barritt, 30, grew up in Queensland Premier Annastacia Palaszczuk's electorate in south-west Brisbane.
"I finally got approved for a border pass yesterday and my flights have been booked for a week and a half now. I've travelled from the other side of Bendigo to come down here, not knowing anything about it until this announcement, just before I boarded the plane," he said.
Mr Barritt's mum had become so desperate to get him a border pass that she had visited Ms Palaszczuk's office directly to resolve the issue.
"I don't have a job, I don't have a house, I don't have anything; I'm essentially homeless unless I go to Queensland," he said.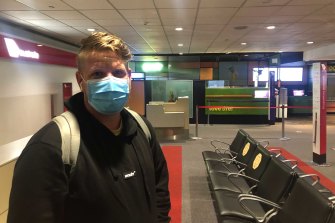 "It's been tough – the lack of communication from governments, and also last-minute notices."
Left with no other conceivable options, Mr Barritt decided to try his luck at the other end.
"I'm gonna get on the plane and see what happens," he said.
Virgin Australia staff had been telling passengers that if they got on the plane they wouldn't be able to do hotel quarantine and instead would be sent back to Melbourne.
"Only those who are transiting to another state or territory, have completed 14 days, international quarantine or quarantine exempts approved by the Chief Health Officer of Queensland, will be permitted to enter Queensland," they said in an announcement broadcast over the PA system at gate 2, Terminal 2, at Melbourne Airport.
"All other travellers will be denied entry, and will be returned to their port of departure. We request that you consider your travel arrangements in relation to these new restrictions."
Another man in his 40s, who didn't want to be named, had travelled from regional Victoria to return home to Queensland after working in Victoria. He said he was deeply frustrated with the lack of notice Queensland health authorities had given travellers.
With Felicity Caldwell
Stay across the most crucial developments related to the pandemic with the Coronavirus Update. Sign up for the weekly newsletter.