"She has ancestry from a totally different, much earlier, Asian source," Professor Brumm said.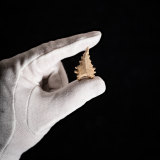 "It suggests there must have been an earlier group of Asian people who came into the region long before the Austronesians, which is a very interesting discovery which changes our understanding of the pattern of early human movement through the region."
The woman's DNA also shows links to the Denisovans, a different species of human like the Neanderthals, who were thought to have mostly lived in Siberia and Tibet.
The new findings could indicate their range was wider than previously thought, and even that the actual meeting point between Denisovans and modern humans was in Wallacea itself.
Indonesian senior author Professor Akin Duli, from the University of Hasanuddin, said the new information gained from the DNA had given incredible insight into the ancient migrations of people across the region.
Loading
"It is unlikely we will know much about the identity of these early ancestors of the Toaleans until more ancient human DNA samples are available from Wallacea," he said.
"But it would now appear that the population history and genetic diversity of early humans in the region were more complex than previously supposed."
The woman was about 18 years old at the time of her death and was dubbed "Bessé" by the archaeologists who discovered her remains, which is an affectionate name given by local royal families to newborn princesses before they are formally named.
Stone tools and red ochre pigment were found in her grave, along with bones of hunted wild animals, indicating she was likely important within her community.
In addition to Australian and Indonesian scientists, the genomic analysis was done by researchers at the Max Planck Institute for the Science of Human History in Germany.
The research has been published in the journal Nature.