Kerry Stokes has vacated his position as executive chairman of the top company in his publicly listed empire, Seven Group Holdings, but metaphorically speaking he hasn't left the building.
It's the Claytons resignation that will save him from signing board papers, maybe free up a bit of time, but it won't signal that he has taken his hands off the rudder.
The 80-year-old avid skier and photographer will continue to cast a long shadow over everything Seven Group does. To begin with, Stokes' private company is the largest shareholder in Seven Group so he retains implicit control of all major decisions.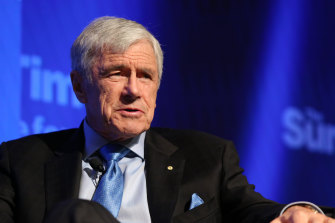 His son Ryan Stokes is Seven Group's chief executive – so not even one degree of separation between Kerry Stokes and control. And Stokes will retain chairmanship of Seven's listed subsidiary Seven West Media – a business in which he has a long-standing passion.
Thus Stokes senior's decision to hand the chair of Seven Group to a family outsider, Terry Davis, barely loosens any tentacles he holds over the empire he created and which is responsible for his net wealth of $5.8 billion.
Further, Stokes has entered into a three-year advisory role with Seven Group – one that is both renewable and at $475,000 a year is more lucrative than the $385,000 annual chairman's stipend that he is giving up.
"Of course, I remain very committed to Seven Group Holdings and I will remain involved in the business in an advisory capacity. As a shareholder, I look forward to the company's continued growth and prosperity," Stokes said.
There has been no reason offered for the timing of his decision to leave the board, but it is no coincidence that the company has just completed a company-altering takeover of construction materials group, Boral.
With 70 per cent of Boral owned by Seven Group, Ryan Stokes has become Boral's chairman and will oversee what could be a long-dated revival of the company's Australian business.