Thanks for joining today.
For all the latest news and reaction to a wonderful first day for Australia in Japan, log onto our mastheads.
Four golds in the pool. Two in track cycling. 10 medals all up. Things are going well for Team Australia.
Will kick the blog off again at about 11am AEST. Cheers!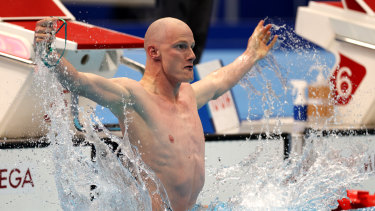 What a brilliant swim there in the men's 100m freestyle S8 from young Ben Popham.
Hits the wall first in 57.37 for his first Paralympics medal. Is quite emotional after the race.
A great night for Australia, with four gold medals in the pool to go with two in the cycling.
Australia's women goalball team has lost 11-1 to Israel. Brazil takes on the USA in about half an hour if that's your thing.
Goalball is a sport for visually impaired athletes.
The big Aussie is absolutely stoked with his victory in the S10 50m freestyle event.
A 10/10 celebration too. Gets up on the lane rope. Falls down. Gets back up again. Love it.
"I definitely wasn't practising it," Crothers just told us in the mixed zone downstairs here at the pool. "In the moment you've got to get up and celebrate. It's a once-in-a-lifetime opportunity to come here."
"To swim so well, I don't care about how close I was to the world record … I did a personal best and did my coaches and teammates proud.
"It is really special to come here and swim so fast."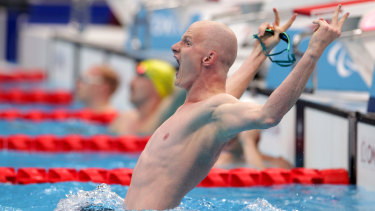 Kelly, who lived in an orphanage in Baghdad after being born with severely underdeveloped arms and legs, finished his final of the SB3 100m breaststroke final in a time of 54.89.
Australia has two golds (Will Martin and Lakeisha Patterson), a silver (Paige Leonhardt) and three bronze medals (Alex Tuckfield, Benjamin Hance and Ruby Storm) in the pool so far this evening.
Milly Tapper has delivered her first win of the Tokyo Paralympic Games, fresh from her second Olympic Games just two weeks earlier. She knocked off Chinese Taipei's Lin Tzu-Yu three sets to one (9-11, 11-8, 11-6, 11-9).
"That was absolutely awesome," Tapper said. "I loved every second that I was out there. Even after losing the first set, somehow still enjoying myself. It's an absolute privilege to be here and I think the whole Paralympic movement is something incredibly special and I hope everyone at home is getting to enjoy it.
"[After dropping first set] my coach just said what we're doing is working and I had to stick to the process and trust myself.
"No matter if I'm at the Olympics or the Paralympics, I want to go out there and basically just play the best that I can on that day and some days, it's better than others," she said.
Tapper will back up again tomorrow in the next match of the preliminary rounds where she'll face Bruna Costa Alexandre from Brazil, who won bronze at the Rio Paralympics.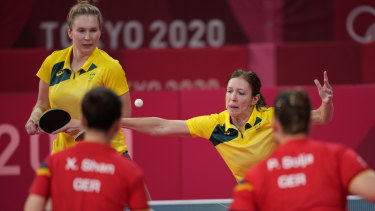 Australian swimmer Paige Leonhardt has claimed silver for Australia in the women's 100m butterfly S14 with teammate Ruby Storm claiming bronze.
It marks Leonhardt's first Paralympic medal.
It's an incredible achievement for the 20-year-old, who was involved in a car accident at age five, leaving her with severe injuries.
She spent four years recovering from her injuries with the accident leaving her with hemiplegia cerebral palsy on her right side, as well as intracranial hypertension, epilepsy and autism.
Storm has just an equally amazing story – winning the bronze at just 17 for her first Para medal.
The Indigenous athlete, who was born with an intellectual disability, was scared of water as a child but learnt to swim by observing her older sister.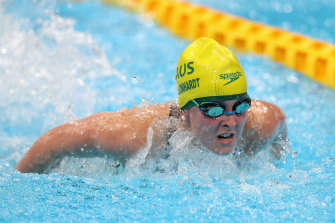 The RPC's Valerii Shabalina took out the gold in the race and claimed a world record in the process with a time of 1:03.59.
Australian swimmer Ben Hance has claimed bronze in the men's 100m Butterfly – S14 in a major upset race for the Paralympics.
World champion Reece Dunn from Great Britain was beaten out by Brazil's Gabriel Bandeira in a huge upset, with the Brazilian also beating Dunn's Paralympic record with a time of 54.76.
Ricky Betar sadly missed out on a medal, coming in eight spot.
Next up is Aussie duo Ruby Storm and Paige Leonhardt in the women's 100m Butterfly S14.
Aussie swimmer Lakeisha Patterson has claimed gold for Australia in the Women's 400m Freestyle S9.
Patterson took it out in 4:36.68 held on the last 25 metres to finish just 0.08 seconds behind Hungary's Zsofia Konkoly.
Great Britain's Toni Shaw claimed the bronze.
Australia's Ellie Cole finishes back in 4th.
20-year-old William Martin has claimed Australia's first gold medal in the pool, breaking the Paralympic record with a time of 4:10.25 in the S9 400m Freestyle.
It marks Australia third gold medal for the day.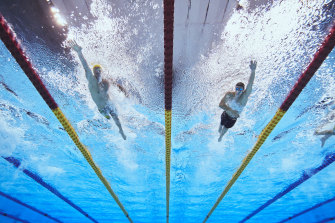 Fellow Aussie Alexander Tuckfield, who is just 16, also landed on the podium winning bronze after holding out Paralympic legend Brenden Hall with a time of 4:13.54.
France's Ugo Didier won silver.