AFL chief executive Gillon McLachlan says Perth will host the grand final at Optus Stadium if the event cannot be staged at the MCG and hopes a venue can be confirmed early next week.
McLachlan said the AFL was still in talks with the Victorian government and had conversations with WA Premier Mark McGowan and other states to let them know WA was the official back-up venue.
"We are still talking to the Victorian government, I'm here talking with their full knowledge," he said.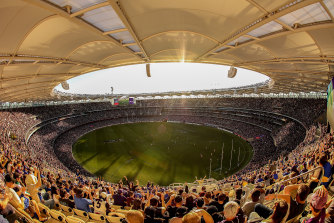 "I'm optimistic that early next week we'll be in a position with the Victorian government – they can clearly speak for themselves – but if we're unable to play at the MCG the grand final will be at Optus Stadium."
McLachlan said Optus Stadium would be an "amazing venue" in the event the MCG was unavailable and that its capacity put it at advantage over Adelaide Oval.
He said the priority was to have as many people at the grand final as possible and all timeslots were on the table, including twilight and night games. He was not contemplating a grand final without a crowd.
"The capacity available at Optus Stadium is 100 per cent and that's pretty compelling, to have as many people as we can see the biggest and best sporting event in the country."
Asked if the decision to use Optus Stadium was "fraught with danger", given WA's history of snap lockdowns at short notice and with very little community transmission of COVID-19, McLachlan said that danger applied in every state.
"Governments are making decisions very quickly … this is an uncertain environment. We are aware, wherever we are, that that is a risk.