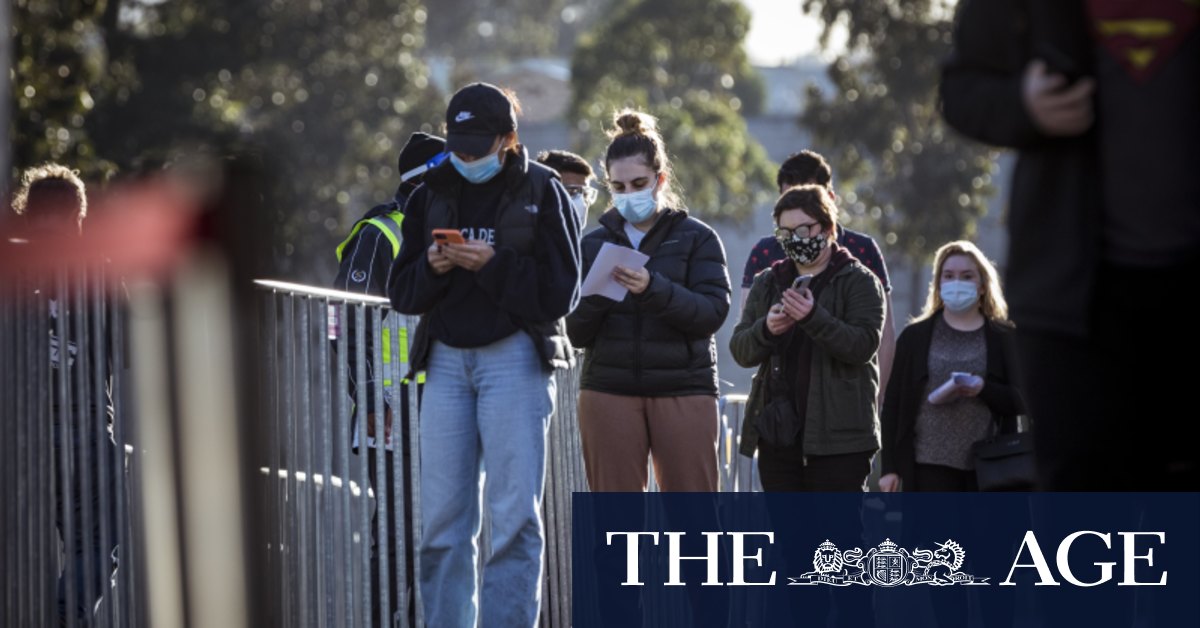 Loading
Health Minister Martin Foley said it was heartening cases had dropped, but authorities still had work to do to gain control of the spread. "We know numbers bounce around," he said.
The total number of cases in the state with an unknown source dropped from 47 to 46 on Wednesday, despite the nine new mystery cases. This indicates contact tracers had linked 10 cases that previously had an unknown source.
Ten of Wednesday's cases were associated with a Broadmeadows childcare centre, nine were linked to the Royal Melbourne Hospital and Shepparton clusters, four were grouped with the Hobsons Bay cluster, two were from the CBD and North Melbourne, one was linked to a Glenroy primary school and 10 were household contacts of known cases.
NSW's daily case numbers rose to a record 919 on Wednesday and two more deaths were recorded, including a woman in her 30s and a man in his 80s.
Authorities on Wednesday pleaded with Victorians to get tested as soon as they felt symptoms to shorten the period during which they posed a danger to others. Health Department deputy secretary Kate Matson said some people were testing positive eight days after first feeling COVID-19 symptoms, compared with an average for Victoria's mystery cases of three days. "If we shorten that, we will be able to get on top of this," Ms Matson said.
Professor Prokopenko said of Melbourne's outbreak: "What worries me most is the number of mystery cases continues to grow each day even with [the] harshest restrictions. It tells me lockdown isn't enough."
Calculations by Professor Esterman show that Victoria's reproduction rate is 1.3, meaning on average, every 10 people with COVID will infect 13 others. In NSW the rate is 1.2. He said the rate of reproduction in Victoria had fallen from almost 2.5 in recent days, but the trend would need to continue for more days to provide certainty that the tide has turned.
"We can be cautiously optimistic," he said.
Victorian authorities hope its toughened lockdown, which began last week, will continue to bring the reproduction rate down.
Deakin University chair in epidemiology Catherine Bennett said Victoria's outbreak had grown more quickly than NSW's. Professor Bennett said NSW had been able to bring its outbreak within relative control, and while the overall daily numbers had not dropped, its reproduction rate had stayed stable.
When it comes to vaccinations, Victoria has some way to go to catch up with NSW. Victoria is only vaccinating 75,000 people per day compared to 130,000 in NSW.
More than 1.3 million Victorians attempted to call the state's vaccine booking line on Wednesday morning as Pfizer eligibility opened up for under-40s. By 4pm, more than 95,000 people had booked appointments. However, people attempting to access the vaccination website on Wednesday experienced long delays and hundreds of thousands of booking spots remained free.
Mr Foley said he would not rule out implementing even tougher NSW border measures in light of NSW's "deteriorating" position.
"We can't send it back – I wish we could – but what we can do is take all the measures [the] public health team recommend to us to keep that border protection as strong as possible," he said.
In response to a question about whether it was possible Victoria's border could stay closed to NSW when 70 or 80 per cent of the population were vaccinated, he said: "How long is a piece of string?"
"Let's see what the world is shaped [like], let's see what the position in NSW [is] when we as a nation, get to 70 and 80 per cent," he said.
Stay across the most crucial developments related to the pandemic with the Coronavirus Update. Sign up to receive the weekly newsletter.