Good evening and thank you for reading our live coverage of the day's events. If you are just joining us now, here's what you need to know:
Prime Minister Scott Morrison will unveil a plan tomorrow for vaccinating the country's 12- to 15-year-olds against COVID-19. While children in this age group are not included in national vaccination targets for easing restrictions (set at 70 and 80 per cent of people aged over 16), Mr Morrison has promised they "will be vaccinated".
NSW Chief Health Officer Dr Kerry Chant has warned coronavirus case numbers may continue to rise as the state recorded 1029 locally acquired infections, a new daily record in Australia. Three men, aged in their 30s, 60s and 80s, died at home in western Sydney. All three were unvaccinated and being cared for in out-of-hospital care. Their deaths appear to have prompted a plea from authorities for people infected with COVID-19 to call for help, including an ambulance if necessary, if their symptoms deteriorate.
Regional NSW's lockdown will be extended to September 10, following additional cases in the state's west. Deputy Premier John Barilaro said "the decision to extend the lockdown is one to protect communities and protect the regions. We're sitting on a knife edge. It's a tinderbox ready to explode."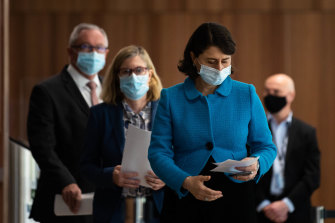 As NSW recorded a record number of daily cases, the Premier also announced a modest easing of restrictions from September 13 for some fully vaccinated people. Those changes are as follows: (1) Fully vaccinated households in the local government areas of concern can gather outside for recreation for one hour within 5km of home between 5am and 9pm. This is in addition to the hour of exercise. Only the adults in the household need to be vaccinated. (2) Groups of five fully vaccinated people who live outside of the local government areas of concern can gather outdoors within their local government areas or 5km from home.
Victoria recorded 80 locally acquired cases of COVID-19, 41 of whom were not in isolation for their entire infectious period. Yesterday, the state recorded 45 new cases and 50 the day before that. There are now 600 active cases of COVID-19 across Victoria, 240 of whom are under the age of 20.
Victorian Premier Daniel Andrews said it was still too early to say whether the state's lockdown will lift on schedule on September 2. He also took a swipe at people criticising the closure of schools in the state, saying people were entitled to their views but "thousands of kids getting quite sick" and infecting other members of their family was not an option. "If there was another way, of course we would."
Mr Andrews urged people not to act in a "selfish and irresponsible" way and to get tested for COVID-19 at the first sign of symptoms.
West Australian Premier Mark McGowan has called for an "urgent national plan about what to do to assist NSW during this very, very difficult period. We're all Australians and we all need to help one another." WA recorded no new COVID-19 cases on Thursday as Mr McGowan said NSW should have locked down earlier to stem the number of coronavirus infections.
The ACT recorded 14 new coronavirus cases overnight, all linked to previous clusters. Thirteen were in quarantine for their entire infectious time and the other person was "unknowingly infectious in the community for a short period of time," Chief Minister Andrew Barr said.
New Zealand recorded 68 new COVID-19 cases in the community on Thursday, a slight increase from the day before.
Australia has evacuated 4000 people from Afghanistan but others still seeking to flee the Taliban-controlled country have been warned of credible threats of a terrorist attack on Kabul airport.
That's all for tonight. We'll be back from 6am tomorrow.
A Sydney man who tested positive for COVID-19 and allegedly refused to isolate has been arrested after being on the run since last week.
An arrest warrant for 27-year-old Anthony Karam was issued on August 20 for multiple alleged breaches of public health orders.
After appealing for the public's help, NSW Police arrested Mr Karam about 5.30pm on Thursday at a unit in Wentworth Point in Sydney's west.
Charges are expected to be laid.
A distribution centre and a Kilsyth supermarket in Melbourne's Yarra Ranges are among the new entries on Victoria's exposure sites list.
A distribution centre in Truganina for online shopping site Catch has been listed as a tier one site from 2pm to 10.30am on August 23 and August 24, while Coles Kilysth is a tier two site for 10am to 11am on August 23.
Altona business Borgcraft was added to the exposure sites list later on Thursday night as a tier one site.
The Slough Road, Altona business was listed as a tier one site for anyone at the venue on August 23 and August 24 from 5.30am to 4pm when a positive case was at the location.
Shops in Mount Waverley, Port Melbourne and Wheelers Hill have also been listed as tier two sites while a number of Shepparton businesses are also on the list.
Meanwhile, Victorian Chief Health Officer Professor Brett Sutton has approved a new permit for people travelling directly to Victoria after completing hotel quarantine interstate. The new permit is known as a "departing hotel quarantine permit" and replaces the "green zone permit", with the new form requiring a mandatory day 17 test.
Tier one sites
Get tested immediately and quarantine for 14 days from exposure. Anyone who has visited this location during these times must get tested immediately and quarantine for 14 days from the exposure.
Catch Distribution Centre Truganina: August 23, 2pm – 10.30pm, August 24, 2pm – 10.30pm.
Fernwood Fitness Shepparton – Konga Class: August 20, 9am-10.15am.
Borgcraft Pty Ltd, 31-33 Slough Road, Altona: August 23 and August 24 5.30am to 4pm.
Tier two sites
Get tested urgently and isolate until you have a negative result. Anyone who has visited this location during these times should urgently get tested, then isolate until confirmation of a negative result. Continue to monitor for symptoms, get tested again if symptoms appear.
Wheelers Hill, 7-Eleven Brandon Park: August 22, 8.50am – 9.09am.
Mount Waverley, Boost Juice – The Glen Shopping Centre: August 22, 2.45pm – 3.03pm.
Port Melbourne, Woolworths Fishermans Bend: August 23, 12.45pm – 1.06pm.

Fernwood Fitness Shepparton: August 20, 9am – 10.15am.

Coles Kilsyth, August 23, 10am – 11am.
Former Prime Minister John Howard says he regrets the prominence given to his comments on the children overboard scandal, which were made during the 2001 election, but says it wasn't a "big issue" in the campaign.
Mr Howard said he was incorrectly advised people desperate to enter the country as refugees threw their children into the ocean so naval officers would rescue them and take them to Australia.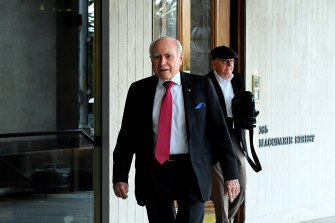 But he again rejected claims the scandal helped him win the election despite the Coalition campaigning heavily on its handling of Australia's borders.
"What I regret is that it, in retrospect, it is being given a prominence that it didn't have," Mr Howard told ABC 774 on Thursday.
"I mentioned it a couple of times and then, until some stories emerged towards the end of the election campaign, I didn't address it for something like two or three weeks, it wasn't a big issue in the campaign.
"But once the campaign was over and it was established that the original advice given in relation to the children being allegedly thrown overboard was not accurate and people said 'Well, that was terrible and that's the reason why you won the election'. That is nonsense."
Mr Howard was also asked his response to those who accused him of allowing racism to enter the debate over how Australia handles refugees and migration during the 2001 campaign.
"I reject that. It's not right," Mr Howard said."I think the great majority the Australian public doesn't believe that but I had critics; I still have. That is the nature of holding the highest political office in the country."
The federal government has switched locations for its 1000-bed COVID-19 quarantine facility in Western Australia, abandoning a plan to build it near an airport in Perth's southern suburbs for a site on contaminated Defence land in the city's far north.
The Jandakot Airport site in Perth's south was announced in July as the preferred location for the $300 million facility but on Thursday federal Finance Minister Simon Birmingham announced it would instead be built three kilometres from the Pearce RAAF base in Bullsbrook on the outer fringe of Perth's northern metro area.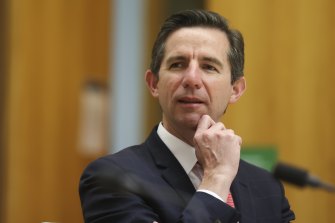 Senator Birmingham said during planning and negotiations it became clear the WA Centre for National Resilience facility couldn't be delivered efficiently in Jandakot in terms of time and cost.
"Ultimately, in terms of looking at value for money for taxpayers, as well as the ability to ensure the timely delivery of this project, we've decided that Bullsbrook offered a stronger basis to proceed," he told ABC Perth Radio.
The new site will sit within the 1000-hectare Bullsbrook training area, where groundwater has been contaminated with PFAS fire retardant chemicals that were used at RAAF Pearce from the 1970s to 2004.
Senator Birmingham said an independent feasibility study was conducted on the site, which had found it could be used safely.
"Their advice to us was certainly that it is a suitable site to proceed," he said. "We won't be using groundwater for drinking purposes at the quarantine facility and obviously all safety precautions will appropriately be taken.
"We will look at the construction of if need be, in a temporary sense, [a] dedicated potable water system, including storage tanks, pumps and distribution on site. Obviously, ideally, [in] the long term we'd see connection to nearby mains, at Pearce or elsewhere."
Construction giant Multiplex, which was also awarded the contract to build the Centre for National Resilience in Victoria, will build the Bullsbrook facility.
The rooms housing the first 500 beds of the facility are expected to be built by the end of the first quarter of 2022.
Sydney intensive care specialist Mark Nicholls has warned that Australians who don't get tested early for COVID-19 are putting their lives at risk.
Dr Nicholls told ABC News 24 on Thursday he was concerned about stories of people dying at home from COVID-19 and others not seeking tests or taking days to get a test and spreading the virus.
Dr Nicholls, the vice-president of the Australian and New Zealand Intensive Care Society, wants people to get tested as soon as they notice symptoms so they get early medical support.
"I know [Victorian Premier] Daniel Andrews was talking about people walking around in the community for eight days with COVID and affecting other people, but they are causing harm to themselves," Dr Nicholls said.
"If people get early testing and early diagnosis then they get early help. There is hospital-in-the-home [treatment] that is operating across NSW, and they have a range of infectious diseases doctors who reach out using the technology like we are using and speaking to people and doing health checks. And in some cases they are doing it three or four times a day.
"There are issues of language, but they are working through those issues as well. And if they think there is a risk of these patients deteriorating, they get them into hospital earlier.
"But if you have symptoms of COVID, get tested so you can be diagnosed and you can be managed at home, then we can recognise if you are deteriorating and get you into hospital.
"The other thing I find is that, when people present in extremis at the door of hospitals, they are putting themselves at great risk because, if people come gradually through the hospital system, gradually to intensive care, we keep a close eye on them.
"We are finding that we are not needing to use a ventilator as much as we are able to use the high flow nasal oxygen and the drug combinations. The other thing I have to say is that I am impressed with SBS. They are doing multilingual translations of the Premier's message and reaching out to people."
Federal Labor MP Mark Butler, the shadow health minister, says Australia is "desperately behind" the world in vaccinating children aged between 12 and 15 and the Prime Minister should tell parents how many children will be vaccinated when COVID restrictions are expected to ease.
"At the very least he needs to tell parents what percentage of our 12 to 15-year-olds will be fully vaccinated before we move to the next phases in the national plan," Mr Butler told the ABC's Patricia Karvelas.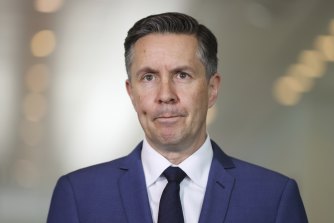 "We are desperately behind the rest of the world. Canada has fully vaccinated 60 per cent of their 12 to 15-year-olds because they started three months ago. Many European countries and Israel started months ago as well. Yet not one of our 12 to 15-year-olds, 1.2 million of them, are fully vaccinated yet."
National cabinet has agreed on vaccination targets of 70 and 80 per cent that will trigger an easing of restrictions across the country, but those targets refer to people aged over 16. The Doherty Institute, whose modelling underpins the plan, has said "we've learned from watching countries that have removed all restrictions that there is no 'freedom day'."
"We will need to keep some public health measures in place – test, trace, isolate and quarantine – to keep the reproduction number [of the virus] below 1, but as vaccination rates increase, we'll be able to ease up further and it is unlikely that we will need generalised lockdowns."
WA Premier Mark McGowan said today he reserved the right to use border controls even with vaccination rates of 70 per cent if COVID case numbers were high, because unvaccinated people and children under 12 would be at risk. There is no vaccine approved for children under 12.
As Rachel Clun reports, we'll be hearing more about the plan to vaccinate children aged between 12 and 15 on Friday. Vulnerable children in that age group – First Nations children and those with underlying health conditions – are already being vaccinated.
Professor Brendan Crabb from the Burnet Institute says Victoria can still return to zero COVID-19 community transmission but Sydney may be too far into its outbreak.
Professor Crabb said Victoria has two options: stay in lockdown until the state returns to zero cases and have a higher quality of life later in the year, or start leaving lockdown with a high amount of virus in the community.
Professor Crabb, an infectious diseases expert, told ABC 774 on Thursday afternoon both options required the state to get to a high number of double-vaccinated people and Victoria should aim for zero cases.
"Victoria only has two options," Professor Crabb told ABC 774."One is to live in lockdown for a while with the hope of reaching zero community transmission again and therefore … living a much freer life, almost a completely free internal [inside Victoria] life.
"So, living locked down with the hope of zero and openness, or leaving lockdown with lots of COVID [around]. They're the only two choices."
But he is concerned Sydney may have too many cases to return to zero.
"Unfortunately for the moment, Sydney is going down that second path," Professor Crabb said.
"I'm very hopeful NSW can eliminate it from the regions but from Sydney, it will be incredibly tough, now they're really living in lockdown until vaccination rates are high and even then, as the roadmap says, it's an easing away from that.
"There's no COVID zero life for NSW for the foreseeable future. Just less and less lockdown.
"But for us if we do get back to zero, then we will have a more open life like South Australia and Queensland and Tasmania and Western Australia have.
"So that's why we've got to give it a go. We've kind of got no choice, but the beauty of it is with very low numbers, we still have a chance, you have a good chance and we shouldn't let that opportunity go when the only alternative is locked down anyway."
Federal Labor MP Julian Hill was ejected from the chamber by Speaker Tony Smith this afternoon after he yelled "you are killing my constituents" when Home Affairs Minister Karen Andrews rose to answer a question from government ranks about Afghanistan.
On the way out, Mr Hill, the member for the Victorian seat of Bruce, added:
There are thousands of Australians and their loved ones who are only in Afghanistan because you haven't processed their visas for years and now you are leaving them to die.
The Speaker labelled his behaviour "completely unacceptable", saying MPs who are asked to leave the chamber "must do so immediately without comment or abuse to anybody".
In a statement this week, Mr Hill drew attention to the plight of Afghan Australians in his electorate, including an Australian citizen he called Razia.
"Razia is a citizen from my electorate. She's lovely and kind. She and her husband fled the Taliban 14 years ago. Her sister and mother are alone in Kabul, unable to even leave the house now and get food," he said.
"The Taliban are back, driving around their district looking for women. Razia's Mum and sister are only in Afghanistan as they've been waiting over four years for the Morrison government to process their visas.
"Abdul is an Australian citizen from my electorate. He's in Kabul with his pregnant wife and his two-year-old Australian child. He's only in Afghanistan because he's been waiting for three years for the Morrison government to process his wife's visa. I shamed the government into granting his visa last week. Abdul then emailed me photos of his bruises, after he was beaten trying to get to the airport. They'll keep trying."
You might recall that earlier today West Australian Premier Mark McGowan raised questions about whether children aged 12 to 15 should be included in national vaccination targets that are tied to the staged easing of COVID-19 restrictions across the country.
ACT Chief Minister Andrew Barr has also said his government would explicitly include this age group when making decisions about future restrictions.
The Doherty Institute's modelling, which underpins the national plan, talks about vaccination targets of 70 and 80 per cent, which is a reference to people aged 16 and over.
"The Doherty Institute … has made it very clear that they have not considered it necessary to include this [12-15] age group in overall vaccination targets, but it does not mean that they shouldn't be vaccinated. Of course they should be vaccinated," Prime Minister Scott Morrison said in Parliament today.
"The government will ensure they are vaccinated; I have two daughters aged 12 and 14 and I think it is very important they will be vaccinated. They will be. There are 1.2 million [children] between that age group of 12 and 15 who will need to be vaccinated in that cohort."
As Rachel Clun reports, we'll be hearing more about the plan to vaccinate children aged between 12 and 15 on Friday. Vulnerable children in that age group – First Nations children and those with underlying health conditions – are already being vaccinated.