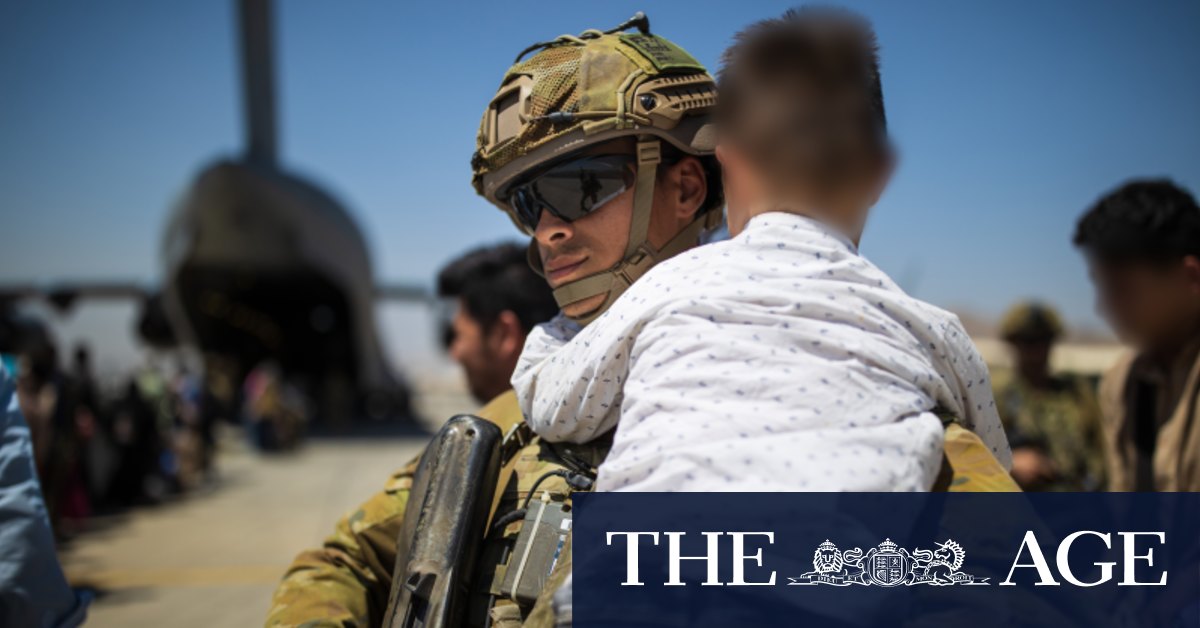 Heappey told the BBC's Radio 4 Today program the advice to those queuing around Kabul airport had changed, and that they should return to a "safe place" because of a "credible" risk to life.
"A very large number of people have chosen not to move away… I can only say the threat is severe," he told Sky News. He said the threat was "very imminent, very credible and very lethal".
The Sydney Morning Herald and The Age spoke to three Sydney men on Thursday who feared for the safety of their wives and children who had been struggling to get into the airport.
One of the men said his wife had managed to get inside the airport for her flight but had been separated from their children who were outside. He said his son had been emailed a visa but could not open it outside the airport because of a poor internet connection.
"My wife is crying and my kids are crying," he said.
Another Sydney man said his wife and young child were stuck outside the airport and had received a letter warning them to stay away from the airport on Thursday because of the heightened security risk. He said his wife's partner visa application was still being processed after being lodged more than four years ago.
"Sending people home is not safe," he said. "The government is acting too slow. It is not enough. My family is in tears and crying and my wife doesn't know what to do. She is saying 'I would rather die than see my kid die here'.
"It is a horrible, horrible situation. They were standing all day in the canal in dirty water and the Australians came and were only picking people with Australian passports."
A third man anxiously waiting for his wife and child to get to Australia said the Taliban had struck his wife and his brother with sticks at the airport on Wednesday.
"They pushed them off and said you have to leave otherwise we are going to do worse than this," he said.
Assistant Defence Minister Andrew Hastie said the situation around the airport had significantly deteriorated and there was now a "high" risk of a suicide bomb attack outside it.
Even before the updated advice on the terrorist threat, Afghans with Australian visas were finding it increasingly difficult to get into the airport in recent days, with the crowds becoming more violent and soldiers manning the perimeter appearing to favour those with foreign passports.
But another 1200 people were evacuated on six Australian flights and one New Zealand flight on Wednesday night, taking the total rescued by Australian authorities to more than 4000 in eight days.
Prime Minister Scott Morrison said on Thursday the rescue operations remained in place "but the situation is deteriorating".
Loading
Emotions spilled over in Federal Parliament on Thursday over the plight of Afghans left behind, with Labor MP Julian Hill kicked out of the chamber after accusing the government of "killing my constituents".
Mr Hill, who represents the most Afghan-Australians of any federal MP, yelled across the chamber at Home Affairs Minister Karen Andrews: "There are thousands of Australians and their loved ones who are only in Afghanistan because you haven't processed their visas for years and now you are leaving them to die."
Speaker Tony Smith then officially "named" Mr Hill and the government successfully moved to suspend him from Parliament for 24 hours.
The Morning Edition newsletter is our guide to the day's most important and interesting stories, analysis and insights. Sign up here.