What a finish!
In what has been a scrappy game, the big guns have stepped up for Newcastle. Mitchell Pearce confirmed his side's spot in the finals, kicking a field goal with just 10 seconds left on the clock to seal victory.
The hero, however, was Kalyn Ponga. The fullback was easily the best player on the field, scoring a try and setting up another. He was the difference.
"Definitely happy, that was a big game for us," Ponga said after a finals spot was confirmed.
"It was a big game too, we're happy to be in the finals … we wanted to play for the full 80 minutes and we did that."
This has been a disappointing finish for the Gold Coast. So much has been expected of this side this year and, if other results go their way, they can still make the top eight if they beat the Warriors next week.
After completing all but one of their sets in the first half, the Titans fell away when the game was there to be won.
That's all from us, thanks for your company. Catch you next time.
The Newcastle halback has won it for Newcastle!
With just 10 seconds left on the clock, Pearce has sealed his side's spot in the finals.
Knights win 15-14!
The Knights get the ball back!
We are well and truly at field goal time. I reckon Newcastle has a slight edge in this department with Mitchell Pearce and Kalyn Ponga.
However, the Knights just blew a perfect opportunity to set up for one.
Jamal Fogarty can kick them for the Titans … and Patrick Herbert has just missed one from long range.
The Knights have a seven-tackle set to shoor for one of their own.
The Gold Coast has just kicked a penalty goal to level things up at 14-all.
Mitch Barnett and Jake Clifford collected Jayden Campbell with a high tackle and Jamal Fogarty has made no mistake with the penalty goal.
Five minutes to go and we're all locked up!
What was Jarrod Wallace thinking?!
The Titans forward has just conceded a penalty after hitting Mitchell Pearce late. Crazy play.
Jack Clifford has slotted the penalty goal to give Newcastle a 14-12 advantage with just less than 10 minutes remaining.
Nine has just crossed to injured Gold Coast fullback AJ Brimson.
He said the earliest he is likely to return from a jaw injury is the second week of the finals. The way his side are playing, I don't think they will get that far.
Will be interesting to see whether Jayden Campbell retains the No.1 jersey when they are both fit. There's every chance Brimson will shift into the halves, particularly given Ash Taylor won't be at the club next year.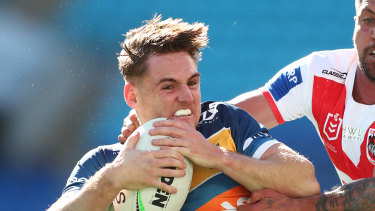 Here's how that last try unfolded …
Kalyn Ponga has just set up a try for Mitchell Pearce and the scores are now level at 12-all.
The Knights have looked ordinary in attack, but you can't count them out when you've got a potent attacking threat like Ponga in your side.
The recent clashes between the sides have been lopsided, but we've got a grandstand finish with just under a quarter of the game to go.
Here's a look at a crucial play from Kalyn Ponga. This is why he could be the difference in this one …