A huge region of the South Pacific is warming unusually fast, disrupting rainfall patterns and contributing to a lengthy megadrought across parts of South America.
Scientists have dubbed the region, covering about 8 million square kilometres to the east of New Zealand, the "Southern Blob".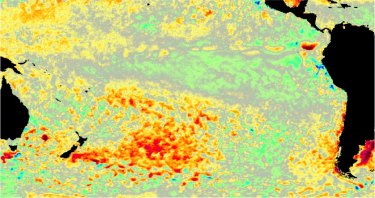 A paper published this week in the Journal of Climate argues the phenomenon had a natural origin but the build-up of heat over the past four decades has been exacerbated by global warming.
The warmth and associated high-pressure impacts are clearing during the May to September period, directly affecting the Mediterranean-like winter rainfall patterns in Chile to the east.
"We were used to short one-two year droughts but a decade-long drought is unprecedented in our recorded history, and even before," said Rene Garreaud, lead author of the paper, and a professor at the Universidad de Chile in Santiago.
Loading
"Nobody was really prepared for such a bad decade, and the impacts are evident in natural vegetation, agriculture, hydro-power generation and provision of potable water in rural sectors," he said.
Professor Garreaud said the researchers found that as much as half of the severity of the drought could be blamed on climate change, countering previous assessments that the emergence of the giant warm patch was solely a natural event.
"My guess is that natural variability can ease the drought in the next decade, but the anthropogenic part will remain with us, so we are not going back to the 'old normal'," he said. "In the long term, we are moving to a drier – and warmer – condition with respect to the recent past."