Magpies football manager Graham Wright said the club was pleased to officially confirm Nick's decision.
"Nick's a highly talented midfielder – he has outstanding skills, hits the scoreboard and works hard at his game," Wright said.
"Like all young players, he has work to do, but he is certainly talented and committed to his craft and his club, which is something our fans and his teammates will appreciate. He will slot in nicely with our young group."
Meanwhile mediation resolved a dispute between the Collingwood Football Club and Jeff Browne backer Francis Galbally, with the lawyer cleared to use a database of Collingwood members in order to contact them providing he does not breach the Corporations Act.
In the latest instalment of the off-field dramas which have hovered over Collingwood in 2021, barristers for both parties were in the Supreme Court last week to dispute whether a law would be broken if Galbally accessed a members' register to contact them about a potential board spill at the club's upcoming annual general meeting.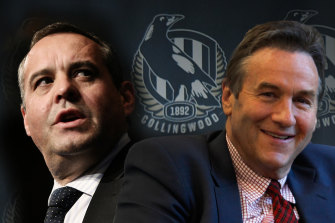 Collingwood said late on Wednesday the matter was resolved and Galbally would withdraw his complaint to the Australian Securities and Investments Commission.
"Collingwood will, by August 30, provide Mr Galbally with the club's register of members on the basis that Mr Galbally has undertaken to the court to comply with section 177 of the Corporations Act," the club said in a statement.
"The proceeding will be dismissed with no order as to costs."
Justice Peter Riordan, who heard the case on Friday, recommended that the two parties undergo mediation before another hearing on September 13.