That's all for our live coverage of the Thursday night suicide attacks at Kabul's Hamid Karzai's International Airport.
Here's what we know so far:
The death toll from the twin bombings at the Abbey Gate at the airport and the adjacent Baron Hotel claimed the lives of at least 95 Afghans, including 28 Taliban, and 13 US servicemen, including 10 US Marines, two soldiers and one Navy corpsman
The explosions, which also wounded 18 other Americans and scores of Afghans, came as the United States and other Western nations rushed to complete the evacuation of tens of thousands of citizens and Afghan allies ahead of an August 31 deadline
President Joe Biden vowed to complete the evacuation of American citizens and others from Afghanistan
Prime Minister Scott Morrison said on Friday he had written to US President Joe Biden to convey the nation's and his own "deep, personal sadness" about the deaths of the 13 soldiers
Mr Morrison said the opportunities for getting anyone left in Afghanistan out of the country now "will be very restricted"
So far 3200 Australians and Afghans with Australian visas have been rescued by Australian forces and another 800 by our allies. Of those, 783 are already in Australia
New Zealand Prime Minister Jacinda Ardern said her nation did not get to evacuate all the people it hoped to, but would now focus on supporting them in Afghanistan
Thanks for joining us.
US forces helping to evacuate Afghans desperate to flee Taliban rule were on alert for more attacks on Friday, Reuters reported.
British forces have entered the final stages of evacuating people from Kabul's airport and processing facilities have closed, Britain's Defence Ministry said.
The effort would now focus on evacuating British nationals and others who have already been cleared to leave and are already at the airport.
No further people would be called forward to the airport for evacuation, it said.
"It is with deep regret that not everyone has been able to be evacuated during this process," Defence Minister Ben Wallace said in a statement.
Wallace later told Sky News television that Thursday's attack at the airport, which AP reported has killed at least 95 Afghan and 13 US soldiers, had not sped up Britain's timetable for ending the evacuation operation.
He said the threat of further attacks would grow as the operation neared its conclusion.
So far, Britain has evacuated more than 13,700 British nationals and Afghans, representing the second-biggest airlift by the country's air force after the Berlin Airlift in 1949, the ministry said.
Reuters
The threat of further attacks around Kabul Airport will increase as Western troops get closer to leaving the country, British Defence Secretary Ben Wallace said on Friday.
He said the blasts on Thursday, which killed at least 95 people Afghans and 13 US soldiers, had not accelerated Britain's departure from the country. A closure of a processing centre at Baron Hotel near the airport had happened on schedule, he said.
"The threat is obviously going to grow the closer we get to leaving," he told Sky News. "The narrative is always going to be, as we leave, certain groups such as ISIS will want to stake a claim that they have driven out the US or the UK."
Reuters
Singapore: Security forces in Indonesia, the world's largest Muslim majority nation, are stepping up an anti-terror crackdown after the deadly attacks in Kabul claimed by an Islamic State affiliate.
There was strong condemnation from Muslim nations on Friday of the blasts that killed at least 95 Afghans and 13 US servicemen.
Indonesia, home to 225 million Muslims, joined governments in Pakistan, Saudi Arabia, Turkey and Egypt in denouncing the suicide bombings outside Kabul airport.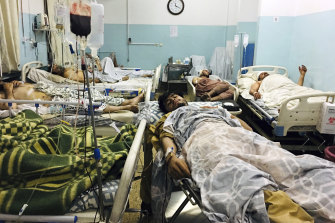 Indonesia Foreign Minister Retno Marsudi had, in the hours before the explosions, been in Qatar, where she met with representatives of the Taliban in Doha.
"I conveyed to the Taliban the importance of an inclusive government in Afghanistan; respecting women's rights; and ensuring Afghanistan does not become a breeding ground for terrorist organisation and activities," she said.
"Indonesia strongly condemns the terrorist attacks near Kabul airport which killed dozens and injured many."
Read more: Indonesia ramps up anti-terror crackdown as Muslim nations condemn Kabul attacks
Warning: graphic content
Kabul: Thousands of anxious Afghans seeking a new future were once again massing at Kabul's airport on Thursday, waiting to be frisked by the US Marine Corps at Abbey Gate. There were five days left before the departure of the Americans, five days to escape a nation suddenly under control of the Taliban.
But as the crowds pressed forward to the gate, their entry point to a new life, a suicide bomber detonated his explosive belt. A second explosion followed at the nearby Baron Hotel, then gunfire.
"People were burning alive, people could not breathe," said one Afghan eyewitness, who was with his wife and other family members waiting for an evacuation flight.
"Dead people were everywhere," said a second Afghan man who, like other eyewitnesses, spoke on the condition of anonymity because he feared reprisals. "I saw a woman in blood, wrapped up in a blanket covered in blood."
By nightfall, the full extent of the carnage came into clearer focus. At least 13 US troops were dead and an additional 18 wounded, one of the deadliest assaults on US soldiers in the past two decades of conflict here and the first US military fatalities in Afghanistan since February 2020.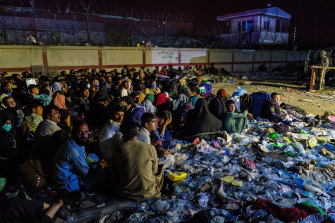 The total number of casualties remained uncertain late on Thursday (Friday AEST). One person with knowledge of the matter, who spoke on the condition of anonymity because he was not authorised to speak to the media, said 40 people were killed and 120 injured. He said the death toll was expected to rise, and other reports late Thursday put the tally far higher.
The Taliban, who seized control of the country earlier this month, have promised to prove they can govern the nation and maintain security.
But within seconds on Thursday, a sewage canal that flowed by the blast walls of the international airport was transformed into a mass grave, according to a video that went viral. In one section, twisted bodies mostly of young men, lay piled atop each other, some faces frozen in agony.
Read more: 'Dead people were everywhere' in carnage and chaos at Kabul airport
The terrorist attacks around Kabul airport, killing scores of people, including at least 13 US marines, may not seem like the moment to consider what the longer-term consequences for American power might be. The more immediate humiliation of the US will fill the airwaves for weeks to come. But then what?
Doomsayers are on a justifiable roll. The Kabul catastrophe has exposed lacuna in American global leadership. Caricatures of the Biden administration as hapless will be hard to impossible to redraw. The President's cognitive decline is being noted even by his own side; his Vice-President is fast becoming a Democratic Sarah Palin.
Biden's planning for the Afghan retreat makes the Trump administration look like a model of competence. He has somehow made the disaster at the Mexican border into a template for the barrier around Kabul airport. Neither has been secured.
His "over the horizon" pitch – that his military can maintain security at a distance – looks increasingly absurd. If the point of occupying Afghanistan for 20 years was counterterrorism but that when the occupation ends, terrorism comes back – as it has – Biden's retreat is at best a contradiction.
In his initial press conference following the attacks, he asserted a bizarre path dependence: "You know as well as I do that the former president made a deal with the Taliban." Honouring that Trump deal, Biden argued, was unavoidable. "Trump made me do it." But his predecessor walked out on the Paris climate agreement and the Iran nuclear deal. Biden had no problem rejoining both. Blaming Trump for his disastrous retreat from Afghanistan did little to instil confidence in Biden.
The Democratic President has not only abandoned Afghans, he has abandoned every ally (36 of them) that joined America in the long struggle to transform their nation – Australia included. As US national security expert Kori Schake observes, "These countries have spent 20 years in Afghanistan not primarily because they consider Afghanistan essential to their security but because they consider the United States essential to their security."
Read more: Despite bloodshed and chaos, Afghan exit may yet hold positives for US and allies
Pakistani authorities are asking hotels in the capital, Islamabad, to stop taking reservations in order to make room for foreigners who are passing through after being evacuated from Afghanistan.
The overnight request asked hoteliers to halt new reservations for 21 days, giving priority to foreign guests with flights transiting via Islamabad. No current guests were to be affected.
The arrangements come after two suicide bombers attacked crowds of Afghans flocking to Kabul's airport, killing at least 60 Afghans and 13 US troops.
AP
Soccer's world governing body FIFA said it is negotiating the "extremely challenging" evacuation of soccer players and other athletes from Afghanistan after the Taliban's takeover of power.
Islamic State suicide bombers killed scores of civilians and at least 13 US troops on Thursday, striking the Kabul airport where thousands of people have been trying to flee in the chaos after the takeover.
Last week, Afghan national team soccer player Zaki Anwari died in a fall from a US plane at Kabul airport as crowds of people seeking to flee Afghanistan thronged the airport since Taliban insurgents swept to power in the capital on Aug. 15.
"The FIFA President and Secretary General are following closely the situation and are working tirelessly with governments and relevant organisations to get those at risk out of Afghanistan," a FIFA spokesperson said in a statement on Thursday.
"FIFA's leadership is personally involved in negotiating the complex evacuation of footballers and other athletes," it said. "This is an extremely challenging environment."
Earlier this week, Australia evacuated more than 50 female Afghan athletes and their dependents after lobbying by prominent figures from the sporting world, the Australian Broadcasting Corporation (ABC) reported.
FIFPRO, the worldwide association for professional soccer players, said it has also been heavily involved in efforts to get the athletes out and it appreciated the Australian government's efforts.
The former captain of the Afghan women's soccer team, Khalida Popal, has urged players to delete social media, erase public identities and burn their kits for safety's sake now that the country is again the rule of the Taliban, who imposed strict limits on women's behaviour during their 1996-2001 rule.
Popal told Reuters in a video interview that the militants had killed, raped and stoned women in the past and female soccer players were afraid of what the future might hold.
Reuters
In the early hours of Friday morning Australian time, suicide bombers detonated a number of explosives outside Kabul airport, killing dozens and leaving many more wounded.
The explosions happened where thousands of Afghans have gathered as they try to escape the country after the Taliban seized power.
Read more: Afghanistan in crisis as terrorists in Kabul leave scores dead
New Zealand says it was not able to get everybody it wanted out of Afghanistan in time before the deadly attacks near Kabul's airport brought its rescue mission to an end.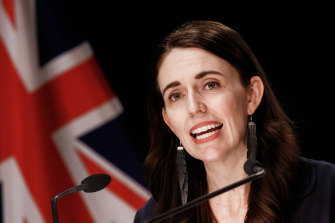 Prime Minister Jacinda Ardern said Friday she is not yet sure how many people were left behind or whether they were New Zealand citizens, residents or visa holders. She said the New Zealand military had gone to great lengths to try and find people in recent days and had been able to fly several hundred people to safety.
"We went to extraordinary efforts to bring home as many as we could who were either New Zealanders or who had supported New Zealand. But the devastating thing is that we weren't able to bring everyone," Ardern said. "And now, we need to look to see what we can do for those who remain."
Both Ardern and Australian Prime Minister Scott Morrison strongly condemned the attacks that took place Thursday. Morrison described them as "evil" and "inhuman".
AP