"Every potential gas resource is different. The scale of each project would need to be assessed by a project proponent," the spokesman said, adding the government's Future of Gas Statement had reduced the area of land available for gas exploration by 77 per cent.
Shooters, Fishers and Farmers MP Roy Butler, whose electorate includes some of the prospective area, said that statement showed the government "has plans of extending gas around Narrabri".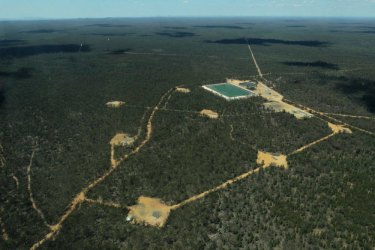 Farmers in the region were left with the uncertain prospect of gas infrastructure being imposed on them and the threat of good groundwater being contaminated as a result of drilling or from the leakage of salt from landfills. Impacts could end up being felt more than 100 kilometres away, he said.
Stuart Khan, a professor in the University of NSW's school of civil and environmental engineering, said that, while there was uncertainty over how big the gasfields might eventually be in northern NSW, Santos was yet to resolve the salt waste issues with the current Narrabri plans.
"The planning approval is contingent on Santos investigating the opportunities for 'beneficial re-use' [of the salt]," Professor Khan said. "What are they going to do with it?"
Santos said that it would be up to the Planning Department to assess whether conditions set by the Independent Planning Commission, including for waste management, had been met.
Loading
The commission's approval last year is itself still being contested. The NSW Land and Environment Court will hear an appeal against the IPC's approval next Monday from farmers and community members opposed to the Narrabri Gas Project.
The Environmental Defenders Office is representing community group the Mullaley Gas and Pipeline Accord and will argue the IPC failed to properly consider the emissions from the gasfield's impacts on the climate or the environmental impacts of proposed gas transmission pipelines that the project needs in order to proceed.
Santos said it did not comment on issues before the courts.
The Morning Edition newsletter is our guide to the day's most important and interesting stories, analysis and insights. Sign up here.