As Australia races towards the COVID vaccine targets set out in the Doherty Institute's national plan, one question is increasingly dominating discussions about the roll-out: when can children get the jab?
The 70 and 80 per cent targets set by Doherty are for people aged over 16 years old.
The federal government went part way towards answering the question on Friday, announcing the 1.2 million children aged 12 to 15 will be eligible for the COVID-19 Pfizer vaccine from September 13.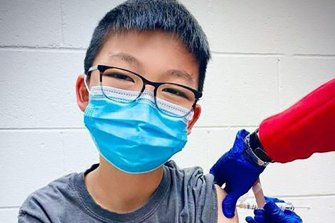 But it's still not clear when the 4 million primary school aged-children in Australia will become eligible as trials of the Pfizer and Moderna vaccines continue.
Lucija Xavier, a seven-year-old Sydney girl, spoke for many anxious younger Australians on the ABC's Q+A program on Thursday night: "I just wanted to know why my mum and dad are getting the vaccine and me and my little sister are not"?
According to polling conducted for The Sunday Age and The Sun-Herald by Resolve Strategic, a majority of Australians, 53 per cent, want children under 12 to receive a COVID-19 vaccine.
The Resolve Political Monitor survey of 1,607 people was conducted during the period from August 17 to 21 and the results have a margin of error of 2.5 per cent.
However, there remains a degree of uncertainty about vaccinating children against coronavirus. Fifteen per cent of people surveyed disagreed that "primary school children should receive a COVID vaccination", while 32 per cent were neutral or undecided.
In comparison, around 95 per cent of Australian children aged 4 and under participate in the national immunisation program for diseases such as measles, tetanus and polio.