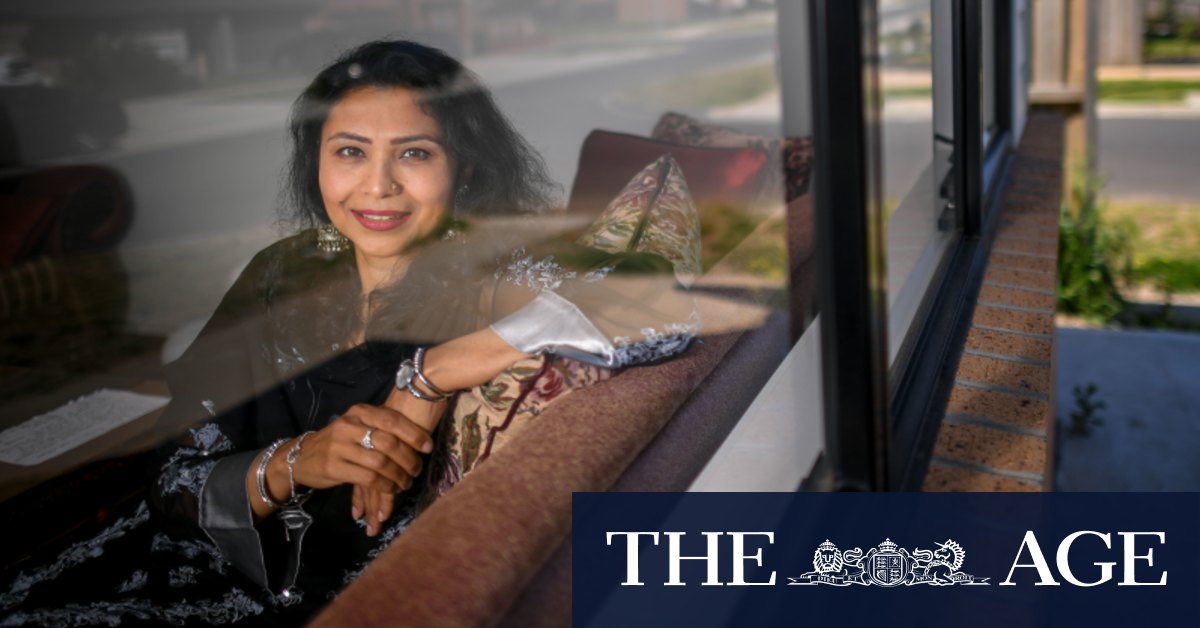 Loading
Infrastructure Victoria's deputy chief executive Jonathan Spear said the pandemic would result in a greater pull towards affordable housing in the outer areas if people continue working from home.
But many would continue coming into the city on the days they do travel to work, he said, with jobs growth set to return to inner Melbourne.
"The pandemic aggravates sprawl but reinforces the role of the city," Dr Spear said.
"It induces more people to live in growth areas and peri-urban areas but also induces employers to locate centrally because it's got good transport connections."
Before the pandemic, Erum Ali, who lives in Werribee, took the train every day to her banking job in Docklands. The overcrowded, jolty V/Line train rides reminded her of the donkey carts used in her birthplace, Pakistan.
"If you sit on the metro, you will feel the same pushes and movement," she said. "People stand back to back."
While many people will return to those crowded conditions once lockdown measures lift, Ms Ali hopes she is not among them.
She wants to work from home as much as possible to avoid the daily commute.
"Travelling really takes up so much time and energy," Ms Ali said. "I want more time with family."
Loading
Before the pandemic hit, suburban passengers were flooding V/Line trains on the Geelong, Ballarat and Seymour lines, causing overcrowding.
Patronage is currently at 13 per cent of pre-pandemic levels, but Infrastructure Victoria expects demand to recover in the medium to long term.
Ballarat and Seymour lines are set to reach capacity by the end of the decade, with Bacchus Marsh and Melton trains to reach 110 per cent capacity before 2036.
Infrastructure Victoria called for the construction of Melbourne Metro 2, an upgrade to the City Loop and extensions to the Melton and Wallan corridors from Sunshine to Rockbank, from Craigieburn to Beveridge, and on the Wyndham Vale corridor, by 2031 – a project set to cost between $5.5 billion and $8.5 billion.
Loading
Before the 2018 election, the state government unveiled a project called the Western Rail Plan, which would separate V/Line and Metro train tracks and build new electrified lines, enabling larger, faster trains to run from the city to Wyndham Vale and Melton.
Councils, academics and the state opposition have called for reassurances this project would be delivered, with a timeline yet to be set for its delivery.
A spokeswoman said the government was focused on developing "major employment precincts outside of the CBD", making it possible to meet projected demand in coming decades.
The Suburban Rail Loop was key to achieving that outcome, she said, while a host of other rail upgrades would make it easier for people to get in and out of the city.
"We're delivering an integrated transport plan for Melbourne's growth areas – whether it's the Metro Tunnel, Cranbourne and Hurstbridge line duplication, Geelong Fast Rail or providing better services and bigger trains for growth areas."
The Morning Edition newsletter is our guide to the day's most important and interesting stories, analysis and insights. Sign up here.