Horsham-based trainer Paul Preusker had one of his greatest successes when he took out the feature, the Grand National Steeplechase, on a momentous last day of the jumps season with the well-backed Inayforhay, partnered by Lee Horner.
But the real stars of the show were the training team of Ciaron Maher and David Eustace and Maher's brother Declan, who supervises their jumping team.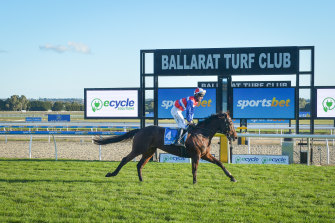 The Maher/Eustace combination took the first five races on a six-race card in a phenomenal display of stable strength, which also highlighted their commitment to jumps racing which, after a few years in the doldrums, is enjoying something of a resurgence.
Horner took the riding honours in the big race, but the biggest winner on the day was Irish jockey Willie McCarthy, who rode three of the Maher/Eustace winners: Saunter Boy in the other feature, the JJ Houlahan Hurdle, Light Pillar in the Gotta Take Care Hurdle and Heberight in one of the maiden hurdles that opened proceedings.
Perennial champion jumps rider Steven Pateman was aboard the other two Maher/Eustace winners, Raise You Ten in the opening maiden hurdle, which Maher himself sponsored, and Mawaany Machine in the Henry Dwyer Racing Steeplechase, sponsored by the Ballarat trainer.
Ironically, the runner Dwyer saddled in his own race, The Dominator, was the only faller of the day, but he got to his feet and galloped around with the rest of the field and was pronounced fine when inspected after the contest. He fared better than his rider, Chris McCarthy, who was taken to hospital with a possible wrist fracture and back soreness.
The state's leading training duo – they are also the top dogs on the flat – were denied the chance to go through the card as they didn't have a runner in the Grand National: their star jumper, Ablaze, was an absentee after sustaining a tendon injury while being prepared for a tilt at the race.
"It hasn't set in yet and probably won't for a little while, but we couldn't be prouder of everybody. The hard work they put in it is just unbelievable," Declan Maher said after Mawaany Machine brought up the five wins.