Welcome to Quick Q – Monday's Media weekly Q&A series dedicated to finding out more about the personalities that matter most in the Australian media landscape.
Every week The Sydney Morning Herald and The Age asks key figures across corporate media, business, sport, federal politics, radio, television and culture to answer a series of questions about their life, careers, hobbies and news habits.
This week's conversation is with Greens senator Sarah Hanson-Young, chair of the Senate's Environment and Communications committee, which is currently holding an inquiry into Australian media diversity.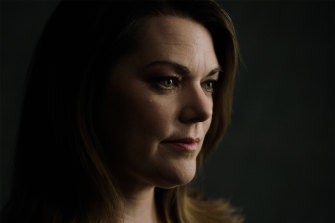 How did you get your big break?
Elections are always a mix of hard work, the right timing and luck!
What are daily news media habits?
I wake up listening to the news on breakfast radio. I run listening to the radio news- you'd be surprised how certain stories can get your PB up! I scan the newspapers online and keep up throughout the day on the live blogs and Twitter.
Which living person do you most admire?
I'm very lucky to be surrounded by some of the smartest, kindest people. My living hero of all time is Bob Brown, dear friend and mentor. I've got huge admiration for Jacinda Ardern.
Your guilty streaming pleasure?
Currently it's Peaky Blinders…it's so good!
Which phrase do you overuse?
"I'll tell you what…"
What did you want to do when you grew up?
Actually, I wanted to be a journalist.