"For too long, government has been allocating billions of litres of water to irrigators at the expense of healthy country and culture for First Nations people. We need balance."
A water allocation is the right to access a volume of water in a year. It can be used, traded or carried over.
So far, no water in the Murray-Darling river system has been allocated to traditional owner groups in Victoria, despite extensive advocacy and lobbying to government for more than 20 years.
Recently, the Victorian government announced it would allocate 2 billion litres of water savings to irrigators, which was labelled a "kick in the guts" by traditional owners.
Brendan Kennedy's daughter, Melissa Kennedy, has been involved in writing the 30-page cultural flows management proposal, and says it will enable her community to restore healthy river flows.
Ms Kennedy, who is an Aboriginal Water Officer and chief executive of Tati Tati Kaiejin, says in the past the river would overflow its banks in spring with snow melt and spill into creeks and billabongs, watering the roots of plants like "old man weed" – which is used for a traditional tea.
Now there are many significant sites, including birthing "grandmother" trees, that no longer get inundated, she says. "These trees aren't surviving, and we're not having ceremonies in old areas where we used to, which results in a loss of our cultural practices."
The installation of a flow regulator at Margooya Lagoon in 2012, despite traditional owner opposition, has seen a sharp drop in the number of fish and turtle species because larger fish can't slip through the fine grate, Ms Kennedy says.
A recent Griffith University study of Indigenous water rights in the Murray-Darling Basin found about 44 First Nations groups share in just 0.12 per cent of the market worth $16 billion. Their 64 entitlements give rights to a cumulative annual water take of 13 gigalitres, worth $15 million.
Environmental Justice Australia senior lawyer Bruce Lindsay says colonisation and decades of mismanagement and over-extraction have left the river system in a poor state.
Governments should provide Aboriginal communities with the resources to implement cultural flows, both for access to water and traditional authority over the landscape, he said.
"That means reversing the 'aqua nullius' that First Nations communities face – being shut out of having any meaningful authority over the water on their country," Mr Lindsay said.
In a fully allocated river system like the Murray-Darling, the Tati Tati have a range of options to acquire water. They could obtain funding, go to the market and buy water rights for themselves, or they could enter into arrangements with water authorities, the Commonwealth and state government.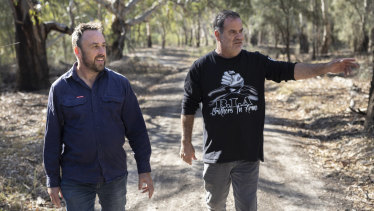 Loading
Late last year, the government announced two gigalitres of unallocated surface water in Gippsland's Mitchell River would be given to the Gunaikurnai Land and Waters Aboriginal Corporation, in a historic decision.
Mr Lindsay welcomed the move but said it was far more challenging to get water given to traditional owners in over-allocated systems like the Murray-Darling.
The minister for water, Lisa Neville, said the government was working with traditional owners to deliver water for cultural, environmental and economic uses.
"In 2020 we made an historic announcement to return two gigalitres of unallocated water from the Mitchell River to the Gunaikurnai traditional owners in East Gippsland – and we'll continue to work with traditional owners to get similar outcomes in other parts of the state," Ms Neville said.