A Victorian woman who survived years of harrowing sexual violence from her husband has spoken out on the abuse she suffered, her fight to reclaim her life and the backlash she received after she came forward and reported a "good bloke".
Her husband, well known in their community, was found guilty in June by a jury in the County Court of nine counts of rape, two charges of assault and one count of threatening to inflict serious injury.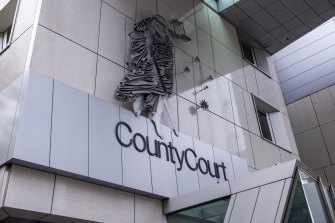 His former partner, in a victim impact statement that she read to the court on Monday, spoke of the shame and isolation that was pushed on her.
"Since I dared break the code of silence that enshrouds domestic violence, [I] faced the wrath of outing the abuser and besmirching 'the good bloke'," she said.
"There is no excuse for the shame that has been pushed on me for so long. The shame that society often adds to … I have to remember to lay the blame at the feet of the perpetrator. The man who was meant to love me."
She said she lost friends and family because after she left her husband and reported him to police, his supporters perpetuated a smear campaign against her.
"I feel the effects of social shame that society holds for women like me who stayed," she said "People think 'why didn't she leave'?"
The woman, who showed her face and name during the online court hearing, said the abuse, rape, coercion and violence she suffered was ongoing, persistent and consistent.
She said she was so convinced by him that what she experienced was normal – and that it was her fault – that she still found herself constantly apologising, even after leaving him in 2016.