Junior telco and new kid on the ASX block Aussie Broadband's pitch of 'reliable internet' has struck a chord with consumers stuck in extended lockdowns across the country, with the company adding over 400,000 broadband customers to its user base in fiscal 2021.
Managing Director Phillip Britt said the pandemic had crystallised the importance of reliable high-speed broadband, with Aussie Broadband's focus on customer service also winning it fans in a competitive market.
Around 400 of Aussie Broadband's total workforce of 600 employees, spread across offices in Victoria, Darwin and Perth, are in the customer service team.
"We believe it's the centre of everything we do. It's crucial to driving take up rates and retention," he said.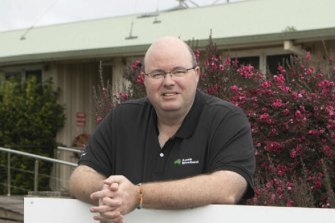 In its first set of numbers since listing on the ASX last October, Aussie Broadband posted an 84 per cent jump (year-on-year) to $350.3 million for the 12 months ending June 30. Reported earnings before interest, tax depreciation and amortisation (EBITDA) for the period grew more than five-fold to $19.1 million, well ahead of its prospectus forecast.
Shares in the $700 million company rose 1.7 per cent to $3.75. Aussie Broadband is yet to pay a dividend to shareholders.
One of the growing challenges faced by Aussie Broadband and other telecommunications companies is the high wholesale price they have to pay for capacity on the National Broadband Network. Mr Britt "strongly believes" the NBN should evolve from their current "Connectivity Virtual Circuit" charging model, where connectivity is costed by volume, to an access-based model so that consumers can use internet services as they please.
"The connectivity virtual circuit model is ten years old. Whether NBN likes it or not the model in Australia is unlimited data usage and that's what customers have come to expect and it's what they should receive", he said.
Mr Britt is confident the COVID-19 pandemic has changed Australia's connectivity behaviour for good and is not worried about how Aussie Broadband may perform after restrictions subside and employees return to the office.