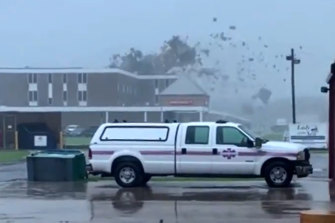 Significant flooding was reported in LaPlace, a community adjacent to Lake Pontchartrain, meteorologists in New Orleans said. Many people took to social media, pleading for boat rescues as the water rose.
Louisiana Governor John Bel Edwards said rescue crews would not be able to immediately help those who were stranded as the storm raged. And he warned his state to brace for potentially weeks of recovery.
"Many, many people are going to be tested in ways that we can only imagine today," the governor told a news conference Sunday.
But he added, "There is always light after darkness, and I can assure you we are going to get through this."
The entire city of New Orleans was left without power, according to city officials. The city's power supplier — Entergy — confirmed that the only power in the city was coming from generators, the city's Office of Homeland Security & Emergency Preparedness said on Twitter. The message included a screenshot that cited "catastrophic transmission damage" for the power failure.
The city relies on Entergy for back-up power for the pumps that remove storm water from city streets. Rain from Ida was expected to test that pump system.
Overall, more than 1 million customers in Louisiana were without power, and another 60,000 or so in Mississippi were in the dark, according to PowerOutage.US, which tracks outages nationwide.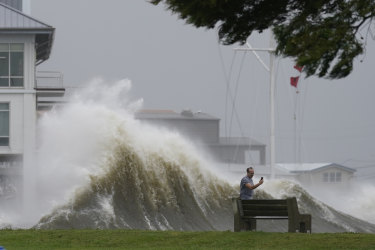 In New Orleans, wind tore at awnings and caused buildings to sway and water to spill out of Lake Pontchartrain. The Coast Guard office there received more than a dozen reports of breakaway barges, said Petty Officer Gabriel Wisdom. Officials said Ida's swift intensification from tropical storm to a massive hurricane in just three days left no time to organise a mandatory evacuation of New Orleans' 390,000 residents.
Ida was churning in one of the nation's most important industrial corridors — home to a large number of petrochemical sites.
The Louisiana Department of Environmental Quality was in contact with more than 1500 oil refineries, chemical plants and other sensitive facilities and will respond to any reported pollution leaks or petroleum spills, agency spokesman Greg Langley said.
Louisiana is also home to two nuclear power plants, one near New Orleans and another about 27 about 43 kilometres north-west of Baton Rouge.
The region getting Ida's worst is also already reeling from a resurgence of COVID-19 infections due to low vaccination rates and the highly contagious delta variant.
New Orleans hospitals planned to ride out the storm with their beds nearly full, as similarly stressed hospitals elsewhere had little room for evacuated patients. And shelters for those fleeing their homes carried an added risk of becoming flashpoints for new infections.
Edwards said more than 2400 COVID-19 patients were in Louisiana hospitals, saying the state was in a "very dangerous place with our hospitals".
The governor also said 22 nursing homes and 18 assisted living facilities had been evacuated though evacuating the largest hospitals was not an option because there simply aren't other places to send them.
Anticipating that power could be out for weeks in places, Edwards said a big focus would be on making sure there was enough generator power and water at hospitals so they could keep up with vital patient needs such as providing oxygen or powering ventilators.
"I hate to say it this way, but we have a lot of people on ventilators today and they don't work without electricity," he said.
Lady of the Sea General Hospital in Lafourche Parish, near where Ida made landfall, reported extensive roof damage. "All patients and staff are fine at this time without injury; although, our hospital has sustained significant damage," hospital CEO Karen Collins said in a message relayed via Facebook. The hospital's phone system was down.
"Once it is safe to do so they will evacuate their small number of patients," state health department spokeswoman Aly Neel said in an email. Details on the number of patients involved were not immediately available.
Comparisons to the August 29, 2005, landfall of Katrina weighed heavily on residents. Katrina was blamed for 1800 deaths as it caused levee breaches and catastrophic flooding in New Orleans. Now facing Ida more than a decade and a half later, officials emphasised that the city's levee system has been massively improved.
President Joe Biden approved a major disaster declaration for Louisiana. He said the country was praying for the best for the state and would put its "full might behind the rescue and recovery" effort once the storm passes.
Officials at Ochsner Health, which runs the largest hospital network in Louisiana, said roughly 15 of the network's hospitals were in areas potentially affected by Ida. The network evacuated some patients with particular medical needs from small, rural hospitals to larger facilities.
Warner Thomas, president and CEO of Ochsner Health, said on Sunday that the system decided preemptively to evacuate a smaller hospital in St Charles Parish when the storm's track shifted a bit east.
He said 35 patients were moved to other hospitals in the region over a little less than three hours.
When it comes to power at their facilities, Mike Hulefeld said, they are in pretty good shape. Three of their facilities in areas affected by Ida were moved to generator power in anticipation of losing city power.
Edwards said Ida could be the state's worst direct hit by a hurricane since the 1850s.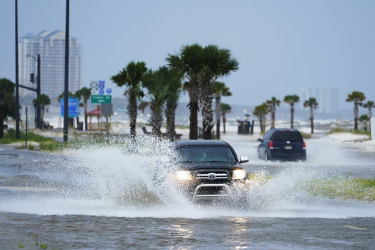 Palm trees trembled as rain gusted in sideways through New Orleans on Sunday morning, where retired 68-year-old Robert Ruffin had evacuated with his family to a downtown hotel from their home in the city's east.
"I thought it was safer," he said. "It's double trouble this time because of COVID."
The NHC warned of life-threatening storm surges, potentially catastrophic wind damage and up to 61 cm of rainfall in some areas. The National Weather Service station in New Orleans warned the many residents who have no interior rooms in their home to move to a closet or bathroom for protection. Some parishes imposed curfews beginning on Sunday evening, forbidding people from going outside.
"We're as prepared as we can be, but we're worried about those levees," said Kirk Lepine, president of Plaquemines Parish on the state's Gulf Coast.
Some $US14 billion ($19.3 billion) was spent strengthening levees after Katrina, but the stronger walls in many places may still be insufficient in the face of climate change, he said. Climate change has led to more intense and wetter hurricanes in the region.
AP, Reuters