Altium boss Aram Mirkazemi says the company is not for sale and has defended the ASX listed company's performance in its year-end results.
The company rejected a $5 billion takeover offer by US tech giant Autodesk in June on the basis that it undervalued the group. However, with Altium's shares tumbling 13.8 per cent to $30 off the back of its full-year results, the company's market capitalisation has now slipped below $4 billion.
"The thing is we are not for sale," Mr Mirkazemi said in an interview with The Age and The Sydney Morning Herald.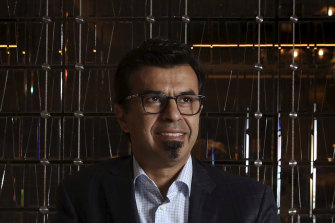 Mr Mirkazemi said other companies had expressed an interest in buying Altium, but they did not want to drive up the price of the company in case there was an eventual auction.
"As far as they're concerned they don't want to come in before there is a process, if there isn't a process they're happy for Altium to kind of stay where it is," he said.
Altium on Monday reported revenue of $US191 million for the financial year, an increase of 1 per cent on last year and just meeting the lower end of its guidance.
The company, which develops software used to design electronic circuitry for a range of goods connected to the internet, increased its profit by 79 per cent from $US19.7 million to $35.3 million and its annual recurring revenue by 29 per cent. It also declared a final dividend (partially franked) of 21 cents.
"Unforseen delays" resulting from the coronavirus pandemic meant Altium's audited accounts were not available. However, the company said it expected its audited accounts to be released in a week, and it did not expect there would be any material difference.
"It was kind of a perfect storm in a way, we've got a new auditor, we're changing our business model from perpetual to term-based, and the COVID in New South Wales, they've all conspired," Mr Mirkazemi said. "Probably in hindsight we should have waited another year to do the work."