Mr Cox's former home on Greeves Street sold for $1,117,000 in 2016, while Ms Kumar also received $36,277 in cash and personal items valued at $3000, according to court documents.
But more than five years after being awarded Mr Cox's estate, Ms Kumar recently received a knock on the door of her apartment in Melbourne's northern suburbs.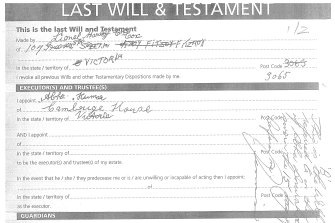 The former nurse was served with a "summons for revocation" on August 8, in a Supreme Court action launched by State Trustees, which is owned by the Victorian government.
State Trustees' lawyers claim the will was not executed in compliance with legislation, in part because it was not signed by Mr Cox in the presence of both witnesses, according to court documents.
"At the time when the two staff members signed the will, the document was folded and the plaintiff (Ms Kumar) had her palm over the document so that staff members could not see the contents of the will," it is alleged in court documents.
Ms Kumar is also accused of later telling one witness that Mr Cox had nephews in Ireland who had been named in the will, while telling the other witness that Mr Cox ripped up the will before his death, the court documents say.
"It was not consonant with the deceased's natural affections or moral duties to bequeath his entire estate to a person whom he met only 24 days prior to the making of the will," State Trustees lawyers allege in the court documents.
The case raises concerns about the checks and balances around wills in Victoria, where there is no law to prevent health professionals and carers becoming executors, beneficiaries or witnesses of their patients' or clients' wills.
Ms Kumar, who is yet to file a defence statement, declined to comment when contacted by The Age.
Loading
The legal challenge to probate of Mr Cox's will by State Trustees will not be the first time Ms Kumar has faced scrutiny over her behaviour in 2015.
She appeared before the Victorian Civil and Administrative Tribunal in 2019, when she admitted to three allegations of misconduct made against her by the Nursing and Midwifery Board.
VCAT members Elisabeth Wentworth, Mary Archibald and Pamela Barry described Ms Kumar as a "deeply flawed character" who "lacks trustworthiness and integrity" and is a risk to the public.
"The conduct in this case constituted determined, goal-directed actions by Ms Kumar to ensure that Mr Cox – a vulnerable, elderly man in her care – made a will in her favour, and that no one knew he had done so until after he died," they wrote.
"Instead of refusing the benefit under the will, she has retained it, thereby profiting from her misconduct."
She was banned from being a registered health practitioner and from working or volunteering in any sort of aged care capacity for five years.
And despite initially claiming that Mr Cox's inheritance would be donated to charities, Ms Kumar conceded before VCAT that she had retained the money, which had helped to fund her legal costs.
The Morning Edition newsletter is our guide to the day's most important and interesting stories, analysis and insights. Sign up here.