According to federal government figures released at the weekend, the municipality has one of the slowest rates of vaccine uptake in Victoria. As of Friday, 39.3 per cent of its eligible population (above the age of 15) had received a first vaccine dose – the lowest percentage of all 79 of the state's local government areas.
The municipality has the fourth lowest rate of fully vaccinated residents, with 24.5 per cent having had both doses.
Statewide, 33.33 per cent of the eligible population were fully vaccinated as of Friday, while 54.32 per cent had received their first vaccine dose.
The City of Melbourne also ranks eighth out of 79 for the current active COVID-19 case rate, with 33 active cases (or 18 per 100,000 residents).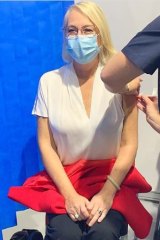 It has the second highest number of homeless people in the state and 48 per cent of residents speak English as a second language, which are both known barriers to getting the vaccine.
However, the low vaccination rate can also be partly explained by the city's young demographic.
The Australian Bureau of Statistics' most recent population release estimated 64 per cent of the city's population was aged between 20 and 39 as of December 2020. Until early last month, this demographic was not eligible for any vaccine.
Lord mayor Sally Capp, who will be at the new hub handing out lollipops on Wednesday, said the figure, which used 2019 data, was also likely to be skewed due to the high numbers of international students who had left the city since the start of the pandemic.
"We are doing everything we possibly can to encourage, incentivise and support people into accessing the vaccines as quickly as possible," she said.
"[However], we acknowledge this is a really big challenge ahead of all of us to get the majority of our population vaccinated as quickly as possible.
"We are focused on that 80 per cent, so that we can open and stay open, so that we can start to welcome people back from interstate and overseas."
Nicole Bartholomeusz, chief executive of community health organisation Cohealth, said language difficulties, cost and stigma were some of the barriers that prevented vulnerable groups from accessing mainstream health services.
Loading
"We have to create spaces that are welcoming and accommodating for vulnerable communities and make sure that we're actually delivering the vaccine in a really safe, trauma-informed way," she said.
"People experiencing homelessness and other vulnerabilities are at higher risk of exposure to COVID and yet face greater barriers to accessing the vaccine."
Ms Bartholomeusz said outreach work, such as Mr Rose's, helped dispel misinformation about COVID-19 that was circulating on social media.
"It immediately builds trust with the people that we're working with, and it helps us to get the right information to them and gives them an opportunity to … come in and have the vaccine."
The centre, which features a vaccine hero art installation, will initially have capacity to vaccinate 200 people a day, but this will increase to 600 a day as vaccine supply increases. The centre will eventually be opened to the wider public.
Stay across the most crucial developments related to the pandemic with the Coronavirus Update. Sign up to receive the weekly newsletter.