Alright – we are wrapping things up for the night, but not without some last-minute drama.
There was some eleventh-hour chaos in the shot put F20 final. Muhammad Ziyad Zolkefli of Malaysia smashed the world record with a throw of 17.94m, but is now listed as DNS.
Ecuador's Jordi Patricio Congo Villalba is also listed as DNS, as is Australia's gentle giant Todd Hodgetts who finished the event seventh.
The protest has come from Ukraine – who say the trio failed to meet call room timings. The delay had no impact on the competition.
The protest only came after Zolkefli's throw, and now puts Ukraine duo Maksym Koval and Oleksandr Yarovyi
in the gold and silver spots.
The IPC will be taking a look at the protest and will later come back with a ruling.
Our live blog will back at 11am tomorrow – see you then!
Madison de Rozario has claimed bronze in the women's 1500m T54!
It was absolutely pouring down at the track in horrendous conditions, but the Australian cycling star was able to overcome the weather to find third place.
China's Zhaoqian Zhou has taken the gold, with Manuela Schaer in the silver spot.
Australia wheelchair tennis star Dylan Alcott has survived a gruelling match-up against Netherlands' Niels Vink to book a final spot in the quad singles.
Alcott held on for a final score of 6-4 3-6 6-4 to make it into the gold medal final within three sets.
The time of the match will be confirmed in the coming days.
The teenager went through a horror 18 months in preparation for the games after she lost 90 per cent of the family property as a result of the 2020 bushfires.
Our 17-year-old superstar Ruby Storm is in high spirits after coming in seventh in the women's 200m Individual Medley SM14 today.
It's no wonder, given the teenager has already won silver and bronze at the games. Post-race, Storm said she would be having a big sleep after the race.
Her Aussie counterpart Paige Leonhardt came sixth in the same race.
Matt Levy has come in fifth in the men's 50m freestyle S7.
Jasmine Greenwood has won silver in the women's 100m butterfly S10!
At 1:07.89, Greenwood was only 0.37 behind snagging the gold.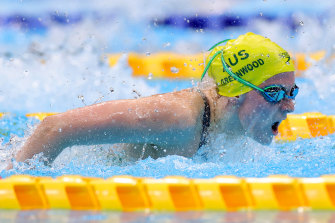 She was beaten out by USA's Mikaela Jenkins with a time of 1:07.52. The Netherland's Chantalle Zijderveld took bronze with a time of 1:07.91.
What a brilliant race for the 16-year-old!
Wow, Pearse has just broken down in tears in an incredibly emotional post-race interview after winning the bronze.
Pearse spoke about how hard it was over the last 18 months living on a farm during Melbourne's various lockdowns while training for the Games.
The teenager ended up training in a dam on the dairy farm in preparation.
"Last year when we went into lockdown mum made a joke that the dairy dam could turn into the Pearse aquatic centre," he said.
"Really once we went into lockdown, it wasn't a joke anymore. We got some bottles, crates and turned it into a pool. Looking back 18 months, training in the dairy dam, I never thought I'd be here."
Australia's Col Pearse has claimed bronze in the men's 100m butterfly S10!
The Year 12 student saw the race in a time of 57.66 to set a new Australian record. Ukraine's Maksym Krypak claimed gold with a new world record time of 54.15 with Italy's Stefano Raimondi coming in the silver spot with 55.04.
It marks his first-ever Paralympic medal.
Just had a chat to Scooter in the mixed zone. He can confirm his phone has been going off since becoming a cult hero of the Australian team.
"It's going nuts. I'm very thankful for all the people back home that are supporting me. It's like I need a receptionist here to do all the messages. I don't like to leave people short.
"They've gone out of their way to say something to say nice I feel I'm obliged to say something nice back. Tomorrow I have a day off and I'll be in the workshop punching away on the keyboard.
"I just wanted to start off fast and hold the speed for as long as possible. To come away with a bronze and a silver is pretty special. I've been looking for a Paralympic medal for 13 years. I'm over the moon."
Czech Republic's Adam Peska has beaten Australian star Daniel Michel in the men's boccia 4-3.
Michel will now play in the bronze medal game tomorrow, while Peska will go for gold in his next match.
Michel will take on Great Britain's Scott McCowan at 11.40pm AEST tomorrow.