Those conditions can include diabetes, obesity, chronic kidney disease and asthma.
However, it does not deliver any benefits once patients develop severe disease.
The Royal Australian College of General Practitioners said sotrovimab would be prescribed by a doctor and administered in a health facility.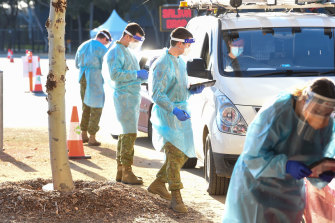 The drug is administered intravenously by infusion and mimics natural antibodies that fight off the virus.
As part of the approval process, drug company GlaxoSmithKline must provide long-term information about the efficacy and safety of sotrovimab.
The Australian government has secured 7700 doses for its national medical stockpile with about 500 going to Victoria. The drug has also been approved for use in the US and Europe.
Premier Daniel Andrews said there was good evidence that if the drug was administered early on for coronavirus patients it could have "really significant benefits".
Mr Sharp said coronavirus was spreading through the regional community, with more people becoming unwell quickly and requiring hospital treatment in Shepparton or being transferred to Melbourne.
He urged residents to get vaccinated immediately if they had not yet made an appointment. About 4000 people are expected to require a day-13 test on Thursday that will determine whether they can be released from quarantine.
There are currently 474 Goulburn Valley Health staff who remain furloughed, down from 530 at the peak of the outbreak so far.
The hospital at Shepparton is treating three COVID-19 patients, with others sent to Melbourne for further care.
More than 20,000 people have been required to isolate in Shepparton causing havoc for essential services, including deliveries of food from local supermarkets.
Independent MP for Shepparton Suzanna Sheed said she was concerned about the impact that positive cases could have on the city's hospital and its emergency department.
"It does make you realise we do need to keep numbers down for the hospitals to cope," she said.
Stay across the most crucial developments related to the pandemic with the Coronavirus Update. Sign up for the weekly newsletter.