Good evening and thank you for reading our live coverage of the day's events. If you are just joining us now, here's what you need to know:
Victoria has extended its lockdown until at least September 23, with some small changes. It has also shifted its public health strategy from a focus on bringing COVID-19 cases in the community as close as possible to zero to a focus on buying time with restrictions while vaccination rates ramp up. This brings the state broadly into line with the approach in NSW. It was "no longer a realistic strategy" to drive cases down to close to zero, Victorian Premier Daniel Andrews said on Wednesday. "They are going to go up. What we must do is suppress case numbers sufficient to buy us time to get people vaccinated." In happier news, regional Victoria should expect an announcement about new freedoms in coming days.
NSW recorded 1116 new cases of COVID-19 in the community and four deaths. A woman in her 50s from south-west Sydney died at Liverpool Hospital, a woman in her 60s from western Sydney died at Concord Hospital, a woman in her 70s from south-west Sydney died at Liverpool Hospital and a woman in her 80s from south-west Sydney died at Royal Prince Alfred Hospital. All four women were unvaccinated and had underlying health conditions.
The key NSW suburbs where people are being encouraged to come forward for testing are: Guildford, Georges Hall, Merrylands, Auburn, Punchbowl, Bankstown, Lakemba, Yagoona and South Granville.
NSW Premier Gladys Berejiklian said it was "impossible" to eliminate the highly transmissible Delta strain of the virus. "NSW has proved successful until this point in time of getting rid of other strains… but Delta is a game-changer and every state in Australia, sooner or later, is going to have to live with Delta. She added that "I feel that Victoria is perhaps turning the corner in how they are dealing with COVID in terms of accepting what the Delta strains is like, and what it means for citizens".
Fragments of the virus have been detected in the sewage in the following areas in NSW, prompting a call for residents to get tested if they are displaying symptoms: Temora, Thredbo, Merimbula, Port Macquarie, Dunbogan, Bonny Hills, Warren, Molong, Tamworth and Gunnedah.
Victoria recorded 120 new, locally acquired cases of COVID-19 and zero in hotel quarantine. This is the highest daily figure the state has recorded this year. Two women, aged in their 60s and 40s, died at home after contracting the virus. Their deaths were first reported on Tuesday. Both women were unvaccinated.
While the coronavirus numbers are going up in Victoria, there will be a modest easing of some restrictions: playgrounds will reopen from Friday for children under 12 and in-home care will be allowed if both parents are authorised workers. An expanded 10-kilometre travel limit, a three-hour exercise limit, outdoor personal training and private real estate inspections will kick in when 70 per cent of Victorians aged over 16 have received at least one dose of a COVID-19 vaccine.
Queensland health authorities have issued a public health alert for COVID-19 exposure sites in Brisbane's south and Goondiwindi after a NSW truck driver tested positive to the virus. The driver entered the state on Wednesday, August 25, and crossed back over the border the following day, stopping at two truck stops during the trip, a Queensland Health spokesperson said.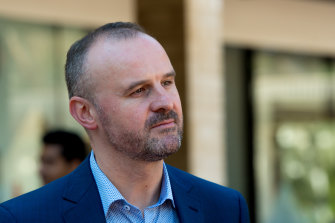 The ACT recorded 23 new COVID-19 cases overnight, 11 of which were in quarantine during the entire infectious period. "We have 13 people now in hospital with COVID, four in intensive care. None of the people in hospital with the virus at the moment are fully vaccinated," ACT Chief Minister Andrew Barr said.
On Thursday evening Canberrans will get more freedoms, including allowing up to five people to gather for non-organised recreation. Mr Barr said that meant things such as running, walking, cycling and picnics were allowed but not more formal recreation such as golf or tennis or bootcamps. Outside of approved activities, Mr Barr says, "keep as far away from other people as you possibly can all of the time".
South Australia's Chief Public Health Officer Nicola Spurrier says five interstate truck drivers who have tested positive to COVID-19 have passed through the state in the past six days. It was "four discrete episodes", Professor Spurrier said, because two of the truck drivers were travelling together. Professor Spurrier described the cases as a "wake-up call" and said about 240 people were in isolation in South Australia as a result. "This is going to go up," she said.
New Zealand reported 75 new cases of COVID-19 on Wednesday, all but one of which was in Auckland. One case in Wellington was a close contact already in isolation. Auckland will remain in lockdown for another fortnight while the rest of the country stepped down one level in restrictions at 11.59pm on Tuesday.
This is Michaela Whitbourn signing off on the blog for the evening. Broede Carmody will be back with you tomorrow morning.
Treasurer Josh Frydenberg says all states and territories need to stick to the reopening plan agreed to at national cabinet, welcoming Victoria's move to abandon COVID zero.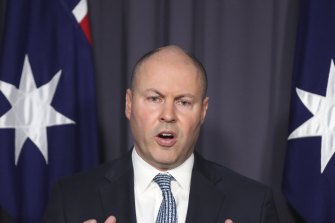 "What is really pleasing is to hear those words from Daniel Andrews today, it's an acknowledgment that zero COVID, which you and I have discussed previously, is a fallacy," he said on ABC's 7.30 program on Tuesday night.
"You can't eliminate the virus, and stringent lockdowns need to come to an end as soon as
it's safe to do so.
"All states and territories, whether they're Queensland, Western Australia, or the southern states, need to stick to the plan that was agreed at national cabinet."
On Channel 9, the Treasurer said vaccination rates in Queensland and Western Australia had to increase.
"How ridiculous would it be for someone in New South Wales or Victoria to travel to Canada before they go to Cairns or to be able to go to Fiji, or Singapore, or Bali, before they go to Perth," he said.
Speaking earlier on Sky News, Mr Frydenberg said there would be no excuses for premiers not to lift the border closures once the country achieves an 80 per cent vaccination rate for eligible people.
Mr Frydenberg was pressed on the government's "double standard" in not asking profitable companies to pay back JobKeeper, while recouping welfare payments.
"I put it to you the businesses that received JobKeeper were in the face of one of the biggest economic crises this country has ever seen. When JobKeeper was put in place, confidence boosted, both business and consumer confidence," he said on ABC.
Four new tier one exposure sites, including a family health care centre and a Serco call centre, have been added to Victoria's growing list.
There are now 928 exposure sites in Victoria.
A backpacker's hotel in St Kilda, the Base Backpackers on Carlise Street, has been listed as a tier one exposure site. The periods cover all of Saturday, August 28, Sunday, August 29, Sunday, August 30, Monday, August 31, Tuesday, August 31 and Wednesday, September 1.
Anyone who visited the backpackers at those times needs to quarantine for 14 days.
Public service provider Serco, which has major government contracts including for Centrelink, has a call centre at Essendon Fields that has also been identified as a tier one site for Monday, August 30 between 8am and 4.40pm.
In Coolaroo, the Kasr Sweets dessert shop on Somerton Road has also been listed for: Monday, August 23, 6pm to 9pm; Thursday, August 26, 7.30pm to 9.30pm; Friday, August 27, 9.30pm to 10.20pm and Sunday, August 29, 5pm to 6.05pm.
Broadmeadows Family Health Care, at 357 Camp Road, was added to the list on Wednesday night. Anyone who attended the clinic on Tuesday, August 24, between 2.35pm and 4.20pm, needs to isolate for 14 days.
They join tier one sites, reported earlier this afternoon, the PAS Group head office on Church Street in Richmond and apartments on Peterson Avenue in Coburg North.
A number of tier two sites, requiring people to isolate until returning a negative test, have also been added on Wednesday night:
Broadmeadows: Specsavers, Broadmeadows Central, shop G052/1099-1169 Pascoe Vale Road, Saturday, August 28, 10.40am to 11.40am.
Hawthorn: Hawthorn Village Apartment Complex, 28 Queens Avenue from midnight to 11.59pm on: Wednesday, August 25; Thursday, August 26; Friday, August 27; Saturday, August 28; Sunday, August 29 and Monday, August 30.
Sunshine: Sunshine Fruit Market, 21C Devonshire Road, Thursday, August 26, 7pm to 7.45pm.
Geelong West: 7 Origins Cafe, 208 Pakington Street, Saturday, August 28, 2.20pm to 3.10pm.
Geelong West: Poco Cafe Express, 111 Pakington Street, Sunday, August 29, 11am to 12.10pm.
Southbank: 7-Eleven, 1 Freshwater Place, Friday, August 27, 7.55pm to 8.25am.
Southbank: Woolworths Melbourne Square, 1/10 Hoff Boulevard, Monday, August 30, 10.10am to 11am.
Sunshine: Roshan Supermarket, 5/9 Clarke Street, Sunday, August 22, 7am to 7.40am.
Brunswick East; Australia Post, 167 Lygon Street, Monday, August 30, 3pm to 3.35pm.
Elsternwick: Coles, 475 Glen Huntly Road, Sunday, August 29, 3.50pm to 4.40pm; Tuesday, August 31, 9.10am to 9.45am.
Geelong West: Coles, 166-188 Shannon Avenue, Sunday, August 29, midday to 1.05pm.
Hadfield: West Street Fruits, 132 West Street, Saturday, August 28, 1.20pm to 3pm.
Hadfield: Zaatar on West, 114 West Street, Saturday, August 28, 1.30pm to 2.07pm.
Albion: Dulux Trade Centre, 592 Ballarat Road, Saturday, August 21, 10.48am to 11.30am.
Seaholme: Liberty Altona, 42 Millers Road, Saturday, August 21, 12.46pm to 1.25pm.
Hoppers Crossing: Ceylon Delicious, 2/266-274 Derrimut Road, Friday, August 27, 5.30pm to 6.30pm; Saturday, August 29, 5.30pm to 6.30pm.
Brunswick East: Coles, East Brunswick Village EBR, 127-137 Nicholson Street, Friday, August 27, 7am to 4.30pm; Saturday, August 28, 6.40am to 10.30am; Sunday, August 29, 6.40am to 12.30pm.
Altona North: 7-Eleven, corner Millers Road and Kororoit Road, Monday, August 23, 3.55pm to 4.30pm.
Geelong West: Coles, 166-188 Shannon Avenue, Saturday, August 28, 2.15pm to 3:10pm
Altona North: Woolworths Millers Junction, 302-330 Millers Road, Friday, August 27, 1.30pm to 3pm; Saturday, August 28, 3pm to 5pmC
Keilor East: Chemist Warehouse, 3/233 Milleara Road, Sunday, August 29, 2.30pm to 4.30pm. Some individuals will be Tier 1 contacts required to quarantine for 14 days and the Department will contact them directly with this advice.
Tarneit: Coles – Wyndham Village Shopping Centre, 380 Sayers Road, Sunday, August 29, 4.15pm to 5pm
Altona North: Woolworths Borrack Square, 2/32 Borrack Square, Saturday, August 28, 1pm to 2.30pm
For more details, check the Department of Health's website.
Nancy Baxter, head of the University of Melbourne's school of population and global health, has expressed concern that Melbourne's outbreak could catch up to Sydney's within five weeks if case numbers continue to grow.
Premier Daniel Andrews on Wednesday conceded that Victoria could not run the Delta variant of COVID-19 down to zero using lockdown restrictions, and will instead push to maintain manageable levels of the virus in the community and focus on vaccinations.
Professor Baxter said she worried Melbourne could end up in Sydney's situation, which has just recorded 1116 new cases but has a higher vaccination rate than Victoria.
"We're still not going to have enough people vaccinated to really change the trajectory as much as we'd like," she told ABC Melbourne Radio's Drive program on Wednesday.
"Until today, and maybe it was naive of me, but I had held up hope that we'd be able to drive this down to like 30-40 cases a day and be able to have a little bit more liberty between now and when we're [70 per cent] vaccinated."
She said Australia had broadly still done well compared to "the calamity they had in New York City, Milan".
"We still have a lot of unprotected people, so that is a possibility if we let this really go … This is a much more infectious version of the virus and also a more deadly version of the virus."
But despite feeling dejected today, Professor Baxter said vaccines were still doing their job and had stopped Sydney hospitals from "absolutely overflowing" with people sick with COVID-19.
"So it's not a bad news story … but it's not a good news story either."
Victoria's Chief Health Officer Brett Sutton has moved to tighten the state's borders even further, removing towns from a cross-border bubble with parts of NSW from 11.59pm tomorrow.
"With over one thousand cases per day, and a trajectory of exponential growth, the risk that NSW poses to Victoria is bigger than ever," Professor Sutton said in his daily statement.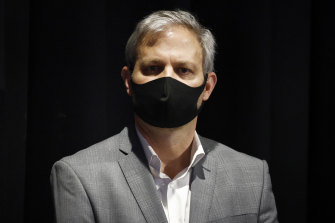 "That's why we are reducing the number of communities in the border bubble."
Six local government areas – Bendigo, Shepparton, Benalla, Buloke, Loddon, Yarriambiack – and two NSW council areas – Broken Hill and Edward River – will no longer be included as a cross-border community.
The effect of the decision will stop residents of the areas from using a permit to enter Victoria from NSW.
NSW Police Commissioner Mick Fuller has said the decision to escalate enforcement of COVID-19 restrictions in the state was not based directly on health advice but community transmissions of the Delta variant would be 10 times the current level if not for police intervention.
Revealing police have issued about 18,000 fines over the past six weeks of enforcement of public health orders, Mr Fuller told a NSW Parliament budget estimates hearing on Wednesday that he had committed to "treating the virus like a criminal" to support the pandemic response.
In a recent message to the force urging a tougher approach, Mr Fuller directed officers to "put community policing to the side for a short period of time" and said they would not be held to account for issuing fines that turned out to be wrong.
Questioned in estimates, Mr Fuller said the escalation had increased because the Delta variant was taking hold in the community and people were not complying with health orders.
Professor Tony Blakely, an epidemiologist and public health medicine specialist at the University of Melbourne, says Australia will need to start innovating in response to the spread of the highly transmissible Delta variant of COVID-19.
"We need to start increasing the ventilation in schools and public buildings for when we want to go back later in the year because it will help dampen things down," Professor Blakely told the ABC's Patricia Karvelas this afternoon. "It is time to start innovating."
He said rapid antigen testing should also be considered as people started returning to work.
"We now are living with the virus. I think people would have seen that coming for a week or so," said Professor Blakely of the shift in Victoria's public health strategy.
He added he had previously "proposed elimination strategy, [and] I still think it is the best thing to do, we'd be grateful in the long run".
"Right now if we opened up it would be awful. I am sick of it [lockdown] but I realise we have to do it for quite a bit longer. It will be longer than three weeks [in Victoria].
"It will be three weeks at best, and then it will ease off a little bit. We have no choice. Get vaccinated, it is what we have to do. And think innovatively. That is what we need to do."
Professor Blakely has also written an opinion piece for The Age and you can read it by clicking on the related article to the right.
There are increasingly disturbing signs from Europe that the much-heralded rebooting of tourism may be proving something of a false Delta dawn, Traveller's national travel editor Anthony Dennis reports.
Could it be that a tremulous Australia and New Zealand's combined border circumspection – accentuated by our slowcoach vaccine procurement – may yet prove the wiser stance?
As desperate as it has been for the tourism lucre to start flowing again across a strongly tourism-dependent continent, the European Union has this week removed the US, where COVID-19 case numbers and deaths are escalating again, from a safe travel list, recommending that COVID restrictions on American visitors be reinstated.
It's only two months since the EU rescinded most of its restrictions on US visitors and coincides with growing reports of even fully-vaccinated American tourists shying away from international travel.
And the difficulties aren't confined to the US, with the World Travel & Tourism Council representative body demanding that the British government end its controversial, confusing and complicated travel traffic light system, according to Travel Daily UK.
In the latest update to the UK system, only seven countries were added to the green light, safe to travel, list, while Thailand and Montenegro, both popular with sun-loving British tourists, were suddenly added to the red, no go, list, in an echo of last northern summer's chaos.
Victoria has clocked up a record day for vaccines administered, with health department data showing more than 100,000 people received a vaccine shot on Tuesday.
A total of 105,018 COVID-19 doses were administered yesterday, more than 60,000 of them to people receiving their first dose.
The sizable first dose numbers yesterday also mean that the date Victoria will likely reach its target of 70 per cent of its eligible population (those aged 16 and above) having received their first dose has moved slightly closer.
Over the past seven days, about 36,500 people each day have received their first dose.
If this pace is maintained this month, then Victoria is set to reach the 70 per cent first dose target around September 20. This graph (which I will be updating every day around 4pm when the daily vaccine data is released), shows how the state is tracking against this target:
Previously (see the 1.43pm post), the estimate being put forward was the target being reached on September 23, but taking into account yesterday's record-breaking vaccine tally means that the rollout is gathering pace.
When the 70 per cent target is met, some of the changes will include the five-kilometre limit being expanded to 10 kilometres, exercise time being extended from two hours to three hours and childminding for school-aged children being permitted.
(If you've read this far down into this data post, I might as well spell out a potential caveat with the data: sometimes the daily totals are disproportionately high because of delayed reporting of historical doses or disproportionately low because of historical double-counting being removed. There have been some issues with this in the Victorian data over the past couple of weeks, so this may have been a factor in Tuesday's figure).
Back in Canberra and the stoush between Home Affairs Minister Karen Andrews and Queensland Premier Annastacia Palaszczuk, Ms Andrews has accused Ms Palaszczuk of "scaremongering" over the consequences for children of reopening state borders.
Earlier on Wednesday Ms Palaszczuk all but said she would not open up the state until children under 12 are vaccinated against COVID-19.
As yet, there is no vaccine approved for children under 12 but adolescents aged between 12 and 15 are expected to be vaccinated from the middle of this month.
"You open up this state and you let the virus in here, every child under 12 is vulnerable, every single child, if anyone has any children under 12 to zero, is vulnerable [sic] because they are the unvaccinated," Ms Palaszczuk said in Queensland Parliament.
She said she wanted more modelling on the effect that reopening would have on children.
As the federal government ramps up its attacks on states who are reluctant to commit to dropping border restrictions once 70 to 80 per cent of people aged over 16 are vaccinated, Ms Andrews lashed the premier's stance, saying there were clear things Australians could do to protect children.
And, as science reporter Liam Mannix has written, "there is strong evidence COVID-19 poses very little threat to children".
Here's Ms Andrews:
I'd also like to make a comment in relation to some scaremongering by the Queensland premier in relation to children under 12 years of age. Now clearly every one is concerned about Australia's children.

But there is no country in the world that is vaccinating anyone under 12 years of age and Australia's Chief Medical Officer Paul Kelly has made that very clear.

It is also very clear that the best way to protect our children is to make sure that we, as adults, are vaccinated. So to the mums and dads, if you want to protect your children I encourage do you get vaccinated and to make sure your other family members are vaccinated.