The federal government believes Ms Palaszczuk's stance is unsustainable because it would mean keeping restrictions in place until a vaccine is approved for children when there is no health advice on when that might be.
One federal source said the Premier's argument was "we will never open up" even if this meant closing tourism businesses on the Gold Coast and the Great Barrier Reef.
Medical experts have warned against alarm about the rate of infection among the young, given public data showing very low rates of serious illness among children.
"They can catch infection easily but most cases have no or mild symptoms. You might not even know you've had COVID-19," Robert Booy, professor of child health at the Children's Hospital at Westmead, told The Sydney Morning Herald and The Age last week.
Murdoch Children's Research Institute paediatrician Fiona Russell said last month the most recent experience in the United Kingdom suggested no increase in risks to children.
"No increase in COVID hospitalisations in children. No evidence of increased severity of Delta in children," Professor Russell said.
Loading
Federal government figures show low rates of serious illness and very few admissions to intensive care units among people aged under 14 during the pandemic. There have been no deaths among those aged 14 and under.
So far this year only 2.9 per cent of COVID-19 cases in children aged under 14 were admitted to hospital with the virus across NSW, Victoria, Western Australia, South Australia, Tasmania and the ACT, according to federal figures.
One Sydney boy, aged 15, died with meningitis and COVID-19 last month, the only death of any Australian under 20. Of the 1,006 deaths from the virus in Australia to August 31, two were among people aged 20 to 29, compared to 924 among those aged 70 and over.
Treasurer Josh Frydenberg said the advice from medical experts showed the need for caution with children but that this did not mean halting the national plan to ease restrictions in two stages when the vaccination rate reaches 70 and 80 per cent of those aged 16 and over.
Loading
Mr Frydenberg cited warnings from former Australian of the Year Patrick McGorry, a mental health expert and professor at the University of Melbourne, about the "shadow pandemic" placing pressure on all Australians including the young.
"We are focused on the health outcome of preventing people getting the virus but there is another health outcome and it's the … shadow pandemic.
"It is the one about kids really struggling from being out of the classroom and kids who are really struggling from not being with their grandparents or not being with their friends," Mr Frydenberg said.
With Ms Palaszczuk's remarks intensifying the debate over the risks to children, the federal government called a press conference in which Home Affairs Minister Karen Andrews denounced the Premier's remarks as "scaremongering" because it was at odds with advice from health experts.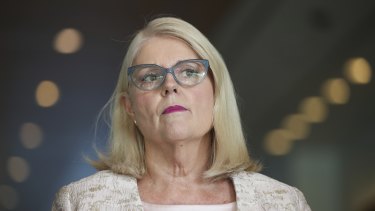 The federal attack centred on the fact that no country had begun vaccinating children aged under 12, which meant it was not reasonable to delay the national plan to wait for a vaccine to be tested and approved for this age group.
"Clearly everyone is concerned about Australia's children but there is no country in the world that is vaccinating anyone under 12 years of age," Ms Andrews said.
"It's also very clear that the best way to protect our children is to make sure that we, as adults, are vaccinated.
"The Queensland Premier is quite clearly doubling down on 'let's keep Queensland closed' and the federal government is of the view that Queensland should be open."
Stay across the most crucial developments related to the pandemic with the Coronavirus Update. Sign up to receive the weekly newsletter.