Former Lions teammate and coaching colleague Justin Leppitsch is expected to join McRae in the coaching set-up with several further appointments to be made in coming weeks.
"This is one of the exciting parts of this opportunity that you get to build a really good team around you … 'Leppa' [Leppitsch] is a great friend of mine, but I just want to make it clear I am not going to just bring my best mates in," McRae said.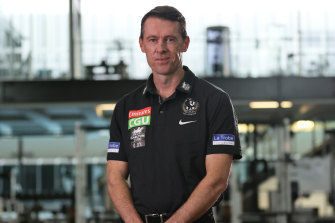 "That's just not how I operate. I want a diverse coaching group. I want the best people in their roles. Having said that, 'Leppa' is the best I have worked with in regard to a defensive structure."
Interim coach Robert Harvey has departed while Brenton Sanderson will not be part of the coaching team in 2022, although football manager Graham Wright said the club was exploring with Sanderson whether he might remain in a new role.
Magpies president Mark Korda said that McRae's skill set complemented Collingwood's young list.
Loading
"The success that Craig has been able to share in, as a player and a coach, and the quality of the programs he has worked in say a great deal about him," Korda said.
"So does his dedication to the craft of coaching. Craig has built an incredibly impressive and holistic coaching resume that says he is widely educated as a coach, one who teaches the game and develops players, builds connections, commands respect and has a sharp tactical eye. He has also coached his own teams.
"Given the course we set as a club 12 months ago, which was to recalibrate the AFL program and introduce a lot of young talent over a two- or three-year period, we see it that Craig's attributes complement our profile extremely well.
Korda indicated that a decision on his presidency will be made after members determine who is on the board at the AGM in December. He said the board would elect the president after the composition of the board was known.
Meanwhile, Carlton premiership coach David Parkin has agreed to join the Blues' six-person coaching subcommittee, established to choose a replacement for David Teague.
Parkin joins football director Greg Williams, who played in the 1995 premiership under Parkin at the Blues, CEO Cain Liddle, football manager Brad Lloyd and club directors Patty Kinnersly and Tim Lincoln.
Former St Kilda and Dockers coach Ross Lyon is considered the favoured candidate for the position and spoke to club president Luke Sayers on the day Teague was sacked. Former Hawk coach Alastair Clarkson's management said last week that the four-time premiership coach would not coach in 2022.
Keep up to date with the best AFL coverage in the country. Sign up for the Real Footy newsletter.