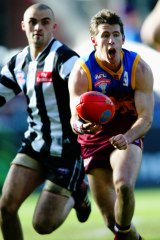 Even as a player in the teams that beat Collingwood in two grand finals, McRae was the understated role player. He is the least alpha male of all the senior AFL coaches to emerge from that generation – Michael Voss, Justin Leppitsch, James Hird, and Nathan Buckley.
Yet, as opposed to the stars that clubs rushed into senior roles, he has been given a job based on evidence of a long coaching record that says he should be good at the job.
As a Collingwood insider said, part of a change at Collingwood has been to stop fretting about being the biggest club and acknowledge that a club that has won two flags in 70 years is far from the best.
McRae is precisely the sort of coach you would hope a good process would find, and thus precisely the sort of coach Collingwood needs. Yes, if Alastair Clarkson were available, he would have gazumped any process. But he was not.
You cannot know if anyone will be a good senior coach until they do the job. Hawthorn didn't know it when they appointed Clarkson, the Bulldogs didn't know it when they appointed Luke Beveridge (even if all who knew him were absolutely convinced he would be), and some at Richmond even had moments of doubt after Damien Hardwick got the job.
All of them could have taken the top job and discovered that, as senior coaches, they made good assistant coaches.
Loading
That could happen with McRae.
But what we know of him is that everything in his CV points to him being a very good senior coach. Development coach, line coach, a coach of his own team – he has worked under the best coaches and at the big clubs. He's been at clubs when they have won flags, but also seen a couple of bad years and witnessed how they handled it. That is arguably far more important than the premierships won as a player and a coach.
The people at Collingwood still there from his years as a development coach speak glowingly of him and are excited to see him back. He has already reinvigorated the club internally.
People at Richmond love him and speak highly of him. He was exposed at Punt Road not just to how a successful football operation works but a coaching style focusing on relationships and connections that resonated with him.
Some have wondered if he has the presence to command a big club. Others dismiss that as over-rated and that the only people he needs to command are his players and staff, which he has already shown he can do. Besides, like many in leadership positions, the presence comes with the title; the person grows with the position.
The critical point the McRae appointment signals is that Collingwood understand where their list and team are at. It is a team with a big quota of kids who will not jump quickly next year, and who need a development-first coach who can develop as a coach with them.
Collingwood, in that sense, as with their young list, have gone to the draft and not free agency to find their next coach.