Down 0-1 in the second set and 15-30, the Aussies get themselves out of jail to hold serve and make it 1-1.
Alcott is getting vocal now, trying to pump himself up but this Netherlands team are classy. Lovely ground strokes and they get around the court and into position quickly.
6-4 (Netherlands), 1-1.
A handful of unforced errors sees Australia concede the first set.
Netherlands take it 6-4.
We're back on court. Dutch team hold their service game to lead 4-3.
The roof is shut here and there are about 25 staff with towels on the court. So too is Dylan Alcott, in his gold shirt, doing best (I am not sure how well) to try and get the court as dry as possible.
It's in his interest to finish this match done as soon as possible before his final that kicks off tomorrow afternoon or evening, depending on how matches beforehand run.
He's now out the back dancing to a house music track playing over the speaker. What a tune. W
The Aussies manage to pinch a break but the Netherlands pair hit back to make it 3-3.
However, as I type that, we're now off the court. For some reason organisers have left the roof open and there's a light drizzle coming down on the court. Bizarre.
Will try and get an update on what is going on. Hopefully only a short delay.
It's no surprise that I'm not a meteorologist but there's a little bit of rain floating around that the moment, meaning they might have to shut the roof if things gets worse.
It's on serve at the moment, 2-2.
Alcott and Davidson are up against Netherlands duo Sam Schroder and Neils Vink.
This should be a cracker of a match. Alcott beat Vink last night in a gruelling semi-final three-setter.
We've just had confirmation here the quad doubles final with Dylan Alcott and Heath Davidson will start at 8:30pm, which is 9:30pm AEST.
I'll be on the blog tools throughout. Can Alcott fire up for this one after his marathon singles semi-final yesterday?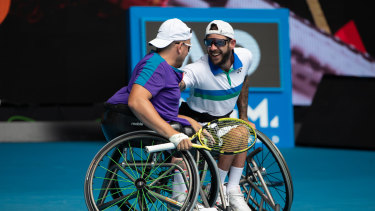 Evening all. I have just arrived at the tennis ahead of Dylan Alcott and Heath Davidson's quad doubles final.
Their match has been pushed back slightly.
There's a singles match on at the moment which is 0-0 in the second set. Then there will be another match, before the Aussies take centre stage.
I'd estimate they won't get started until about 9.30-10pm AEST.
There's no rain at the moment and it doesn't matter anyway because the roof is closed here.
I'll provide an update when we hear more. As is the case with most tennis tournaments – it's a bit of a waiting game.