SBS condemned Mr Mundine's remarks and said it was out of step with the broadcaster's values.
"The comment made by Mr Mundine is not in line with the values of SBS, does not adhere to our policies, and is not consistent with the expectations which apply to our staff or those we work with," an SBS spokeswoman said. "The SBS Board are expected to behave in accordance with the SBS Code of Conduct and Mr Mundine has been reminded of his obligations as an SBS Board member, and has since deleted the tweet."
Mr Mundine, who is the former Indigenous Advisory Council chairman, was hand-picked by federal Communications Minister Paul Fletcher to join the SBS board last year. When he was appointed last October, Mr Fletcher described him a "distinguished Australian".
"He will be a valuable addition to the SBS Board, bringing over 40 years of experience in roles across government, business and the community sector," Mr Fletcher said at the time. Mr Fletcher declined to comment on the incident on Wednesday or Labor's call for Mr Mundine's position on the board to be reassessed
SBS' code of conduct is not publicly available, but the SBS code of practice, updated in July, requires a "commitment to impartiality and balance". In her letter to Mr Fletcher, Ms Rowland referenced a range of tweets by Mr Mundine and questioned why he shouldn't be removed for misbehaviour under the provisions of the SBS Act.
"Please confirm whether you, as the responsible Minister, are satisfied that the performance of Mr Mundine meets the high standards expected of SBS board members," Ms Rowland wrote.
In one tweet highlighted in the letter, Mr Mundine criticised Queensland's chief health officer Jeannette Young for generating Astra Zeneca vaccine hesitancy in the Aboriginal community, saying "you have blood on your hands". In another tweet, also posted this week, Mr Mundine questioned why the ABC "hate our military personnel".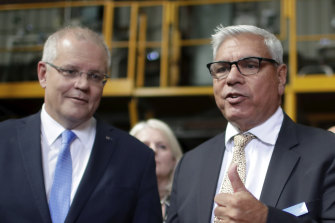 Eltham, who lectures at Monash University's media school, defended his decision to share Mr Kelly's contact details and said he did not encourage anyone to abuse Mr Kelly.
"In my opinion, I have not doxxed Craig Kelly. That's just the mobile number that is on the bottom of his public media releases," Eltham said. "I believe I was providing my followers with his mobile number to express their opinions back to an elected representative. I mean he's an MP. He's not a private figure. Moreover, he's used a massive database to send unsolicited text messages of a political nature to people without an option to opt-out."
Eltham said he was not offended by Mr Mundine's comment. "I defend Warren's right to free speech on the platform as well. I don't condone abuse, obviously, but I'm not too worried about it," he said. "The moral of the story is never tweet."
But Eltham said Mr Mundine should try to understand more about the abuse journalists receive on social media. "I think that he could talk to some female and First Nations journalists at SBS and learn about the kind of abuse that working journalists cop day in and day out on social platforms," Eltham said. Eltham's writing has been published by Crikey and the Guardian Australia.
Australia's other government-funded broadcaster, the ABC, has also faced scrutiny for behaviour on Twitter. Following a grilling about the broadcaster's social media policies at estimate hearings, ABC boss David Anderson warned employees they were legally accountable for their personal social media accounts. He also said they could face disciplinary action under the ABC Code of Conduct for their posts.
Mr Kelly's phone appeared to be switched off on Wednesday and could not be reached for comment.