Good evening and thank you for reading our live coverage of the day's events. He's a summary of today's key events: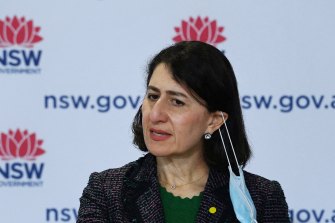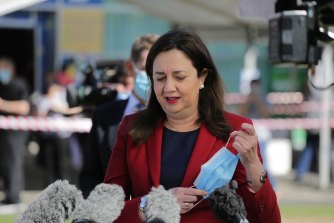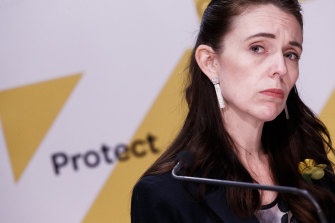 This is Michaela Whitbourn signing off on the blog for tonight. Broede Carmody will be back with you tomorrow morning.
Moriah College, in Sydney's eastern suburbs, will be closed on Friday after a member of the school community tested positive to COVID-19.
In a letter to parents and staff, the independent co-educational K-12 Jewish school said anyone who attended the Queens Park campus on August 31 needed to self-isolate until receiving further advice.
It said the school would close to allow for contact tracing and cleaning.
Earlier today, Reddam House private school, in Sydney's eastern suburbs, has closed its Woollahra campus after a positive COVID-19 case.
Victoria's Chief Health Officer Brett Sutton has clarified today's case numbers, where they are linked and where they are concentrated.
The details were off in today's press conference.
Of the 176 cases announced in Victoria today:
55 cases are in the western metropolitan area
63 cases are in the northern metropolitan area
36 cases are in the eastern and southern metropolitan areas
Five cases are in inner Melbourne
13 cases are linked to the Shepparton outbreak
One case is in greater Geelong
Three cases are still under investigation.
Ninety-three cases remain under investigation, while 83 have been linked to other outbreaks and cases.
Four more Sydney schools have shut after fresh COVID-19 cases were reported.
NSW Education said Pitt Town Public School, Cambridge Park High School, Merrylands Public School and Hamden Park Public – all located in the city's west and south-west – would be closed on Friday for contact tracing and cleaning purposes.
Positive COVID-19 cases were reported in each of the school communities.
All staff and students at the schools have been asked to self-isolate and follow all NSW Health directions.
A group of Sydney arborists has been issued fines worth more than $30,000 for breaching health orders in the Lake Macquarie area.
Police said they received tip-offs that a group of arborists had been canvassing the area, in the state's Hunter region, for work.
Officers spoke to one of the groups on Thursday, who told police they had been working in the region on weekdays and returning to Sydney on the weekends, including areas of concern.
The 27-year old company owner's permit to leave Sydney contained untrue and inaccurate information, police said.
Officers said the 25-year-old co-owner of the business did not have a permit to leave Sydney for work purposes and other employees hadn't had a COVID-19 test before leaving Sydney.
Police subsequently issued seven men, aged between 25 and 61, fines totalling $33,000.
The offences included leaving Greater Sydney without a permit, failing to comply with health orders, and not complying with testing requirements.
All seven men were told to return to their Sydney homes and investigations are ongoing
Victoria's Chief Health Officer has again tightened the state's border with NSW in a bid to reduce the risk of COVID-19 crossing into the state via permitted workers.
In Thursday night's daily update, Professor Brett Sutton said the state's specified worker list would be narrowed and testing obligations for those who continued to qualify would be ramped up.
"With over one thousand cases per day and a trajectory of exponential growth, the risk that NSW poses to Victoria is greater than ever," Professor Sutton said.
"It's crucial that our quarantine and testing obligations are adequate for the workers travelling in and out of NSW extreme risk zones."
Professor Sutton said the specified worker list would be reduced, but did not specify which positions would be affected.
Permitted workers will now need to be tested within 72 hours of entering Victoria, on days 6, 7 or 8 after entering, and again on day 13 or 14.
The new rules come into effect from 6pm tomorrow.
Yesterday, the CHO similarly announced that towns would be removed from a bubble with parts of NSW from 11.59pm tonight.
Six local government areas – Bendigo, Shepparton, Benalla, Buloke, Loddon, Yarriambiack – and two NSW council areas – Broken Hill and Edward River – will no longer be included as a cross-border community.
Residents from those areas will no longer be able to enter Victoria from NSW using the permit.
Low-rise public housing units in Richmond in Melbourne's inner suburbs have been listed as a tier one exposure site.
Anyone who has been to the building, at 127 Elizabeth Street, at any time between Sunday and Wednesday is considered a close contact and needs to isolate for 14 days.
The person who tested positive has been moved into the state's quarantine system.
Wraparound services, including COVID-19 testing, have been provided to residents.
There are now 892 exposure sites listed in Victoria.
A construction site at Box Hill, the Panorama construction site on 826 Whitehorse Road, is a tier 1 site for Monday August 30 and Tuesday August 31 from 6.30am until 4pm.
A bodyworks car repair shop in Bundoora, the Northern General Bodyworks at 25 The Concord, has also been identified as a tier one exposure site for last Friday between 8am and 5pm.
A number of tier two sites have also gone up. People who visited those sites at the relevant times must get tested urgently and isolate until receiving a negative result.
New tier two sites include the Wyndham Vale Montessori Centre, on Buffalo Crescent, on Monday August 30 from 9.45am to 6pm.
Melbourne's Royal Botanic Gardens have also been listed for Saturday August 28, 9am to 10am.
Have you and your family been infected with the Delta variant of COVID-19 in Victoria's latest outbreak?
Our reporters at The Age are interested in speaking to you about your experience. Please provide your contact details so that we can get in touch.
A school in Sydney's outer west has been forced to close after a member of the school community tested positive for COVID-19.
NSW Education said Werrington Public School will shut on Friday to allow for contact tracing and cleaning.
Camp Australia onsite after-school care will also be closed.
"The NSW Department of Education will continue to work closely with NSW Health to ensure the health and safety of all students and staff is maintained," the department said in a statement.
The medical regulator says a 59-year-old woman from Queensland and a 54-year-old man from NSW have died after receiving the AstraZeneca COVID-19 vaccine, now known as Vaxzevria.
In a report released today, the Therapeutic Goods Administration (TGA) said "since last week's report, a further 9 reports of blood clots and low blood platelets have been assessed as confirmed or probable TTS [thrombosis with thrombocytopenia syndrome] likely to be linked to the first dose of Vaxzevria (AstraZeneca)."
TTS is a "rare event involving serious blood clots with a low blood platelet count" which is "triggered by the immune system's response to Vaxzevria", the TGA says.
"Sadly, two people died this week – a 59-year-old woman from Queensland with confirmed TTS and a 54-year-old man from NSW with probable TTS. The TGA extends its sincerest condolences to her family and loved ones. We are in close communication with the Queensland authorities who are undertaking further investigation of this case.
"More than half of the new cases of TTS reported this week were in individuals aged 60 years or over. We are closely monitoring cases of TTS as Vaxzevria (AstraZeneca) is now being used more frequently in people aged under 60 years. To date, we have not observed a significant change in the rate of TTS in this age group."