Loading
"Of course, vaccines also massively reduce your risk of getting infected in the first place," Steves said. That lowered risk means that vaccination should reduce the odds of long COVID-19 by even more, she noted.
The study has limitations, the researchers acknowledge, the most notable of which is that the data is all self-reported. Long COVID-19 is also difficult to study, with wide-ranging symptoms that may vary enormously in severity.
But Steves said that she hoped the findings might encourage more young people, whose vaccination rates have lagged behind in the UK, to get the shots. Young adults are less likely to become seriously ill from the virus than older adults, but they are still at risk for long COVID-19, she noted.
"Being out of action for six months has a major impact on people's lives," she said. "So, if we can show that their personal risk of long COVID is reduced by getting their vaccinations, that may be something that may help them make a decision to go ahead and get a vaccine."
Meanwhile, a large study into the effects of long-term COVID symptoms suggests that kidney issues can last for months after patients recover from the initial infection and may lead to a serious lifelong reduction of kidney function in some patients.
The study, published in the Journal of the American Society of Nephrology, found that the sicker COVID patients were initially, the more likely they were to experience lingering kidney damage.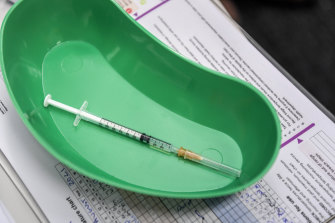 But even people with less severe initial infections could be vulnerable.
Since the beginning of the pandemic, doctors have observed that people who become very ill with COVID-19 often experience kidney problems, not just the lung impairments that are the hallmark of the illness.
"You see really, across the board, a higher risk of a bunch of important kidney-associated events," said Dr. F. Perry Wilson, a nephrologist and associate professor of medicine at Yale, who was not involved in the study. "And what was particularly striking to me was that these persisted."
Kidneys play a vital role in the body, clearing toxins and excess fluid from the blood, helping maintain a healthy blood pressure, and keeping a balance of electrolytes and other important substances.
Loading
The new study, based on records of patients in the Department of Veterans Affairs health system, analysed data from 89,216 people who tested positive for the coronavirus between March 1, 2020, and March 15, 2021, as well as data from 1,637,467 people who were not COVID patients.
Between one and six months after becoming infected, COVID survivors were about 35 per cent more likely than non-COVID patients to have kidney damage or substantial declines in kidney function, said Dr Ziyad Al-Aly, chief of the research and development service at the VA St. Louis Health Care System and senior author of the study.
Because many people with reduced kidney function do not experience pain or other symptoms, "what's really important is that people realise that the risk is there and that physicians caring for post-COVID patients really pay attention to kidney function and disease," he said.
The two sets of patients in the study differed, in that members of one group had all been infected with COVID and members of the other group may have had a variety of other health conditions. Experts cautioned that there were limitations to the comparisons.
The New York Times