On attempt five, Low rose to the occasion and increased her world record to 5.20m. When Caironi failed to improve that distance on her sixth and final attempt, Low knew the gold was hers and had the pleasure of one last victory jump.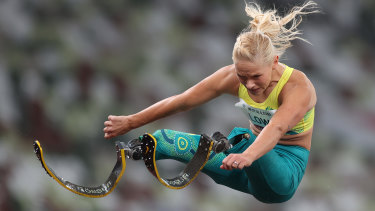 Bounding down the runway, Low hit the board perfectly and parachuted in the air before burying herself into the sand. It was another world record, this time at 5.28m.
"This is a very special one," Low said on Channel Seven. "I know Rio was my first gold but being able to do this experience alongside my husband … having a familiar face in the crowd was so special and I am so very grateful for this opportunity.
"When we first met each other we immediately had that emotional connection and I think that is something very rare to find. We really support each other through the bad and the good. Having him by my side and having the ability to feed off each other's energy is so amazing. I wouldn't be here today if it wasn't for him."
Low opened up about her train accident before the Games, saying she never thought she would be able to make it to the highest level.
Loading
"In one moment, everything changed," Low told the Herald. "Growing up, I was always that confident little girl that had those big dreams and goals. I grew up in a small little town in Germany, so all I wanted to do was travel the world and see the world. I spent five months in hospital and two weeks in a coma while all my friends were having this amazing time and I was fighting for my life.
"One thing I really struggled with initially was belief in myself. I was always that sporty girl … then all of a sudden that became impossible. For me, Paralympic sport enabled me to travel the world after all and really make my dream a reality in a very different framework that I originally imagined."
The long jump is Low's only event in Tokyo. She won the T42 long jump event in Rio five years ago and picked up a silver in the 100m final for the same category.
Reardon, who lost a leg in a tractor accident as a teenager, finished fifth in his T63 100m final on Monday.
Australia has now won three athletics gold medals at these Games, following victories to Madison de Rozario in the 800m and James Turner in the 400m.
Overall, Australia sits eighth on the Paralympic medal table with 17 golds, 23 silvers and 25 bronze medals.
Sports news, results and expert commentary. Sign up for our Sport newsletter.