GWS star Josh Kelly spoke to Channel Seven after the game…
Q: What were the initial thoughts from the coaches post game?
Obviously disappointing, we had high hopes for this game and we couldn't execute for four quarters, Geelong's experience over the game slowly got us. They played a great brand of footy. Initially disappointed but at the same time positives out of it. We are hurting.
Q: I'm sure it is tough and raw for you but you've been on the road for a couple of months, I'm sure the group is as tight as they've ever been.
It's been a special patch. Seventy-three days ago when we got told we were leaving, I think initially we thought we were gone for a week or two. That just kept going. Grateful for the opportunity. So proud of the boys. And the staff, everyone involved, it's been a special year. Like you said we are tighter than ever, great bunch of guys. There is exciting times in the future, I think it sets us up. … It's a special group.
Q: Who knows what will happen with you guys whether you can get home but you are committed to the football club essentially for your footy life, you must be thrilled to see the
progression coming forward.
When I got that off my chest it was a relief knowing the group I will be with, the club I will be with, everyone involved, like I said, it's a special group and somewhere I'm proud to be a part of. At the end of the day we didn't get the result we were after. And that hurts. There will be a bit of reflection and time when we consider and say we really enjoyed the year and take a lot out of it and move forward.
After playing a club record 333rd game, Geelong captain Joel Selwood spoke to Channel Seven…
Q: Congratulations again, another prelim final, you don't need the motivation but do you use the negativity about where the team is at, will they fall off the cliff, do you use that fire?
Personally not, it's been part of the Geelong folklore for years. We keep backing up and getting to this stage, it's a chance to have another go. It's hard to get to a top four, I can tell you that. We've given ourselves a shot and I'd rather be in a side that does that every year that one that doesn't get there.
Q: Tom Hawkins tonight kicked five goals, your 200th win together, no couple has ever done that in AFL football. You started together and you've been there all the way through together.
It's been a special journey sharing with Tom Hawkins, he spoke so nicely about me before the game before we ran out. He probably took up too much time, probably sent us on the ground a bit late. It's been a special couple of weeks for us, myself and him. To be honest it's been set up by the staff, we have to come over here and we have to settle in. We did that straight away last Saturday. And from there, I can't thank the coaches for the work they have put in. They did all the hard work and we just had to show up and play.
Q: Truly we think about Tom Hawkins and want to talk about him but what about some of your role players – Tom Atkins did a good job on Tim Taranto when he was forward and Max Holmes when your forward pressure was criticised last week to lay eight tackles tonight, you must've been impressed with those guys.
We could keep going, Brad Close is important, and Esava Ratugolea, these are young kids making their way and we are showing them what they are capable of. You will see them in Geelong jumpers for years to come and I will enjoy that.
Q: Mark Blicavs is your swingman, he's played everywhere on the ground. Back tonight, where would you prefer him to play, what is his best position?
We are in a lucky position that he can play a number of positions. The running ability he can do wherever he plays, he gives us extra in defence but when he plays on the ball his follow-up work is amazing. I think he will settle down back for the timebeing. But that might change next week.
Q: Zach Tuohy gave you a different look tonight, what kind of a difference as a midfielder to have someone who takes the ball forward aggressively, must've been a relief at times.
He was important, I thought Jed Bews was important as well, we've nearly named everyone in the side.
Tom Hawkins was one of Geelong's best with five goals and he spoke to Channel Seven after the game…
Q: Fine game of footy from yourself and a great bounce back for the Cats.
It was. It was hard-fought. We had trouble with GWS a couple of weeks before. I thought we were outstanding, led through the midfield, we had contributors all over the ground which we lacked last week. A pleasing effort for us, we keep our season alive and move on, stay in Perth. We will rock 'n' roll out of quarantine and give it a crack next week.
Q: Another prelim final, congratulations. You came up against an up-and-coming defender in Sam Taylor who did a good job on you last time. How much time did you put into him during the week?
To be honest, I've always tried to concentrate on what I do well. I try to play to my strengths and when I'm at my best I can play well against anyone. I obviously know he liked to set off from last time I played on him, he has great closing speed and good in the contests. We started to move the ball inside 50 with non-pressured entries, the ball carrier had time and space and that will be hard to stop.
Q: Congratulations. Your coach was frank last week and said anything that could go wrong did and you couldn't get forward pressure. From the get-go tonight your pressure was right up. Was that a player-led thing or a coach directive?
Clearly poor last week in that area. It's a tricky one because I want to put on forward pressure and make it a hallmark of our game inside forward 50. We need to play well collectively to allow small forwards or anyone down in the forward line to put pressure on. It was a collective effort, collective buy-in and that was outstanding. We talked about it at three-quarter time, we got that with the forward 50 tackle, holding the ball and we kicked a goal off the back of Brad Close. That was outstanding and pleasing for us.
Q: You ran into your old teammate big 'Mummy' (Shane Mumford) – might have given you a corked thigh to enjoy during the week?
The funny thing I said to Shane, I've played a bit of footy with him, I respect him immensely but (assistant coach) Nigel Lappin told me during the week he said watch out for 'Mummy' when he sits off the contest, he runs in with that knee and wants blood, he got me right in the thigh. I couldn't do anything about it.
Geelong has set up a preliminary final against Melbourne next weekend as Tom Hawkins kicked five goals to lead his side past a brave GWS Giants.
Hawkins did his damage in the last term just as the Giants were trying to mount a late comeback kicking two crucial goals to stop any thought of Geelong falling short.
The Cats have their shortcomings but their big stars are match-winners and Hawkins showed this tonight.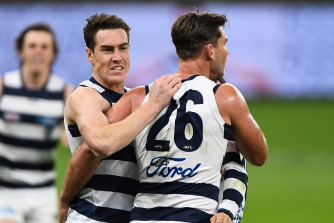 GOALS
Geelong: Hawkins 5, Cameron 2, Rohan 2, Close 2, Menegola 2, Ratugolea, Smith
GWS: Stone 2, Himmelberg 2, Kelly, Lloyd, Hill, Mumford, Haynes, Ward
DISPOSALS
Geelong: Tuohy 31, Menegola 29, C.Guthrie 25
GWS: Whitfield 34, Hopper 28, Kelly 25
INTERCEPTS
Geelong: Atkins 7, Henry 7
GWS: Whitfield 10, Haynes 9, Davis 7
Tom Hawkins has taken yet another mark and kicked yet another goal. He has five goals and this game should be over.
Zach Sproule has gone off the field for the Giants with a shoulder injury and medical sub James Peatling has come on.
Cats up 95-61 with 9 minutes to go.
Tom Hawkins has kicked his fourth goal and maybe, finally, the Cats may have knocked out this Giants side with the lead going past four goals again.
Hawkins has been so strong for the Cats in this second half.
Cats lead 88-61 with 12 mins to go.
Harry Himmelberg has responded to the Hawkins goal with a major of his own to again cut the lead to 20 points.
Time is beginning to run down but the Cats look beatable if the Giants can find something extra.
Cats lead 81-61 with 14 mins to go.
The Cats may have steadied the ship as they forced the ball down to Hawkins in the goal-square where he took a mark on the lead and then snapped truly from the forward pocket.
Hawkins has kicked three goals.
Cats lead 81-55 with 15 mins to go.