Good evening and thank you for reading our live coverage of the day's events. Here's what you need to know.
New Zealand Prime Minister Jacinda Ardern has described a stabbing rampage carried out by a lone attacker in an Auckland supermarket on Friday as a "terrorist attack by a violent extremist". Ms Ardern said the perpetrator, who was shot dead by police after injuring six people, had a "violent ideology and [was] ISIS-inspired". He had been known to authorities since 2016 and was being monitored closely, Ms Ardern said, but his behaviour had not met the legal threshold for him to be imprisoned. Tactical teams were able to respond to the incident within 60 seconds because the man was under surveillance.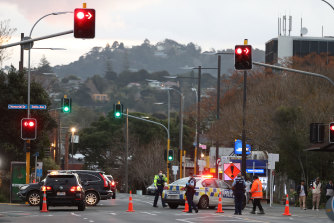 West Australian Premier Mark McGowan has flagged the state's border is likely to remain shut to NSW, Victoria and the ACT for the rest of the year. During a COVID-19 update on Friday, the Labor leader delivered a broadside to the Morrison government and eastern states in the grips of coronavirus outbreaks over the national plan to ease restrictions once 70 per cent of people aged over 16 are fully vaccinated. He said the plan was "madness" and should be revisited.

Mr McGowan said "I won't be pressured by some from over east to bring down our border controls to COVID states against the health advice. Different states are in different positions. A one-size-fits-all approach isn't working."
Prime Minister Scott Morrison said Australia would receive 4 million doses of the Pfizer COVID-19 vaccine this month, in a swap deal with the UK similar to the one announced with Singapore earlier in the week for half a million doses. The deal is designed to bring forward the country's supply of the vaccine as it races to inoculate 70 to 80 per cent of people aged over 16. "The plane's on the tarmac now, it will be leaving tomorrow and those doses will be coming over the course of the next few weeks," Mr Morrison said.
NSW recorded 1,431 new cases of COVID-19 in the community and 12 more deaths. It is the highest number of cases and deaths ever recorded in one day in Australia. Premier Gladys Berejiklian warned that "the next fortnight is likely to be our worst in terms of the number of cases" but said "it is not the number of cases we need to be focusing on but how many of those cases end up in our intensive care wards and hospitals and how many people we have vaccinated".
A woman in her 30s from south-western Sydney died at home on Wednesday after being tested on Tuesday. Investigations are under way into the source of her infection. She was not vaccinated. A man in his 70s who acquired his infection at the St George aged care facility in Bexley died at St George Hospital. A woman in her 70s who acquired her infection at Westmead Hospital has died at the hospital.
A Sydney woman in her 80s, a man in his 80s, three men in their 70s, two women in their 70s, a woman in her 60s, and a man in his 90s from the Blue Mountains died at the Hawkesbury Living aged care facility have also died after contracting COVID-19.
People in Jindabyne, Cooma and Bega, in southern NSW, Bomaderry in the Illawarra-Shoalhaven region, Wauchope on the mid north coast and Blayney in western NSW are asked to be alert to symptoms after fragments of COVID-19 were detected in sewage.
There were 60 new cases in NSW's west and far west in the 24 hours to 8pm last night, including 11 new cases reported in Bourke.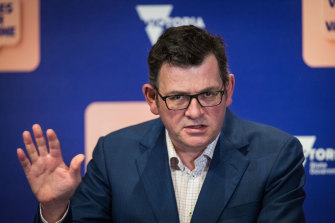 Victoria recorded 208 new, locally acquired cases of COVID-19 and one in hotel quarantine. This is the state's highest daily figure in more than 12 months. Of the 208 local cases, 96 are linked to known outbreaks. The majority, 112 cases, are under investigation.
From today, Victorian children under 12 were allowed to use playgrounds after a minor change to the state's restrictions. In-home carers, such as babysitters, are also allowed for school-aged children, but only if both their parents are authorised workers.
Victorian Premier Daniel Andrews has urged people over 60 who are yet to be vaccinated against COVID-19 to immediately book in to receive a jab.His comments, made during Friday's coronavirus update, echoed Prime Minister Scott Morrison's sentiment after he wrote to over-60s encouraging them to get vaccinated.
The ACT recorded 18 new cases of COVID-19. Of those, thirteen are linked to known cases and five are still under investigation.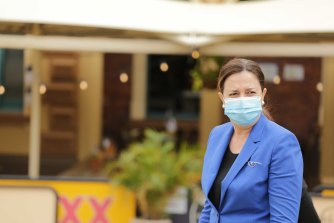 Queensland has recorded no new cases of coronavirus, as Premier Annastacia Palaszczuk said she "stands by" her comments about the potential risks to unvaccinated children aged under 12 when restrictions begin to ease around the country. The Morrison government has described her comments as "scaremongering" and insisted young children, for whom no vaccine is approved, have been factored into the national plan for easing restrictions once the country hits vaccination targets of 70 to 80 per cent of the population aged over 16. Children aged between 12 and 15 will be eligible for the Pfizer jab from the middle of this month.
New Zealand recorded 28 new cases of coronavirus in the community, compared with 49 the previous day. Auckland, shaken by Friday afternoon's terrorist attack, remains in a strict lockdown amid the COVID-19 outbreak while the rest of the country has moved down one level in restrictions.
This is Michaela Whitbourn signing off on the blog for tonight. We'll be back with you tomorrow morning.
A school in Wollongong has been closed and all staff and students are being asked to self-isolate, after a member of the school community tested positive for COVID-19.
Wollongong Public School was closed for contact tracing and cleaning on Friday, the Department of Education said.
It "will be non-operational effective immediately for the on-site attendance of staff and students", the school announced in an online update on Friday afternoon.
Staff and students at the school are being asked to self-isolate until they receive further advice from NSW Health.
Three other schools in Sydney were also closed earlier on Friday after positive tests linked to the school communities – Samuel Gilbert Public School in Castle Hill, Killarney Vale Public School and Oran Park Public School.
NSW schools are currently only open to students who are not able to learn from home or be cared for at home.
Schools outside local government areas of concern are expected to begin a staged return for students from October 25.
Victoria is just a fortnight from additional freedoms, with new data showing the state is only 14 days away from reaching 70 per cent first COVID-19 doses for the eligible population.
The vaccination target could now be reached on September 18, if Victorians continue to get jabbed at the pace with which the state's vaccine rollout has progressed over the past seven days.
Premier Daniel Andrews announced earlier this week that some restrictions will ease in Victoria once 70 per cent of the eligible population over 16 years receive their first COVID-19 vaccine dose.
Lockdown rules including the 5km travel limit, outdoor exercise and personal training, and private real estate inspections are set to be loosened.
Health authorities said earlier this week they expected the vaccination target could be achieved by September 23.
There were 33,511 vaccine doses administered in state-run hubs and clinics on Thursday.
A New Zealand man says his wife was "innocently caught up" in a terror attack on Friday on an Auckland supermarket, in which six people were injured and the perpetrator was shot dead.
Prime Minister Jacinda Ardern described the stabbing rampage at the Countdown supermarket in New Lynn as a "terrorist attack by a violent extremist".
She said the man behind the incident was known to authorities and was being monitored closely, but his actions before today had not reached the legal threshold for him to be imprisoned.
A man, who asked not to be named, told Stuff.co.nz that his wife, aged in her 50s, was stabbed in the hip in the "nightmare" incident.
But he said his wife was in a stable condition and "should be OK".
Luciano Iketau and his partner, Monica Seve, both 19, told Stuff that they saw the man's wife after the attack.
"[She] had clearly been stabbed and no one had gone to assist her so I just ran over to her, I walked her over away from the entrance that's when I just started to help her," Ms Seve said.
Ms Seve said she "was about to wrap her wound with her sweater and then people started screaming there's a gun there's a gun and as soon as she heard that she just ran for her life".
It is not clear if the man had a gun, or if gunshots heard were those of NZ police.
Workers at a construction site and an office building near Melbourne's CBD have been told to isolate for two weeks, with more than 1025 exposure sites listed across Victoria.
The Victorian Department of Health has added 70 exposure sites to its website since 12pm today.
A Southbank construction site in Harding Street, Acquire BPO's headquarters in Southbank, Kasr Sweets in Coolooroo and Tiba's Restaurant Roxburgh Park are the most recent tier-1 exposure sites listed across Victoria.
Visitors to a tier-1 exposure site must isolate for two weeks and get tested for COVID-19 immediately.
An office complex at 436 St Kilda Road in the CBD between August 24 and September 1 has been listed as a tier-2 site, with some attendees being told they will need to isolate for 14 days.
Those who have been told they visited a tier-2 exposure site will need to isolate immediately and only leave quarantine once they have a negative test.
Harding Street Medical Centre in Coburg has also been listed as a tier-2 site, with some attendees also expected to isolate for 14 days.
The full list can be found at the Department of Health website.
States that fully vaccinate 80 per cent of people aged 16 and older will be able to resume international travel, as the Prime Minister said a new deal will double Australia's vaccine supplies for September will speed up reopening.
National cabinet also discussed which other restrictions can be dropped once double dose targets are reached, and considered home quarantine for vaccinated return travellers, but no decisions have been made.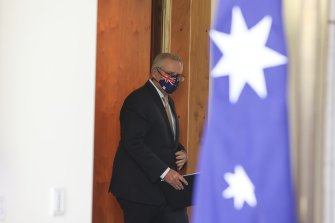 While people from Victoria and NSW may be able to go overseas within months, they will not be able to travel to Western Australia until next year. WA Premier Mark McGowan said in a COVID update this afternoon that he will keep his border shut until well after 80 per cent of the state's eligible population is fully vaccinated.
In a vaccine swap with Britain, Australia will get a further 4 million Pfizer doses this month, on top of the 500,000 doses from a deal with Singapore announced earlier this week.
Prime Minister Scott Morrison said the UK deal doubles the number of Pfizer doses available in September. Throughout the month, Australia will receive more than 9 million doses of Pfizer alongside 1 million Moderna doses and continued AstraZeneca supply.
WA Premier Mark McGowan has delivered a fresh broadside to the Morrison government and COVID-ridden eastern states, saying he "won't be pressured by some from over east to bring down our border controls".
He said he would open the border with NSW, Victoria and the ACT when it was safe to do so and "I wouldn't expect that that would be before next year".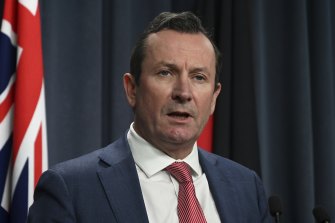 The WA Labor leader said he knew this position would result in "people in NSW, commentators and the like, screaming and yelling we should bring it down as soon as we can and infect ourselves.
"I don't understand that logic and I'm going to resist it."
He said that it was "madness" to open borders once 70 per cent of West Australians aged over 16 were fully vaccinated, pointing to the highly contagious nature of the Delta strain of coronavirus.
"I think the national plan [for easing restrictions in line with vaccination rates of 70 per cent and above] needs to be amended to reflect that reality," he said at a COVID-19 update on Friday.
"If anybody wants to go in the direction of NSW, they've got rocks in their head. I don't want to head in that direction.
"I won't be pressured by some from over east to bring down our border controls to COVID states against the health advice.
"Different states are in different positions. A one-size-fits-all approach isn't working."
Mr McGowan said he believed the right approach was that if WA was still COVID-free and the state had achieved vaccination rates above 80 per cent of the population aged over 16, "then we'll set a date" for borders to come down. The announcement might be made six weeks before any reopening, he said.
"That provides a huge incentive for people to get out there and get vaccinated who aren't vaccinated at that point in time. I think that's the right approach," he said.
Mr McGowan said a 90 per cent vaccination rate was very high and he wasn't sure anywhere in the world had achieved that level.
He said the border would be reopened in a very safe, gradual and cautious way and he couldn't understand why any commentators were "yelling" at the WA government.
"Our economy is the strongest in the nation. We are producing 60 per cent of the nation's exports. Where would they be without us? NSW is closed."
Mr McGowan said that while commentators said regularly that the Delta variant of COVID-19 can't be defeated, five jurisdictions in Australia had done it at least once.
He said that while it might not be able to be done in WA in the future, "my aim is to do my best to keep it out".
WA Premier Mark McGowan has announced new rules for truckies wanting to enter the state after having travelled through 'high' and 'extreme' risk states.
Previously truckies were one of the few exempted categories that could enter WA with few restrictions but Mr McGowan said from next week all truck drivers from these states must return a negative PCR test in the three days prior to arriving at the border.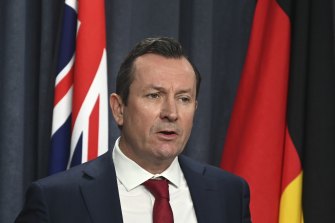 Drivers who have had a test but do not have the results will be required to undergo a rapid antigen test on the border.
The new rules come a week after two COVID-positive truck drivers entered the state from NSW. All 25 contacts of the drivers have since tested negative.
Mr McGowan said the tighter rules were about keeping the virus out of the state, which has remained largely COVID free since May 2020.
"Today's announcement is about safety, about tightening our border controls to do everything we can to try to keep the virus out of WA," he said.
West Australian Premier Mark McGowan addressed the media shortly after 3.15pm, local time (5.15pm AEST).
You can watch the playback here.
The stabbing attack in an Auckland supermarket on Friday, described by New Zealand Prime Minister Jacinda Ardern as a terrorist attack by a known extremist, follows an earlier stabbing rampage in May in a Dunedin supermarket.
Ms Ardern said at the time that there was nothing to suggest that the Dunedin attack was a domestic terror event.
A 42-year-old man was charged over the earlier incident with the attempted murder of two supermarket workers and two bystanders who came to their aid.
with Stuff.co.nz