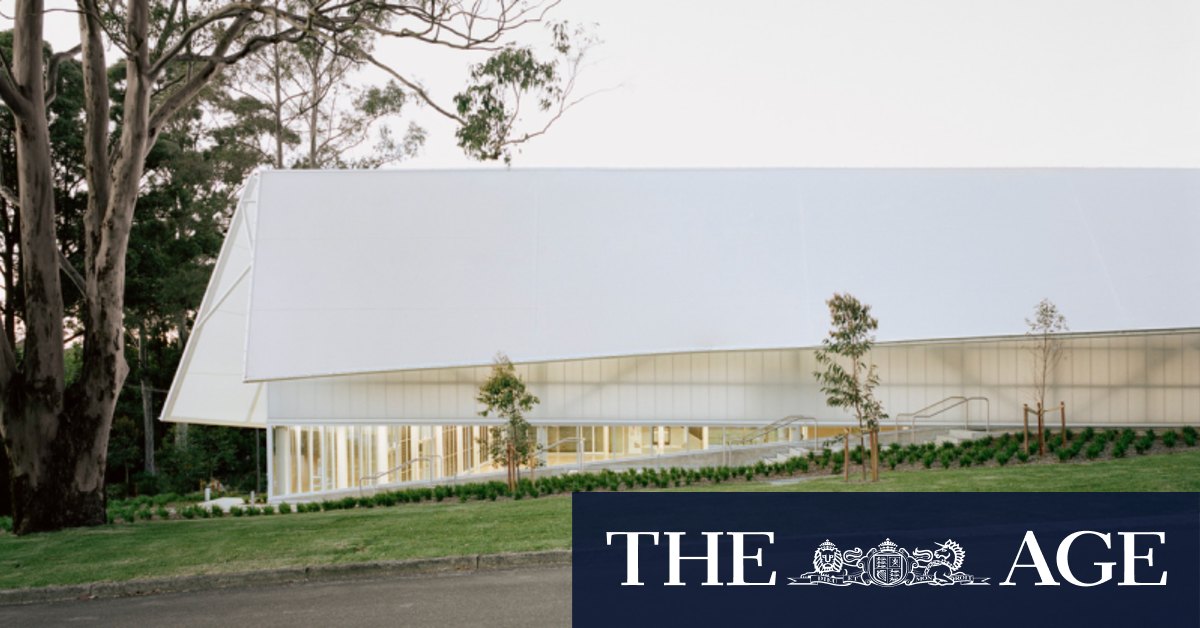 A generous overhang, extending up to six metres, deflects the direct sunlight and frames the entrance.
"We wanted to be an immersive experience rather than simply delineating spaces with walls for acoustic control," says Neille, pointing out the measures to control the acoustics, including soft grey acoustic panels on the top floor for spectators that resemble an oversized coffered ceiling.
Each court has its own height requirements, so manipulating the spaces vertically also came with challenges.
Spread over three levels, including basement car parking, there's a timber stair piercing the various spaces that's extended in part to create seating.
A generous skylight brings natural light to the core of the centre (with a total floor area of almost 13,500 square metres including the basement level).
Loading
Instead of glass balustrades, Neeson Murcutt + Neille used Ronstan, a wire that not only ensures safety, but also contains balls and further blurs divisions.
"It also requires no maintenance, unlike with glass that continually has to be cleaned," says Neeson, who also used a fine rubber, red handrail (one of the school's colours) as a navigation tool.
However, for parents and those coming to watch the various games, it's often the smell of coffee from the coffee/drinks pod on the top floor that initially beckons them, along with the views over the adjacent Rosewood oval, immediately to the south.
As well as courts, there are glass-fronted classrooms, breakout spaces and importantly, an even temperature established through the finely articulated roof and louvred glass walls for cross ventilation.
Loading
Some angular fixed-glass picture windows beautifully respond to the fall of the land.
Used for larger events such as assemblies, as well as for a myriad of sporting events, the Rosewood Centre has become a beacon, not only for the school, but also the broader community.
"When Phillip became principal a few years ago (also initiating the move to being co-educational), he was keen to shift the focus towards the east part of the campus, as was architect Paul Davies who prepared the masterplan for the school," says Neille.
Neeson adds: "The idea was to step back from the school's heritage precinct with buildings dating from the early 20th century and create a legacy for the future."
The Morning Edition newsletter is our guide to the day's most important and interesting stories, analysis and insights. Sign up here.