Zach Sproule, a surprise packet last week with two goals, could not reproduce that performance. One of his first plays of the night was a dropped mark, leading to an errant kick for goal under pressure. He finished the game subbed out with a shoulder injury after a mishap in the ruck.
The Giants were held goalless in a dour first term though their inability to score could be attributed to issues up the ground.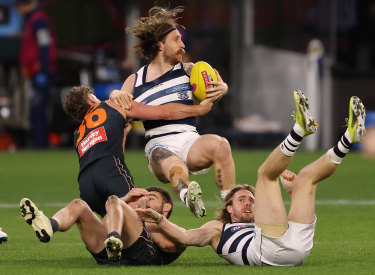 Their strength is their muscle in the contest, ditto for the Cats, who were able to release Zach Tuohy into space and capitalise on his kicking power.
The Giants' first goal of the game did not come until seven minutes into the second term, the product of a passage of play where they created the overlap to run the ball up the ground for Josh Kelly to finish.
This was the type of set-up the Giants needed to generate more than they did to counter their lack of marking power in attack, but could not.
Whereas the Cats scored goals from more conventional means, through marks to dynamic duo Jeremy Cameron and Tom Hawkins, the Giants relied on the low percentage.
Cameron, in his first game against his old club, kicked two but Hawkins was the most influential player on the field, with five goals.
Second-gamer Conor Stone's snap on the run was a fine first goal but was small fry compared to Bobby Hill's effort in the third quarter.
Crumbing his own marking contest, the small forward knocked the ball on twice under oncoming pressure before gaining possession and threading the big sticks from just inside the boundary line.
Loading
That brought the margin back to nine points but the rest of the term belonged to the Cats, who booted five in a row before Shane Mumford's siren after the three-quarter time siren.
There were times when it resembled a training drill, such as Tom Hawkins' hitout to Isaac Smith from a forward 50 stoppage for a goal, and another to Gary Rohan after the Cats broke free out the back.
The Giants gave their supporters a reason to dream, twice reducing the margin to 20 points, but it was false hope.