I don't recall raucous celebrations. In '64, Melbourne winning a granny was no big deal. Yes, this was the Dees first premiership since 1960. But before then they'd won four of the previous five.
Things started heading south after '64. Skipper Ron Barassi and his bulging biceps moved to Carlton. Then master coach Norm Smith was sacked. The Dees didn't reach another decider until 1988.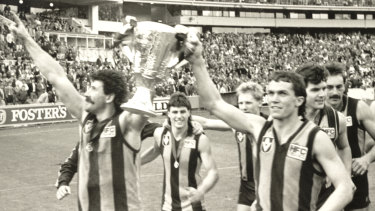 Sadly, I remember that too. I couldn't get to the game because I was in Seoul, reporting on the Olympics. I resolved to be professional and focus on the world's greatest sporting event rather than a parochial diversion.
But at what I knew to be half-time I snapped. Deep in the main Olympic stadium I found a phone and rang long-distance, trying to find someone, anyone, who could give me a progress score. I failed. Not a bad thing, as the Hawks already led by eight goals and went on to win by a then-record 96 points.
Still, they'd got there – a better result than '87 at Waverley, scene of Gary Buckenara's infamous free kick after the siren to pinch a prelim final for Hawthorn.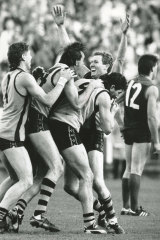 I was present for that one, too. In the press box. Struggling to be objective.
My strongest memory is of Melbourne supporters, many in tears, still sitting stunned in their seats an hour after the final siren, which had sounded with the Dees in front.
Since '64, blow-in clubs from Brisbane, Adelaide, Sydney and Perth have had success while the Dees' grand old flag has become increasingly tatty.
But it hasn't been all Eeyore-like gloom. In 2000, I sat with my two oldest kids behind the goals at the MCG when Melbourne came from 21 points down to knock off the fancied Blues with a seven-goal final quarter blitz. That was fun.
Two weeks later I saw Wayne Carey lose his cool as Dees bounced Roos. Then I was back for the granny, which I left well before the end, wondering how I'd ever kidded myself that Kevin Sheedy's all-conquering Bombers might be beaten. But I could find a bright side: the losing margin (60 points) was less than in '88.
Another positive: three Septembers ago I was back at the 'G, high in the stands with my daughter, Lucy, to watch Melbourne play Hawthorn in the second week of the finals. (Because of COVID and ineptitude, it remains the last time they've played a final at the 'G.)
Lucy recalls the night fondly, though remains bemused by how tense I was as the final quarter began with the Dees 32 points up. It would have taken too long to explain. (Was Buckenara hiding out there?) I expected, and feared, a Hawks' comeback. I was right. Then wrong.
The real pain came the following weekend. Smashed by the Eagles in Perth. But we won't discuss that.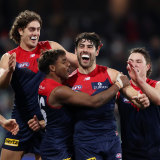 Except now we have to. The Dees' next appointment is another prelim. In Perth. The goblins in my guts are stirring already.
Nonsense, say the footy experts. This, they declare, "is the Demons' flag to lose".
How I hate that expression. There they are once again, in the same sentence. 'Demons'. And 'lose'.
Alan Attwood is a former editor of The Big Issue.