Brisbane coach Chris Fagan spoke to the media after the game…
Q: Can you describe the feeling in the sheds right now, the boys must be heartbroken.
I haven't spoken to them yet. We are all flat. We put in a good contest tonight and to not come away with the points is disappointing for us. It will harden us going forward, all these things help you once you take the lessons from the result. We will figure out what we could have done better on the night. We will all be flat. It's been a rollercoaster year for us. To lose a close one tonight after losing a close one by three points two years ago, we've been so close and yet so far with prelim finals, we got there last year and a one-point lost this year and a three-point loss in 2009, that eats away at us a little bit and makes us better in the future hopefully.
Q: It's probably hard, where do you think you lost, where was the game lost tonight ultimately?
A one-point game, seriously? They had one more shot. They scored a bit better from stoppages than what we did. We started well in that department but fell away a little bit. That is one of our strengths normally and it wasn't tonight. You might look at that, they had a bit of an edge in contested ball. But the stats for the whole game were pretty even. We had 68 inside 50s, I think it would be fair to say, we left a few scoring opportunities out there tonight. It was disappointing, not deliberate course. I think the tape will show that for sure.
Q: I know it's probably way too simplistic, you had a restructured forward line, were you happy with how that functioned? You are a high-scoring team and you had a lot more inside 50s, was that the method, do you think?
More the method, it's a little hard too because we have been accustomed up until six or seven weeks ago to have Eric Hipwood and Dan McStay, and suddenly you play a game where the two mainstays of our forward line are not there. That connection and synergy can take a while to get. And we didn't have much time to get it. Jack Payne went down with an injury anyway. That can be challenging.
Q: On that, what did you make of Joe Daniher's performance and the finals overall?
Joe didn't have the best finals series, it would be fair to say. But again, the fact that McStay goes down early in the game last week and he has two young forwards up there playing alongside him, it's easier for the teams to focus on Joe and make sure he doesn't get the ball. I would have to have a good look at the tape. But looking at his numbers, I know he will be disappointed. I am a little bit disappointed but I know there are brighter days ahead for Joe and I'm not too stressed about that.
Q: One point, Chris, it could go either way, but speaking about Eric and McStay and Jack Payne, losing him, did tonight became a bridge too far making up that loss of personnel?
I don't think so, we created opportunities tonight to win. It's obviously better if you can have those guys playing. But it's not the reason that we lost tonight. I'm drawing a long bow on that, I'm not one to make excuses. We did enough things right tonight to win the game and didn't quite get there.
Q: You were a man down in the second half with Jarrod Berry going off concussed, how did the guys manage that down a rotation?
That is challenging too, he's got the best tank in the team. To not have his run in the second half was telling, he's got a big body as well and can stand up to the Western Bulldogs big-bodied midfielders, to lose him was disappointing. That's the way the cookie crumbles, really. That said, there is tremendous upside to our group. The fact he wasn't able to complete the game tonight, he's been out for a long part of the year as well. In some ways, I should say this, I think in my time here, probably this year even though we lost by a point, I think it's been our best year. We've had a bit more adversity than we've had in previous years. 2019, no real injuries. We were a team on the rise, no one took too much notice of us. Last year, most of the football was played in Queensland, that was advantageous to us. We were able to make a preliminary final. But this year, slow start, lots of injuries to good players, and another form slump a few weeks ago. I think we have shown a lot of character this year. And I think will hold us in good stead going forward. All these things do. I thought we were tested this year. Our composure was tested, our poor start for the year and we've had a fair bit of stuff go on with COVID that came out as a bit of a surprise. We spent a few long stints, three times in different states, during the season. From a macro point of view it was a progressive year, from a micro point of year, the game tonight, disappointing we could get up for a win.
Bulldogs coach Luke Beveridge spoke to the media after the game…
Q: Congratulations, what were you saying at three-quarter time, how did you turn around the last quarter?
It was one of those games. It was an incredible arm wrestle. There were instances in the game where both teams got momentum with the ball, spinning here in a missed tackle here in one there, we felt that someone was going to be fortunate enough and fortunately it was us. For the boys to hang in there and believe in what they were doing, we had to make some adjustments with what we were doing with roles and responsibilities. And that seemed to work out OK. An enormous impact, Tim English steered the ship at the centre bounce equation, it was a bit scary. They scored to freely once they cleared it. And we were on tenterhooks the whole time when they brought it back to the middle. Which is not a nice place to be. It's a matter of holding your nerve.
Q: How is Bontempelli looking, post-game?
He copped a knock to the back of his knee, difficult to know the extent of any injury. He is obviously a little bit sore. We will let a little time go by before we assess it and we will get a scan when we get to Perth. See if there's any damage. I can't give you more than that.
Q: How does that win rank for you, post your 2016 premiership? It must be up there.
It is. It was a crazy game, the madness of the whole situation. There were times in the last quarter, trying to remember the detail in the email from the AFL what happens when it is a draw. That comes through and you wonder if you need to read it. And the struggle of the whole thing, it reminded me a little bit of the 2016 preliminary final against GWS, how tense it was. And the game was in the balance, we were down and fought back. And on the boundary line Chris Fagan at the end. Sometimes this game is really cruel and sometimes it's beautiful. We were the lucky ones to feel the emotions of the latter. And Brisbane have been remarkable in recent times, to beat such a formidable opponent in a big game, it ranks right up there.
Q: We spoke to Bailey Smith on the coverage, what you make of his game? I know he is selfless but his ability to back himself in front of goal, he kept backing himself and had a huge scoreboard impact.
I thought he had an enormous last quarter. Some of the shuffling of the roles meant that at one point we had all those inside midfielders on the ground at the one time, which meant he had to play forward for five or 10 minutes. And he had a big impact as a forward. Probably that play-on from the Adam Treloar tackle that we didn't want, other than that he was instrumental in us being in front by a point at the end of it all. His role in the proceedings can't be undersold.
Q: You got probably half a dozen goals from your midfield, Luke, it became a game where it was tougher for forwards to have an impact. How critical is that to get midfielders on the scoreboard?
It's always important that they chime in with their ones and twos, and we kicked our first couple from 'Libber'. Charlie Cameron was dangerous at the start, it felt like he was getting off the chain too much. I thought Taylor Duryea did an outstanding job in the second half after we made that shift. And likewise, some of ours, Laitham Vandermeer and Mitch Hannan, dangerous but couldn't complete some of those entries. At half-time they had 37 inside 50s, it's a very difficult thing to defend that many against a team like Brisbane. I thought the boys held up extremely well for periods of the game. And we managed to get a few more forward 50s here and there. It was just such an open game. They go so quickly out of turnover. We saved the day a number of times.
Q: Cody Weightman had a tough week and the game ended on a tough night for him I imagine that rules him out for next week. You have a replacement waiting in the wings do you think?
Cody Weightman has been tremendous in recent times we won't get another Cody Weightman. His game now, I said it to someone this morning, he is that player, when we played West Coast, he is a terrific aerial player for a small forward, he has great speed and so good at ground level. He is moving into the area where he is difficult to defend because he has an air and a ground game. This is what happens as you know, we've needed most of our list to play footy this year and the boys have done an outstanding job. We've had critical role players contribute to important victories and we will need to call on a handful of those boys to play in a prelim final. The great thing is they will come into the team and feel like they've contributed in the past. We will have a different player replace Cody Weightman who brings a different skill set but there are blokes who are waiting in the wings who will come in and be an important part of our make-up.
Q: Based on that it sounds like he won't play, is there any grey area, was it a cautionary diagnosis where they can reassess the concussion afterwards or was it definitely concussion based on what the doctor said?
I don't have the detail and I'd rather not make statements around it. I'm not sure. I'll have to catch up with Greg and see what is happening. I'd say it's likely that he won't be available.
Two weeks ago, the Brisbane Lions scraped into the top four at the Western Bulldogs' expense, on percentage, with a kick that floated just inside the behind post in the last seconds against West Coast.
On Saturday night, it was one point to Laitham Vandermeer in the last minute that saw the Dogs supplant the Lions, through to a preliminary final.
Click here to read the full report.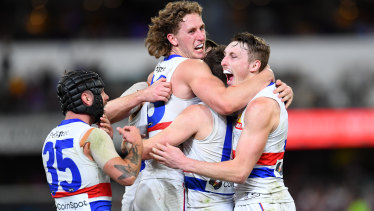 Bailey Smith probably played the best game of his AFL career tonight, and he spoke to Channel Seven after the game…
Q: That was extraordinary on every front, tell us what you are feeling when you kick that.
I was on top of the world. Before it was shut down by Brisbane kicking that late goal again, it wasn't too good.
Q: We will roll it for you, take you through every moment right here.
I've got no idea, I'm trying to get forward, and I get a lucky handball and somehow it comes out of the left boot, lucky.
Q: I don't know about lucky, you are unbelievable all night. Talk us through the celebration, what is going on?
It's called 'ice in the veins', that celebration. It just happened from instinct.
Q: When Jason Johannisen kicked that you were standing next to him, so you've had to run 50m to receive that handball off Mitch Hannan.
That was my role, outnumber forward and use my run late in the game.
Q: You need ice in your veins late in the game, I thought your midfielders got to work late. Oscar McInerney was some trouble grabbing the ball out of the rock, did you talk about that at half-time?
Our midfielders were owning outside balance and getting the best contacts we can in the ruck. We note 'Big O' was good and he was great all night but we put Tim English at centre bounce and he fought it out. Trying to own the outside balance as midfielders knowing he is trying to spike it forward. Try to be the first on the outside ball.
Q: Bailey, for those who haven't played at the level you have, give us an insight, when it comes to the final siren or you are kicking the goal to put the Dogs into a spot where they can go to the prelims, what do you feel?
I don't know, on top of the world, you can't describe it. A lot of adrenaline, but you also have to get back to work and focus on the task. As we saw there they managed to get a goal late again. Not good enough on our end to bring it down to the wire like that. You feel good for 30 seconds and switch back on.
Q: You look that fresh you could do it all again right now. How have you pulled up? Looks like that didn't challenge you.
I wish I felt that way, thank you. The deck was quite hard, blisters on the feet but the body is pretty good. I don't know how 'Bont' is and I hope he recovers well.
Q: You've been all over Australia, Tasmania and up to Brisbane and we believe you will be flying to Perth tomorrow and then to Adelaide to play next Saturday, how are you guys coping? Looks like you have a real resolve with the obstacles put in front of you.
Somehow we are good on the road. These past couple of days have been tough in quarantine not being able to mix with teammates and stuff. The past two days we've been in our room. Got to go for one walk. It's weird stuck in your room. We try to use that as fuel as best we could for tonight and I think we did that.
Q: You are looking for all year like you are going to be playing finals with a double chance, you needed to win tonight to justify all that you had done.
Totally, I think the body of work we put in wasn't reflected on the ladder and I'm glad we found our stride, I guess, at the important time of the year and beat Essendon last week, Brisbane now and we have Port Adelaide next week. That's exciting and hope we can keep our momentum going.
Q: Did Luke Beveridge keep that as motivation, the fact you are behind them on the ladder and all the travel, did he use that in the pre-game?
100 per cent, we all channelled that. Being isolated for 48 hours, not seeing teammates before the game is different, not how you prepare for a semi-final. We use that as best we could. I think we did that.
Q: Just explain when you can't see your teammates, from what I've been told you are allowed to see teammates on the same floor or is that completely wrong?
When you are getting your food you can. There is a PA system that says you can leave your room now and go and get food. It's weird, it's different. I don't know but I'm glad it's done.
Q: The one player I think you miss enormously is Cody Weightman, he looked invested in the game, he knows he's not playing in the prelim final but he seems such a wonderful team man.
100 per cent, the heart and soul of our youthful side, such a passion for our club which can be hard to find at such a young age. We feed off that. Regardless if he is playing or not we know we will feed off him for our drive into the next game.
Q: When was the last time you kicked three goals in a game? You've never done it in AFL level.
Under 18s against Victorian country.
Q: What is your biggest bag ever?
Probably three.
Here's some more reaction to the Bulldogs' incredible win…
Former Dogs captain Easton Wood spoke to Channel Seven after the game…
Q: Congratulations. Some sort of a final. Well done, happy birthday.
Thank you, birthdays don't get any better than that. My God, what a feeling, what a game, what an incredible win.
Q: We would talk in the first term, in terms of birthday presents, you don't need to chase Charlie Cameron at full speed.
It's not the most ideal position to be in. He is by far and away the fastest player I have played on, in open space it's almost impossible to get near him once he gets going. The boys got back on top around the ball at different times, that gave us a lot less space to defend. Which made a big difference. Just the way our group was willing to fight and keep coming back and stand up in those big moments. Now we are through to a prelim final.
Q: That's all it was? Nothing worse than being exposed one-on-one with Charlie but did you feel like you had more support there after quarter-time to help with the speed issue?
It wasn't necessarily that, it was the way we were looking around the ball. Oscar was having an influence getting it out of the ruck and surging, and that puts us under the pump. We managed to look better around the ball and at times the Lions are so talented the way they can run in waves through the middle of the ground but we got on top of that as the game went on.
Q: Magnificent performances tonight but I ask about Bailey Smith, as a young player he hasn't missed a beat since debut, hasn't missed a game, how good was he tonight?
Unbelievable, he hasn't missed a game since his debut which is mind-blowing. He goes from strength to strength, a supreme athlete, he has this hunger, an ultra-aggressive mentality, for him to kick that goal on his left on the boundary line with the prelim on the line was absurd. Watch him grow, it was wonderful.
Q: Looks like your back six is in order, Alex Keath on Joe Daniher tonight snuffed out any chance for him to have a big impact on the game. You must be rapt at how your department is going.
He is a weapon, he nullifies the opposition's big key forward super well. And he helps us out around the ball. We gelled together down there, our high half-backs, the weapons in Caleb Daniel and Bailey Dale making the all-Australian team, much deserved. The rest of us chip in and help out where we can.
Q: Are you getting the vibe, Easton? You did it from a elimination final in 2016, how are you feeling?
Let's go.
Q: Do you know what happens from here?
No idea whatsoever. We probably go in and have a good night tonight, enjoy the win and savour it and take in wherever we are going after this. I know we are staying here tonight and after that, who knows?
Brisbane Lions 5.3, 6.5, 9.9, 11.12 (78)
Western Bulldogs 3.4, 6.6, 7.11, 11.13 (79)
GOALS
Brisbane Lions: Cameron 3, Bailey 2, McCarthy, Daniher, Robinson, McCluggage, Lester, Fullarton
Western Bulldogs: B.Smith 3, Liberatore 2, Naughton, Hannan, Weightman, Johannisen, Macrae, Schache
DISPOSALS
Brisbane Lions: McCluggage 28, Neale 28, Lyons 27
Western Bulldogs: Macrae 38, Daniel 31, Bontempelli 29, B.Smith 27
INTERCEPTS
Brisbane Lions: Andrews 13, K.Coleman 8, Gardiner 6, Lyons 6, Starcevich 6
Western Bulldogs: Williams 8, Wood 8, Daniel 7
In the end, the Bulldogs won the disposals 347-344, clearances 45-37, contested possessions 152-140, free kicks 27-19 and scoring shots 24-23.