One source with knowledge of the process said by the time this is completed the Blues will know what their coach "eats for breakfast and lunch every day", for they know just signing a big name does not guarantee success.
Desperate to become the on-field power they had been through the 1970s until 2001, the Blues will closely follow the interview process used by Collingwood in their hiring of Craig McRae and North Melbourne in taking on David Noble last year. The Roos having Paul Roos provide significant input.
The process will include psychological testing, how the applicant plans to establish a culture of high-performance and respect, and an in-depth assessment of the playing list and game plan.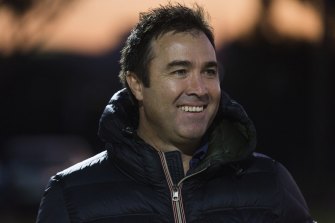 Sayers said David Teague, sacked last month, had been an overly offensive coach and not focused enough on defence, as detailed through this season's woes in the wide-ranging review conducted by Matthew Pavlich, Geoff Walsh and Graham Lowe.
The Blues have not found the right on-field balance since 2011 under Brett Ratten when they had a top-five ranked defence and offence.
David Parkin, the three-time Blues premiership coach and one of six on the sub-committee, has already tapped into his vast network of contacts and will play a key role in the process. Football director and dual Brownlow medallist Greg Williams, fellow board members Tim Lincoln and Patty Kinnersly, football department head Brad Lloyd and Liddle are also on the panel.
The Blues would have been interested in Nathan Buckley but his manager Kelly said the former Collingwood coach wants the year off.
Leppitsch, a former Brisbane Lions coach who is likely to be McRae's right-hand man, said on Saturday the Blues had a "good" playing list, but one focus for a new coach would be healing a club that has been in a state of flux for months. However, he said the Blues would have to convince applicants "there is a long-term path there" in lieu of the coaching turnover of the past 20 years.
Lloyd is no certainty to retain his job, with Blair Hartley, the Tigers' general manager football talent, linked to the club.
Loading
Voss, a highly respected Port Adelaide assistant after a tumultuous time as Lions' coach, interviewed with the Blues in 2019 but reportedly was left frustrated by a process where Teague won on player support.
Kingsley, who spent time as an assistant at three clubs and is now Damien Hardwick's right-hand man, was one of the finalists for the Magpies job. Graham, a West Coast assistant, is less heralded but is highly rated by the Blues.
Sayers said the Blues expect to be firmly in the finals frame next year, having underachieved this season.