Growing pressure on the NSW health system could force critically ill people in ICU to be transferred across the city, as the number of people currently admitted to hospital with COVID-19 tipped over 1000 for the first time on Saturday.
On Saturday night the Sydney Children's Hospitals Network confirmed that among 2000 children with COVID-19 in the state, three were in intensive care. "These children have underlying health conditions, but are in intensive care due to COVID-19," SCHN said in a statement.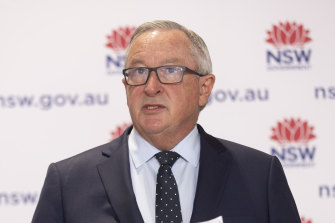 As NSW reported a record 1533 new cases and four deaths on Saturday, NSW Health Minister Brad Hazzard confirmed about 11,000 people with COVID-19 were being cared for by NSW Health either in the community, hospital or the state's medi-hotels.
"There are various stresses and pressures our health staff are working under," Mr Hazzard said. He noted under surge plans being considered, patients in intensive care could be shifted to other hospitals once wards hit capacity.
"There is also the option, as patients step down from the more intensive nature of their presentation in the ICU, [to be] moved to a high dependency unit right next door and still be managed by an intensive care specialist," he said.
The comments underscore the rising burden carried by the hospitals in city's hotspots, with Deputy Chief Heath Officer Jeremy McAnulty emphasising that south-west and western Sydney continued to account for more than 80 per cent of the state's COVID-19 cases. Guildford, Auburn, Maryland, Greenacre, Liverpool, Punchbowl and Bankstown were the main areas of concern.
"It is notable that of all of our cases, almost 70 per cent are aged under 40 years of age, so this disease is largely affecting younger people, younger people are particularly of concern because they expose their relatives who are quite vulnerable to the disease," Dr McAnulty said.
Mr Hazzard said Friday was the "second busiest day for ambulance that they have had in the state's history," highlighting the immense pressure on the state's health system.
Of the 1041 patients in the state's hospitals, 173 are in ICU and 62 of those require ventilation. At least 500 positive cases are now housed in the state's special health accommodation.