ATHLETICS
From 10.30am
James Turner will look to back up his 400m title when he competes in the T36 100m final, while Rheed McCracken is vying for a medal in the T33-34 800m wheelchair event. Nicholas Hum will push for a podium finish in the men's T20 long jump before the quiet gold medal hope of the night, Deon Kenzie, races in the T37-38 1500m final.
CANOE SPRINT
From 12.56pm
Curtis McGrath will be looking to make it back-to-back Paralympic gold medals after his win yesterday. He competes in the men's Va'a single VL3 final over the same distance of 200m.
SOCCER
From 6.30pm
Do yourself a favour and watch Argentina take on South American arch rivals Brazil in the gold medal match. This is soccer for athletes with visual impairment.
SITTING
VOLLEYBALL
From 8pm
Iran is in the gold medal match against the Russian Paralympic Committee. Morteza Mehrzad, at 246 centimetres, is one player you can't miss. He's the second-tallest man in the world.
WHEELCHAIR
TENNIS
From 11am
After picking up a silver in doubles, Dylan Alcott is aiming to win his second Paralympic gold medal in the quad singles when he takes on Sam Schroder from the Netherlands.
And with that incredible effort from Janine Watson, I am wrapping up the blog.
We will be back from 11am tomorrow to take you through tomorrow events, including the marathon, before the closing ceremony during the evening.
See you then!
In an incredible end to the day – Australia's Janine Watson has just won bronze in the women's K44 +58 kg.
It's our very first Para-Taekwondo medal in the sport's debut this Games.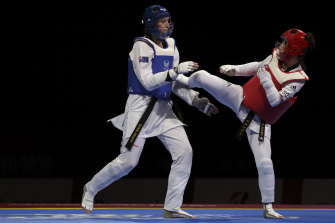 She beat Ukraine's Yuliya Lypetska 0-63 to claim the medal in what was a fierce battle.
Australia's Nicholas Hum has won bronze in the T20 long jump!
He was looking to get silver with a jump of 7.12m before Greece's Athanasios Prodromou made a 7.17m in his final jump.
Malaysia's Abdul Latif Romly won gold with a 7.45m jump in round two, but injured his groin in the final jump.
Australia has another medal on the track with Deon Kenzie claiming bronze in the T38 1500m event.
Fellow Aussie Daniel Bounty finished sixth.
Canada's Nate Riech (3:58.92) blitzed that race, winning by more than three seconds and began yelling in delight with about 50m to go.
Kenzie (4:03.76) said before the race he was after gold but he can't be disappointed with that effort.
Meanwhile, at the long jump, Australian Nicholas Hum is in second place in the T20 event after two of his six attempts.
However, his best jump of 7.09m is a fair bit behind the leader in 7.45m.
We've got an exciting few hours coming up on the track.
Nicholas Hum is about to compete in the men's long jump T20 final which starts at 8pm AEST.
Then Daniel Bounty and Deon Kenzie will compete in the men's 1500m T38 final at 8:15pm AEST before Samantha Schmidt takes on the discus throw F38 final at 8.35pm AEST.
A bit later on, at 9.38pm AEST, Rhiannon Clarke will compete in the women's 400m T38 final.
Australia's Janine Watson has beaten Turkey's Seyma Emeksiz Bacaksiz to make her way into the taekwondo repechage semi-finals.
Watson was defeated this morning in the Women's K44 +58kg class round of 16 so would not go straight through to the semis, but has got the job does against Turkey to make her way in.
Watson was winning 36-2 on points when the referee called a stoppage and declared the Australia champion the winner.
The win means Janine will take on Japan's Shoko Ota in the semi-final at 8:30pm AEST tonight. Will be one not to miss.
Tokyo: The coach of Australia's two big marathon gold medal hopes on Sunday believes the cooler conditions forecast in Tokyo will be advantageous for the pair who broke world records earlier this year.
The Olympic marathon was moved to Sapporo due to concerns over oppressive heat at this time of year but the Paralympic 42.2km event was controversially kept in Tokyo.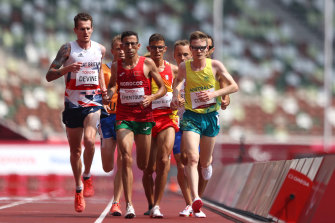 Athletes from around the globe were privately concerned about having to compete in temperatures exceeding 30 degrees but forecasts suggest the temperature will be 19 degrees at 6.30 am local time (7.30 am AEST) when the first of five races across different categories begin.
Read more from the pair here.