Orton says there is no best-case scenario for what unfolds in Afghanistan, now the last US soldier has boarded a C-17 and left Hamid Karzai International Airport.
"They control the whole country in a way they didn't last time. They are more powerful than they were last time, there are more of them, they've had more training. If anything, it is worse than last time."
"Even the money – the money comes from Pakistan so they have everything they need," Orton said.
It is a small mercy, but Brannigan says this means the Taliban are less reliant on al-Qaeda than when it first ruled and thus they have less incentive to resource terrorist attacks.
Orton says Islamic State Khorasan's suicide attack at the airport last week, which killed at least 170 Afghans and 13 US servicemen, has already shown the Taliban's promise to keep terrorism at bay is hollow.
"They were either complicit in that attack or unable to stop it," he said.
Brannigan says the Taliban will not want to provide the United States with further opportunities for retaliatory strikes and that its aim is greater than simply exporting and harbouring terror.
"We're foolish to assume that they're determined to export terror, that's not their number one aim. They will want to act as a beacon for other Islamic Emirates – they will want be the poster boys for a purist, effective, model state."
He says this means they will be keen to show a fundamentalist Islamic society living not by wanton violence but by their interpretation of Sharia.
He sees Taliban-ruled Kabul as the destination for radical ideas and terrorist inspiration but not necessarily the place where attacks are plotted and resourced.
This sort of Taliban will take cues from China and Russia in creating "war-like conditions" – causing economic and political chaos in Europe and dividing allies – without losing lives in the Helmand valley every day in direct combat.
This is where the migrant crisis comes in. Belarus has already been accused of weaponising the refugee crisis by dispatching fleeing Afghans to no-man's land on the Polish border.
"We do not yet have a clear policy and plan in place to deal with refugee flows out of Afghanistan," Mark Sedwill, the UK's former national security adviser and former NATO representative and ambassador to Afghanistan, told the Policy Exchange think tank.
Brannigan outlines another, worst-case scenario, already a very real prospect: a bitter civil war breaking out between Islamic State Khorasan, which could inspire terror attacks in the west, just as Syria's civil war gave birth to the short-lived Islamic State Caliphate.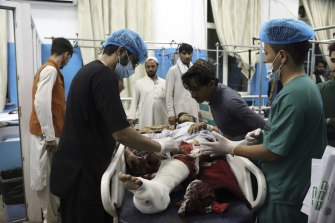 But Orton is grim about the intentions of a newly powerful Taliban, financed by Pakistan and armed not just with American military kit but the knowledge that they have worn down the US and its allies.
"They just know we're not going to re-engage, ISIS know it too," says Orton.
"Let's stop pretending the Taliban are separate from these other jihadist terrorist entities – they're utterly intertwined," H.R. McMaster, a former National Security Adviser to former US president Donald Trump, who brokered a peace treaty with the Taliban in 2020.
McMaster says believing drone strikes can contain terrorists is a "pipe dream", adding that when jihadist organisations form havens, the magnitude of the attacks they can plot increases.