He stepped down as director of Power Promotions in March this year but continues to be involved with Punisher Promotions, according to police and boxing sources.
The Punisher Promotions spokesman denied Abdulrahim had any involvement since he resigned as a director and insisted the business had not been named after him.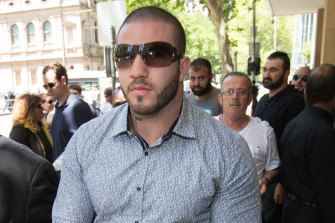 "It was just a name we came up with at the time," the spokesman said.
A website for Punisher Promotions still features video and images of Abdulrahim, who was also involved in a wild brawl inside the Melbourne Magistrates Court in 2015 with another kickboxer, Omar Bchinnati.
Bchinnati was later wounded, and another man killed, outside a boxing event at the Melbourne Pavilion in Kensington in March 2019 which did not involve Punisher Promotions or Abdulrahim.
Simone Bailey, chair of the Professional Boxing and Combat Sports Board, said they relied on advice from police. "We rely on the advice of the Chief Commissioner of Victoria Police to determine whether combat sports events applicants are fit and proper persons to stage events, to be matchmakers, to be trainers and to be officials, and whether it would not be in the public interest to issue a licence to an applicant," Ms Bailey said.
A spokesman for the Melbourne Pavilion in Kensington, declined to discuss the boxing event staged by Punisher Promotions in July, but insisted it had no dealings with Abdulrahim.
The spokesman said he was unaware of any concerns held by police about the event.
Last November, The Age revealed that Abdulrahim and his father, Farouk, launched legal action against the State of Victoria over claims they were assaulted by protective services officers after the brawl involving Bchinnati in 2015.
Victoria's busiest court was evacuated after pepper spray was used to subdue the stoush. Abdulrahim received an assault conviction and a $2000 fine over his role in the fight.
Both Abdulrahim and his father are named as plaintiffs in a writ filed in the County Court last year that alleges police breached the duty of care owed to the pair by failing to exercise reasonable care for their safety.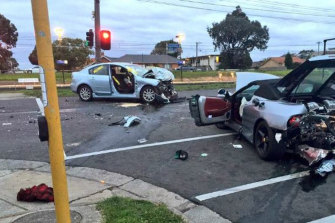 Five months after the altercation in the Magistrates Court, Abdulrahim was driving a Ferrari 360 Spider almost 50 kilometres over the speed limit on the wrong side of the road when he clipped two vehicles and ploughed into a Mazda sedan in Reservoir.
Nursing home resident Muriel Hulett, 88, who was a passenger in the Mazda, died after eight days in a coma. She had suffered extensive neck and chest injuries. Her daughter Lynette survived horrific injuries.
Loading
Abdulrahim was subsequently sentenced to three years and three months in jail, with a non-parole period of two years.
He was released on parole in March 2019. However, his parole was revoked months later because of several attempts on his life.
Lawyers for the Adult Parole Board told the Supreme Court that Abdulrahim had been the intended target of two shootings and another firearm incident. It was claimed, at the time, that he was a risk to the public by being out of jail.
But that decision was later overturned and Abdulrahim was freed, once again, to continue his boxing career.
The Morning Edition newsletter is our guide to the day's most important and interesting stories, analysis and insights. Sign up here.