But this simply wasn't feasible during the COVID-19 pandemic, which has rendered the internet even more of an essential utility.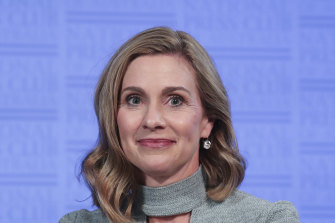 "Technology is an enabler but also an extension of the terror that women may already be experiencing through physical violence and emotional abuse. It's a form of control. Using your phone or the internet now is more vital than ever," Ms Inman Grant said.
"When a man controls a woman's technology and can surveil what she says and does, it's incredibly debilitating."
The eSafety Commission has trained about 20,000 people and agencies who deal with victims of domestic, family and sexual violence over the last five years, Ms Inman Grant said, but there is a lot more to do.
Mr Ruston said the summit will address three key areas of concern relating to family, domestic and sexual violence.
First is ensuring that the services that women (and children) need are in place when they escape a violent situation. The second is early intervention programs to ensure problems don't escalate and third is preventing violence from happening in the first place – "the biggest issue we have to crack," Ms Ruston said.
Federal and state governments are keenly aware of how these problems have grown during extended lockdowns and committed extra funding of $150 million last year, which was in addition to the $314 million the federal government committed in the last three-year funding cycle.
But Renee Carr, the executive director of NGO Fair Agenda, said a billion dollars a year is needed from the federal government "to properly implement any national plan".
Fair Agenda coordinated a joint statement by 205 organisations ahead of the summit that called for action in 12 key areas including greater investment in specialist support services and to measures to end sexual violence, reforming the family law system, longer-term funding and prioritising Aboriginal and Torres Strait Islander initiatives.