More than 60 per cent of Victorians have had a first COVID-19 jab
But in good news, Victoria has now passed the 60 per cent first-dose target with 29,915 COVID-19 vaccination doses administered across state-run hubs on Saturday.
Premier Daniel Andrews said this weekend has been the busiest for state hubs since the rollout began.
There have now been 2,583,499 doses administered at the state-run clinics, while many more have been administered by GPs and pharmacies, which are run separately run by the federal government.
"Across the board, we have hit our 60 per cent first-dose administered target and we are well on our way to achieving the one million jabs over a five-week period," Mr Andrews said.
"We are indeed ahead of that a bit and we should meet that target ahead of schedule. That is fantastic. We have just got some 343,000 to go, and I am confident we will get there and get there ahead of the five-week mark.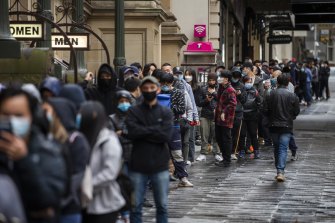 "To give you an example of how much activity is in our vaccination system, some 39,000 bookings were made yesterday. On Friday I was talking about 50,000 AstraZeneca appointments [being available]. I can now pleasingly report to you that there are just 11,000."
Mr Andrews also said schools would communicate with families of year 12 students and year 11 students doing a year 12 subject about exams and bookings for vaccines for those students.
Of Sunday's new cases, 101 were linked to known outbreaks.
Healthcare worker, interstate truck driver among new cases
A healthcare worker at Northern Health and a Wodonga-based interstate truck driver were among Victoria's new cases on Sunday.
COVID-19 commander Jeroen Weimar thanked both people for coming forward quickly for testing and then isolating.
He said the Wodonga driver had a number of interstate exposure sites but none in Victoria.
Loading
"He has a number of interstate exposure sites but none in Victoria and as soon as he became symptomatic, he immediately got tested and isolated at home," Mr Weimar said.
"My thanks to him for doing that so swiftly and a critical part of our continuing to support the interstate freight industry."
Mr Weimar said Northern Health, with has several hospitals and clinics in Melbourne's north, was working with officials to find out which staff were contacts with the healthcare worker.
"We do have a positive healthcare worker at Northern Health," Mr Weimar said. "We believe the infection was acquired outside the facility.
"We are working through exposure sites and other staff impacts but as we've seen in last few weeks, strong protocols around the use of PPE and the COVID-safe protocols we believe should reduce that impact and my thanks to the whole of Northern Health for their swift response over the last few days and the coming days."
Mr Weimar also said a double-vaccinated worker at the Japara aged care home in Carrum had tested positive but no other positive cases had emerged so far.
"All the residents and staff testing has come back negative," Mr Weimar said."We will continue to support that site over the coming days."
Andrews says 'normal Christmas' rests on highest possible vaccination rate
Mr Andrews said any chance of Victorians celebrating a "normal Christmas" would be linked to the target of having 80 per cent of Victorians fully vaccinated.
Prime Minister Scott Morrison published an opinion piece in News Limited papers on Sunday saying that state borders would be open by the end of the year – even though state governments control those borders.
"I don't want to start debating with the Commonwealth on who is responsible for governing borders," Mr Andrews said on Sunday.
"I think the most important thing is that surely we could all agree with that and work as hard as we can to make that real. Getting vaccinated is an incredibly important part of that.
"It is incredibly difficult and if we all play our part, there is a lot of people who need not finish up in hospital.
"That's an important part on the way to a Christmas where hopefully Australia has opened up and we have got 80 per cent plus of our community through the vaccination program."
Health workers exhausted, hospitals struggling to cope
Loading
Dr Roderick McRae, the Victorian president of the Australian Medical Association, said health workers were exhausted from two years of battling COVID-19 outbreaks and the hospital systems in Victoria and New South Wales were struggling to cope.
He added the scenes in hospitals could mirror those horrific images from the UK, US or Italy from last year.
"It will be exactly what you have seen from overseas," Dr McRae told ABC News 24 on Sunday.
"Once a person is in hospital, they will go wherever they go on their disease ladder and will be discharged or have to progress up to higher levels of support, including the Intensive Care Unit, and some people will die.
"A lot of business folks are saying, "Oh, let's get used to this. People die from everything," and that is correct.
"However, every person making helpful statements like that has forgotten that they may be the very person they are talking about who dies because of a lack of ability to get everybody into a hospital to receive the supports that they require."
Dr McRae doesn't believe Victoria's cases will end up passing 1000 cases a day like in NSW, but he still sees it as a possibility if people stop following health advice.
"I'm not expecting it, but it is a foreseeable outcome and, in fact, this is potential that this is the peak, and it will plateau downwards," Dr McRae said.
Loading
"But we know this is incredibly infectious so if one member of a household, whether a share house of university students or a family of any number of generations, if one person bring it is in the front door, everybody has got it."
With springtime approaching, Dr McRae urged people to continue seeking COVID-19 tests for respiratory symptoms, even if they suffer from hay fever.
"Don't forget we are coming into the allergy, hay fever season, respiratory symptoms are very, very similar and it is important that people just don't think, "Oh, that's my annual hay fever," Dr McRae said.
"The way the virus is going around in metropolitan Melbourne, it is COVID-19, and it is COVID-19 until it is proved not to be, and the way to do that is to have the test, as the Chief Health Officer has advised.
"The system needs to make it easier for people to become tested because it is horrible to be sitting either at the moment in rain or later on in the heat for hours to get a test, but people are turning up."
Stay across the most crucial developments related to the pandemic with the Coronavirus Update. Sign up for the weekly newsletter.